3.5/4

3/4

3.5/4

1.5/4

2.5/4

3.5/4

2.5/4

3/4

2/4

3.5/4

3.5/4

2.5/4

1.5/4

0.5/4

3.5/4

4/4

2.5/4

1.5/4

3/4

3/4

3/4

1/4

3.5/4

3/4

3/4

Next 25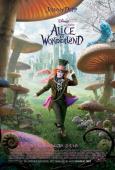 Alice in Wonderland (2010)
Visuals Don't Make A Film
2.5/4 stars
Alice In Wonderland really is a mixed bag. I know that's hardly a way to begin a review, but when you've got a bag as mixed as this, it's hard to know quite where to start. I never can tell what Alice In Wonderland is trying to be, whether a drama, an action movie, a comedy, but it appears to be juggling all three at once, which provides mixed results, as I mentioned previously.

Instead of being a mere adaption of the Alice In Wonderland book, Tim Burton instead creates a story that occurs 13 years after. Alice is set to marry a lord who she does not want to marry at all. Demands from her mother and parents of Alice's predetermined husband further confuse and frustrate Alice. So to escape it all, she follows a familiar rabbit into a rabbit hole, and we all know what will happen from there.

Or do we?

Since this is, in fact, 13 years after the original Wonderland incident, things have changed. Wonderland (or Underland, as we learn it is called) has become a much darker, and dangerous place. Alice is destined to slay a beast called the Jabberwocky, but she doubts herself, and the Red Queen wants her killed.

It's all a little bit more complicated than it needs to be. But Underland is all about complications.

I will start by pointing out Alice In Wonderland's biggest strength: The visuals. Between the magnificent makeup, the ridiculous costumes, the outrageous hair, and stunning special effects (and they are stunning sometimes), Alice In Wonderland is one of the most visually captivating films ever made.

But if only everything else was as wonderful and undeniably incredible as the visual effects. The characters, while mostly amusing, feel a little bit...predictable. Tim Burton usually likes to recreate the characters, but instead, we get virtually the same characters from the book (and animated Disney movie), with little exception. True, Burton tries to flesh them out a bit more and add additional back story, but it does little to separate the characters in this adaption from the animated version.

The acting, like the film, is a huge mixed bag. That's not to say that there are BAD actors. All the acting is very good, it's just expected. Predictable, like the characters. Most everyone is played by the book, with no special spin on almost any of them. Johnny Depp disappoints in his role as the Mad Hatter. He needs to be over the top and ridiculous. Instead, he's just rather ordinary. What happened to the wacky, bizzareness that be brought us in Charlie In The Chocolate Factory?

But this isn't always the case with the acting. Helena Bonham Carter (as the Red Queen) is as outrageous and ridiculous as she needs to be, and more. Her acting is by far the most impressive in the film. Carter ends up doing the performance Depp should've done, but doesn't. One performance I didn't expect to like was Anne Hathaway's as The White Queen. "She's much too recognizable." I thought. And I was right. But she does perfectly. She's extremely dramatic and flowy, and she does a marvelous job.

Without doing any research on the score beforehand, I knew that it was composed by Danny Elfman. After looking it up after the film, I was proven correct. Here's how I knew: It sounds like all his other scores. Yes, Elfman's a great composer, but all his scores sound alike, each borrowing elements from his last score. If Elfman can't get his act together, Burton may need to look for a new composer.

My last opinion about Alice In Wonderland may be the most important: It makes sense. Well, mostly anyway. It's not nearly as whimsical and bizzare as it should be. It's actually, relatively straight forward. Alice In Wonderland just isn't weird enough. It needs to be more odd. More outrageous. The animated version did a much better job at this.

I wanted to like this film. I wanted to love it. But Tim Burton's Alice In Wonderland just isn't the film it should be. But it's not half-bad. If you haven't already seen Alice In Wonderland, it's not a bad diversion; it's just not a very good one.