1/4

2/4

2.5/4

2.5/4

4/4

3/4

4/4

2.5/4

2.5/4

2/4

4/4

3.5/4

4/4

3.5/4

3/4

2.5/4

3/4

3.5/4

2/4

4/4

3/4

3/4

3/4

4/4

4/4

Next 25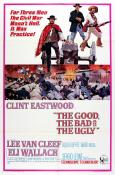 Good, the Bad and the Ugly, The ( buono, il brutto, il cattivo, Il )
Old,slow,over the top but still great
4/4 stars
Old? Yes. Slow? Very. Over the top? Yes. Great? Hardly gets any greater.
The Good, the bad and the Ugly is film about three characters based on fortune hunters of americas west in the time of American civil war. Situation can hardly be harder. And these three characters fit it. They are all cheaters but there is difference between them. Good has more morality than other two, but in these condictions he is law to himself. Ugly is not really "evil" but he is crook who does cruel things when he has to(and he isnt very smart). Evil is evil. He has absolutley no morality. He kills and cheats everyone.
These three find out about big sum of money in gold buried in cemetery. Hunt starts. They all want gold and are ready to risk their lives. This i think is very historicaly accurate. They lived in conditions where life wasnt that important and they had to get rich and were ready to risk all for that. These conditions are shown very well in this movie. You can say aesthetics of ugliness on humorous way. Yes. This movie is practicaly black comedy. You have all those cripples, dehydrated people looking very creepy and very little morality. But it still is beautiful and funny. And that is probably why this movie is classic. Well that and its epic feeling. Music and visual makes it feel so epic. And of course war and battle.
The good, the bad and the ugly is one of best dark comedies and one of most epic movies ever. And despite its age it still is great film.