1/4

2/4

2.5/4

2.5/4

4/4

3/4

4/4

2.5/4

2.5/4

2/4

4/4

3.5/4

4/4

3.5/4

3/4

2.5/4

3/4

3.5/4

2/4

4/4

3/4

3/4

3/4

4/4

4/4

Next 25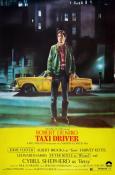 Taxi Driver (1976)
The odyssey of insanity
4/4 stars
This is one of most brilliant scripts ever. It should be called The odyssey of insanity.
Why is he insane? City filled with "scum" is one big reason, enviroment in which 12 year old girl is prostitue is not enviroment where someone wants to live. Another reason is that main character is not very good in relationship with people, or is it better to say that he is completely alone and as such he doesnt see people in very positive light. One person he saw in positive light is that girl he took to porn film not knowing how is she going to react on that. That for sure scared her, and he felt even bigger hostility toward his enviroment. he had to do something. And at this point everyone can feel what he feels and that is something we have to thank for to writer and director. First he tries to kill candidate for president, he fails. Next thing he tries to do has more sense, he helps 12 year old prostitue. And then all explodes, there's so much blood, it is so very intense it is terrifying but also humorous in very dark way.
Best Martin Scorsese film and one of best films i have seen.