4/4

3.5/4

3.5/4

3/4

4/4

4/4

4/4

3/4

3/4

2.5/4

3/4

1.5/4

3/4

4/4

3.5/4

4/4

3.5/4

4/4

4/4

3.5/4

4/4

4/4

2.5/4

4/4

3.5/4

Next 25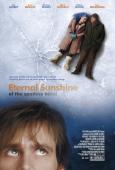 Eternal Sunshine of the Spotless Mind
"I wish I'd stayed." "I wish I'd stayed too."
4/4 stars
Gondry and Kaufman combine to do something extraordinary--they make the audience want to believe that love is real. Not a fabrication of hormones and the instinct for self-perpetuation. Not a whimsical figment of our collective imaginations. But something quantifiable, and as much a necessity as food or shelter.

Kate Winslet proves again why she is our greatest living young actress, making the free-spirited Clementine a fully-formed, endearing human being with whom any man would fall in love. Such roles so easily curdle into something unbearably twee (see Juno, for example), but Winslet eschews ironic dismemberment and manages to articulate a blue-haired sprite who is also grounded and accessible. And as in The Truman Show, Jim Carrey demonstrates his not insignificant talent for playing characters made of flesh and blood rather than silly putty and CGI. The supporters are all superb, but given this material it would be hard to fail.

Kaufman begins with the jejune notion that our less happy experiences are as integral to who we are as our most joyous ones, and (with Gondry's surrealist eye) cleverly gives his notion physical manifestation. Wiping the slate clean is like death by a thousand cuts, each one detaching a part of oneself and of one's world. Equally brilliant but less frequently mentioned is Kaufman's sly critique of consumerism and the medical establishment. So many operate on the premise that no malady should be countenanced--why suffer the sniffles when you can medicate the realities of life into oblivion. But if life is anesthetized and sanitized into one long tampon commercial, is it really worth living?