2/4

2/4

2.5/4

2/4

3.5/4

2.5/4

2/4

2.5/4

2/4

2/4

2/4

3/4

3/4

3/4

2.5/4

2.5/4

2.5/4

2.5/4

2/4

2.5/4

2/4

2.5/4

3/4

3/4

2.5/4

Next 25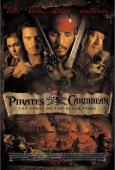 Pirates of the Caribbean: The Curse of the Black Pearl
BLOODY BRILLIANT! "I FEEL COLD"
3.5/4 stars
The Curse of the Black Pearl is the first installment in the Pirates of the Caribbean stories. It is a hugely entertaining, comedy-cum-action-cum-horror romp, starring Johnny Depp, arguably the finest Hollywood actor of his generation and his character (Jack Sparrow) is one of the most memorable and fascinating characters ever. We catch our first glimpse of Jack standing proudly atop the mast of his vessel as it sails into Port Royal, hair rustling in the wind. Then a couple shots later, it's revealed that Jack's "ship" is a battered dingy so full of leaks that it makes the last several feet into port mostly submerged.

The story centers on this lone pirate on the Caribbean Sea, looking for his lost ship, the Black Pearl which was commandeered years earlier by Captain Barbossa (Geoffrey Rush) who led a mutiny against him. Captain Barbossa and his crew of the undead are now are searching for a piece of ancient Aztec gold which they need to reverse a curse which turns them into skeletons at midnight.

The curse will be removed if they are able to put all the gold coins back into the gold chest. Will Turner (Orlando Bloom) received one of these gold coins from his father as a child. However, Elizabeth Swann (Keira Knightley) took the coin from Will and has it in her possession. The pirates kidnap her and the swashbuckling action begins. Johnny Depp does another great job playing an eccentric character helps in the rescue of Elizabeth and the return of his ship, the Black Pearl. The special effects of the battle scenes and the skeletons of the dead pirates were well done. This movie exists for the thrill of the moment, the clash of swords, cheeky one liners and a bombastic score. I loved it.