2/4

2/4

2.5/4

2/4

3.5/4

2.5/4

2/4

2.5/4

2/4

2/4

2/4

3/4

3/4

3/4

2.5/4

2.5/4

2.5/4

2.5/4

2/4

2.5/4

2/4

2.5/4

3/4

3/4

2.5/4

Next 25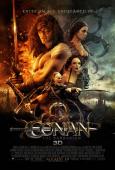 Conan the Barbarian (2011)
An adrenaline rush!
3/4 stars
Man, is it violent…for one split second I thought I was watching a Tarantino flick…a plus in my book mind you!

The movie opens with a nice gore soaked battle taking place and a grizzled Corin (Ron Perlman) slitting the womb of his wife to deliver his son who would be Conan. Predictably she dies and Corin rises Conan by himself.

Then we see Conan as a teenager. I absolutely loved Leo Howard as young Conan with his pretty yet snarling face. He shows off his slaughter chops as a young teen when he slays a group of hostile growling Tribesmen wielding a sword with murderous aplomb and taking their heads without a qualm.

Enters Stephan Lang as the main villain Khlar Zym who is looking to restore the parts of a powerful ancient mask in order to resurrect his dead wife and gain control over the universe. Rose McGowan best known for her role as Paige in Charmed portrays Marique, Zym's daughter who's a nasty piece of work in this film sporting a spiked Freddie Kruger glove and no eyebrows. After she finds a piece of the mask hidden in Conan's village, Marique and her father leave Conan struggling desperately on the other side of the chains, to keep the fire/lava from falling on his father's head, but his father takes it upon himself to do what must be done.

Conan swears to avenge his father. Eventually, Conan grows up and stumbles onto one of Zym's lieutenants. The man is easy for Conan to recognize because Conan sliced off his nose with a saber during a short-lived fight. Meanwhile Zym, his witchy daughter, and their mutant army are still on the prowl for a descendant of a pure-blood race, a female monk named Tamara (Rachel Nichols), who they must sacrifice in a complicated ritual which will restore Zym's wife to life. Marique succeeds in tracking down Tamara but Conan soon rescues. And, of course, they fall in love, because Conan is a big strong man, and Tamara is a beautiful woman.

Fights are acceptable; the gore is just right amount of over the top to be enjoyable. The female audience will be satisfied with the number of lingering shots over Jason Momoa's rippling abs and hot bod while the bunch of attractive naked huge-breasted young women in a cage is sure to attract the attention of its male viewers. A great popcorn sword and sorcery adventure that will, in the end be forgotten due to its simplicity and lack of depth! A few things still bug me though: Why aren't his eyes icy blue, his eyes should be icy blue?! Why's his hair not jet black?! You know... those silly, minuscule details that we movie addicts whine about!