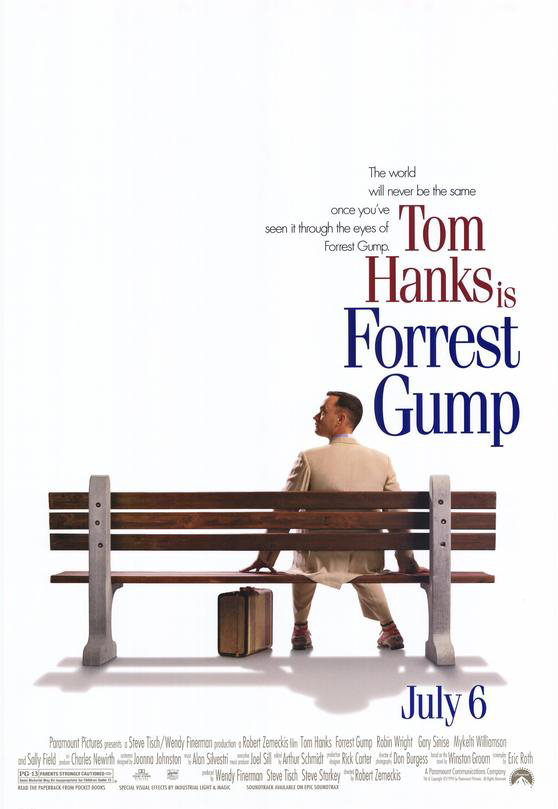 Forrest Gump
An amazing life!
MovieAddict - wrote on 01/04/13
"Life is like a box of chocolates. You never know what you might get."

'Forrest Gump' is a beloved classic drama from the 1990s starring Tom Hanks as the title character. He was born with a learning disorder but he goes on to accomplish great things, and meet some of history's most notable figures such as President John F. Kennedy, President Richard Nixon, Elvis Presley and Forrest even receives the Medal of Honor for selflessly saving the lives of his fellow platoon members during Vietnam war.

Although Forrest accomplishes success in life, deep inside all he really wants is to marry Jenny, his child hood friend and first love, and have a family. She is a tortured soul who was so mismatched for him in so many ways that I thought it impossible for them to be together but this does not stop Forrest carrying her in his heart throughout all his adventures. The story takes an interesting twist when Jenny is diagnosed with a disease that we can only assume may be AIDS due to her care free and irresponsible drug use and numerous sexual partners over the years.

An excellent supporting cast, with Robin Wright Penn as Jenny, Sally Field as his mother and Gary Sinise as the legless Vietnam veteran Lt. Dan Taylor.

This is a heartwarming story of beating the odds, and Tom Hanks is funny and convincing but I don't think it is the greatest film ever to be filmed!