2/4

2/4

2.5/4

2/4

3.5/4

2.5/4

2/4

2.5/4

2/4

2/4

2/4

3/4

3/4

3/4

2.5/4

2.5/4

2.5/4

2.5/4

2/4

2.5/4

2/4

2.5/4

3/4

3/4

2.5/4

Next 25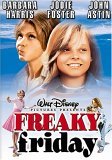 Freaky Friday (1977)
Be careful with what you might wish for!
3/4 stars
I saw the 2003 version of 'Freaky Friday' and I loved it. After watching the original version, I think it held up well and is filled with many funny moments.

Jodie Foster is delightful as Annabel, a belligerent sloppy tomboy youth growing up in suburban America during the mid-70s. Annabel's mother (Barbara Harris) is a stay-at-home mom who envies her daughter, who in turn envies her for what she perceives to be the pampered existence of adulthood. The two simultaneously wish to swap places and a freak accident occurs and they do, in fact, swap places and we witness the ensuing chaos that follows.

Now they have to learn to appreciate each other's differences before they can switch back again realizing along the way how equally hard school-work and housework is. Lessons learned. Be careful what you wish for!

Freaky Friday" is a fun classic with some amusing 70's coiffures.