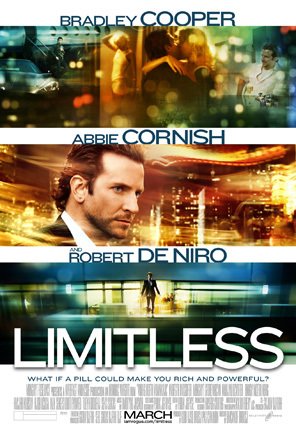 Limitless
Be Careful What You Wish For!
MovieAddict - wrote on 04/27/12
If you could take a pill that would make you smart… that would increase your intelligence; would you take it? And if it worked, would you want more? Is the Pope a Catholic?

Eddie is an struggling writer who has just lost his high flying girlfriend, and while he is down in the dumps, an old friend (and drug dealer) of his approaches him and offers him an experimental drug called NZT, that allows people to access 100% of their brain's power (as it is said that we, a normal human use only 20% of his/her brain power.) However the problem is not so much the drug but the supply as it always is. The new wonder drug completely transforms Eddie's life opening up a world of achievement, greed, and danger that is limitless. His life is back on track as he gets his girlfriend Lindy back and is becoming a multi-millionaire, however, isn't there always a drawback?. As with most drugs the feeling becomes addictive and there are serious side effects which is what much of the film focuses on.

Bradley Cooper really did a great job in the lead role of Eddie Morra, making it that much better to observe. He also gets to act opposite screen veteran Robert de Niro who is always watchable. Then there's Abbie Cornish, looking sweeter than Sweet Pea in "Sucker Punch". It has flaws but it's a very fun ride!