3/4

4/4

2/4

4/4

4/4

2.5/4

4/4

4/4

3.5/4

3/4

4/4

3.5/4

2.5/4

4/4

4/4

4/4

3.5/4

0.5/4

3/4

4/4

2.5/4

3/4

2.5/4

1.5/4

2.5/4

Next 25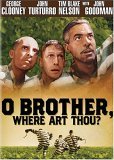 O Brother Where Art Thou
quote says it all....
0.5/4 stars
To quote someone: SIngli6 06/13/2011

This feature-length homage to Preston Sturges may appeal to those with an affinity for classic Americana, but for those more embittered Europeans I strongly recommend you avoid it like the plague. Roger Deakins' cinematography and a manic-depressive Michael Badalucco are simply not worth the time and the effort.

I agree. This movie has nothing for me that makes me watch it ever again. To be honest I didn't even make it to the end titles! I thought it was a funny game. I found out the only joke was on me!