2/4

2/4

3/4

3/4

2.5/4

3.5/4

3/4

2.5/4

3/4

3/4

3/4

3/4

N/A

N/A

3/4

N/A

3.5/4

3/4

3.5/4

N/A

2.5/4

2.5/4

2.5/4

3/4

2.5/4

Next 25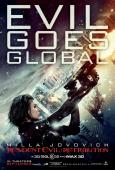 Resident Evil: Retribution
"Resident Evil Retribution" by Yojimbo
1.5/4 stars
Alice is captured and imprisoned in Umbrella's secret HQ, so Wesker and a former Umbrella agent free her in an attempt to recruit her to their cause...but first they must escape the complex.

The original Resident Evil was inoffensive pap; an excuse to switch off your cerebral cortex and veg out to clunky action horror and acrobatic, gun-toting vixens aplenty. As each sequel has been released they have become more and more dumbed-down, more and more simplistic, and more and more cynical in their attempts to flog this dead horse of a franchise as long as they possibly can make another buck out of it. This latest instalment is so pointless, so meaningless, so disposable it's positively soul-destroying. It's the turn of Aliens to be plagiarised by Anderson and his "plot" is nothing more than a series of boss fights on a Star Trek holodeck while characters so wooden they were probably sprayed for termites explain the feeble reasons for same in tiresome infodumps. Johann Urb has also got to be one of the worst actors I have ever seen, although co-star Shawn Roberts runs him a very close second. As ever, Paul W. S. Anderson mistakes fetish wear, guns and some truly awful CGI for storytelling and the whole thing is literally insulting to the intelligence. And worst of all, it goes to great pains to set up yet another sequel rather than including any semblance of an ending.

The Resident Evil films started mediocre and have been successively worse as they have gone. but it is genuinely difficult to imagine another being any worse than this.