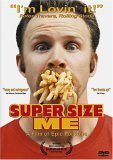 Super Size Me
It's not my fault I'm fat.
0.5/4 stars
The absolute dumbest movie I have ever seen in my entire life, it nearly drained all the hope I had for humanity after I watched it. Have you ever wondered what would happen if you ate nothing but fast food for 30 days and made it a point NOT to get a certain amount of excersize each day? No? Neither has anyone else.

McDonalds food isn't supposed to be healthy, it isn't supposed to be consumed 24/7, it's supposed to be delicious (and fast...) and that's exactly what it is. Moron Turdlock points his finger at McDonalds when he should've been pointing it at each and every person who blames food for their obesity. Food isn't forcing you to eat it, you choose to, it's YOUR fault. For once in my life I would like to see someone take responsibility for their own actions.

If you're capable of using 0.0001% of your brain, this movie will make you sick, not because of what McDonalds does/doesn't do, but because so many people think this man is smart for telling us that eating unhealthy food is... wait for it.............. unhealthy.

I enjoy junk/fast food every once in awhile, but I'm smart enough not to inhale it for 30 days straight. I think we all are.