4/4

1.5/4

3/4

3/4

2.5/4

3/4

4/4

2.5/4

1.5/4

2/4

3/4

3/4

2.5/4

4/4

3/4

2/4

2.5/4

0.5/4

3/4

4/4

3/4

3/4

2.5/4

1.5/4

4/4

Next 25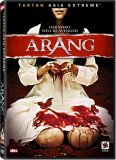 First let me start with the bad, and there are a couple of things that I am pretty sure that other reviewers would deduct at least a full star for. If you have watched some asian horror movies you have seen alot of the filming technique, the scares and special effects before. The timing in the movie follows a well tested formula as well, so you can pretty much predict where the scares are comming.

Now to the good part. This movie isn't that easy to categorize really, because it crosses various genres. It got some horror elements in it for sure, but it also a thriller/crime movie. The acting in this movie is rock solid. The director gives time to character developes, and you like the people in the movie. This is a point made in another review, but I want to include it here, because I think it's an important point. This movie focuses on So-Yung the dynamics with her partner Lee and their investigation rather on the victoms as so many other movies in this genre does.

This movie manages to be predicable and still surprice you with intersting twists and turns. It manages to follow a well tested formula, and still be original. I gave this movie 3 stars because I think this is a good movie.