3/4

2/4

3/4

3/4

2.5/4

3/4

3.5/4

3.5/4

3.5/4

1/4

3/4

3/4

3/4

1.5/4

3/4

3/4

2/4

3/4

3/4

3/4

2.5/4

2/4

2.5/4

2.5/4

2/4

Next 25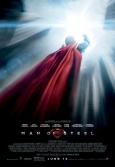 Man of Steel
Steel stumbles to soar high
2.5/4 stars
Steel stumbles to soar high. In fact he does do the job, provide some visual feast. But Snyder has placed overly bloated action to give a feeling that, it did not reach the sky. Yes the action is extravagant, the visual effects are dazzling, the fans get two good surprises, but all are put to bad use by super speed camera movements and the worst use of shaky 3D action. Shaky cams does not give any action scene an impact. The fights keep going on (exploding buildings, tanker blasts, punches that go on and on without any end, air missiles and the nearly apocalyptic engine thrust). Come on Snyder where is the fun in it? Thanks to the back story of our hero (Nolanís involvement I hope) as the way he grew to become now what he is. Leaving that alone, this steel stumbles with cliches from crafter Snyder.

The performances are good enough and Cavill does the perfect job. He is Kal-El and the hero with S in his suit. When Amy Adams asks what the S stands for, he mentions as hope, but she decides to say something else. Luckily Kal-El knew that it would not be wise. IMAX version is not the perfect. They could not exploit the best of it. The 3D rarely good and mostly over done due to the shaky cam. The climax is what a film must reach the point where the final fate would be decided. Man of Steel is not a big blast and convincing ending. I agree it had to be that way, but there can be a path shown of the future to come. Luckily there are no post credit scenes, Nolanís way again and the title does fall at last.

Now my point was, Why Snyder chose overly blown CGI gimmicks, that fails to pack a punch. Why did that happened at the end? Why there was forceful humor? Likewise there are many to come in audience head. Prefer 3D, if you are adaptable to shaky cams. Otherwise go for the 2D version. Man of Steel , needs vigor and path for future. The set up is fine, but it needs a thrust to soar high, otherwise Snyderís Man of Steel (future installments) might face the fate. Hope the best will come. As per now, it is the human part that wins, not the hero part.