3/4

2/4

3/4

3/4

2.5/4

3/4

3.5/4

3.5/4

3.5/4

1/4

3/4

3/4

3/4

1.5/4

3/4

3/4

2/4

3/4

3/4

3/4

2.5/4

2/4

2.5/4

2.5/4

2/4

Next 25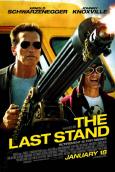 Last Stand, The (2013)
Arnold's comeback film is throw away trash
1.5/4 stars
The Last Stand
Directed by Kim-Jee -Woon
Starring Arnold Schwarzenegger
1.5/4
If Arnie is back! , The Last Stand does not stand enough to pull Arnie from the dark. Yes I admit it is a comeback film for the great action hero of yester years. But for the modern context, he is old to come back. There are lots of guns firing, shot guns hitting metals and swirling helicopters to the finish. I felt for a while that director Kim-Jee Woon had missed to write a story here. For a great action star, one needs a strong action plot. But the last stand does not stand to its work. It was meandering and I was waiting for the action to begin.
If I would say about the plot, it is simple. A cartel escapes in a fast car and he has to cross Summerton town to escape from US. But to cross the border, he has to face Arnold. Now back in town, which looks like an old fashioned place with less people than expected, Arnold is a sheriff and his small team make arrangements to stop the deadly car driver thatís on its way. That is quite simple. Writers have forgotten to give Arnold a strong plot to deliver his way. The game is on and Arnold fights two thugs and unloads barrel of fast bullets, into the cars. This is like Terminator forced into the fast and furious plot.
Kim Jee Woon had his moments in some old films of his. But the latest action venture, is really a messed up one. There are no big moments in the film. The director fails to engage with sparkling screenplay and does not give Arnold his big role. He has forgotten to think about his past. Terminator 5 would be far better than this stuff. If Expendables 2 had a better Arnold show!, then last stand does not show Arnold to his best level. Generally action films with great action stars need, stunning action sequences, dramatically engaging plot and whish bang Thank you man dialogs to enthrall the fans. The last stand does not have at all any of these.
Arnold is old to take a big role as a sheriff. He has a small work to do. Shoot guns and smack thugs, in a small town with handful of public. There was a serious necessity of a strong character development here, which lacked. The action was forced and not having any impact. The big climax I was expecting ended diluted with its cinematic liberties. Is the Last Stand a funny film? Intentionally made to look serious, but on the whole it is a mediocre stuff. Arnold, looks like it is your last stand.