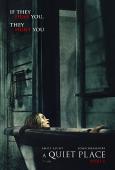 Quiet Place, A (2018)
I Can't Wait for the Sequel
3/4 stars
It's not easy to create a unique thriller these days, but this is one. It's the same basic formula for thrillers/horror movies, but the major details are ones I've not seen before. Very interesting, as I imagined myself trying to cope under those conditions. Krasinski didn't have the cred for a dramatic role, but he delivered and certainly has cre...