New on DVD and Blu-ray Week of March 31-April 6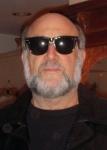 By Harley Lond - 03/31/15 at 03:08 AM CT
THIS WEEK'S THEATRICAL RELEASES:


Like many modern directors, Christopher Nolan started his career with one or two original, quirky films ("Following," "Memento"), was given a moderately-budgeted film with a couple of big name stars ("Insomnia"), then went on to direct one blockbuster after another (the Dark Knight trilogy, "Inception"). Fortunately for us -- and unlike some other recent directors seduced by money and CGI -- Nolan has been able to navigate the rough waters of Hollywood and still keep his individuality alive; he's learned how to merge his quirkiness with the needs for boxoffice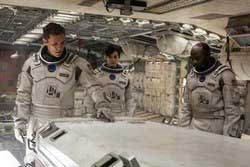 success. "Interstellar
," which was written by Nolan and his brother Christopher, is a lumbering beast of a movie that gives the director the chance to play with special effects (again) while also dishing out some thought-provoking philosophical ideas and spectacular scientific exploration. The basic plot of the film: a future Earth is becoming uninhabitable and a group of scientists use a newly discovered wormhole to explore the far reaches of the galaxy for livable planets. A great cast -- Matthew McConaughey, Anne Hathaway, Michael Caine, Jessica Chastain, Casey Affleck, John Lithgow, Ellen Burstyn, Wes Bentley, William Devane -- in a film that is definitely not for everyone. There's a plethora of impressive featurettes and extras on the Blu-ray. From Paramount.

On a (real) past earth, during World War II, the Nazis were clobbering the Allies on land and sea; the Americans and Brits were desperate to find a way to break the German's amazing Enigma code, which encrypted radio messages in such a random manner that it was deemed impossible to decode. Along came mathematician and cryptanalyst Alan Turing (Benedict Cumberbatch), who led a motley group of scholars, linguists, chess champions and intelligence officers to create a digital machine (the fore-father of the computer) that would eventually crack the Enigma machine and shorten the war, saving thousands upon thousands of lives. It was all top secret and, after the war, Touring faded into obscurity, until 1952, when he was charged with "gross indecency" – an accusation that would lead to his devastating conviction for the criminal offense of homosexuality. "The Imitation Game
" is the straight-ahead story of Turing's ground-breaking work, and it's a thriller of a film with wonderful work by Cumberbatch and co-stars Keira Knightley, Matthew Goode, Rory Kinnear, Allen Leech, Charles Dance and Mark Strong; the film was helmed by Morten Tyldum, the young and very talented Norwegian director of 2011's "Headhunters." A must see. From The Weinstein Company/Anchor Bay Entertainment.

Also due this week, but unavailable for review, "Wild
," starring Reese Witherspoon in a chronicle of one woman's 1,100-mile solo hike undertaken as a way to recover her life from tragedy.


THIS WEEK'S HIGHLIGHTS:
"Cries and Whispers
" (1972), the existential wail of a drama from Ingmar Bergman, concerns two sisters, Karin (Ingrid Thulin) and Maria (Liv Ullmann), keeping vigil for a third, Agnes (Harriet Andersson), who is dying of cancer and can find solace only in the arms of a beatific nurse (Kari Sylwan). An intensely felt film that may be Bergman's most striking formal experiment, "Cries and Whispers" (which won an Oscar for the extraordinary color photography of Sven Nykvist) is a powerful depiction of human behavior in the face of death, positioned on the borders between reality and nightmare, tranquillity and terror. In a new 2K digital restoration on Blu-ray and DVD, with an uncompressed monaural soundtrack on the Blu-ray. Extras include an introduction by Bergman from 2001; a new interview with actor Harriet Andersson, conducted by film scholar Peter Cowie; behind-the-scenes footage with commentary by Cowie; "Ingmar Bergman: Reflections on Life, Death, and Love With Erland Josephson" (2000), a 52-minute interview with Bergman and his longtime collaborator. From The Criterion Collection ...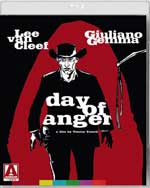 When Sergio Leone turned Lee Van Cleef into a major star with "For a Few Dollars More" and "The Good, the Bad and the Ugly," the actor sensibly stayed in Italy to make several more spaghetti westerns, including "Day of Anger
" (1967 -- Italy), from Leone's former assistant Tonino Valerii. Giuliano Gemma plays street cleaner Scott Mary, relentlessly bullied by the people of the small town of Clifton. When legendarily ruthless master gunfighter Frank Talby (Van Cleef) rides into town, Scott seizes the opportunity to lift himself out of the gutter, and possibly even surpass Talby's own skills. On a Blu-ray/DVD Combo from Arrow Video/MVD Entertainment Group.


BUZZIN' THE 'B'S:

In "Wild Card
" (2014), starring Jason Statham, Michael Angarano, Milo Ventimiglia, Dominik García-Lorido, Anne Heche, Sofia Vergara, Max Casella, Jason Alexander, Hope Davis and Stanley Tucci, Nick Wild (Statham) is a Las Vegas bodyguard with lethal professional skills and a personal gambling problem. When a sadistic thug beats his friend, Nick strikes back, only to find out the thug is the son of a powerful mob boss. Suddenly Nick is plunged into the criminal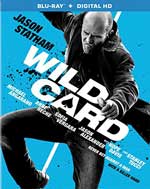 underworld, chased by enforcers and wanted by the mob. On DVD, Blu-ray Disc from Lionsgate ... In "Outcast
" (2014), starring Nicolas Cage, Hayden Christensen, Andy On and Yifei Liu, a mysterious warrior teams up with the daughter and son of a deposed Chinese Emperor to defeat their cruel brother, who seeks their deaths. On DVD, Blu-ray Disc from Entertainment One ... A student in need of money gets more than she bargained for when she takes a housekeeping job that turns deadly in "Housekeeping
" (2013), starring Adriana Solis, Blair Wojcik and Monica Percich. From After Dark Films/Lionsgate ... "Harlock: Space Pirate
" (2013 -- Japan) is a live-action adventure based on the comic book and TV series. A mysterious space pirate of the future, Captain Harlock, is determined to return his death ship and loyal crew to a battered Earth, which has been declared off-limits by the intergalactic Gaia Coalition. The rogue captain comes up with an incredible plan to go back in time to rescue Earth, but that includes the destruction of everything, as it exists. Stars David Matranga, Emily Neves, Rob Mungle. From Ketchup Entertainment ...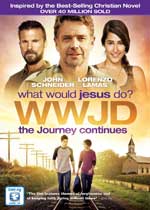 In "WWJD: The Journey Continues
" (2015), starring John Schneider, Lorenzo Lamas, Joseph Nasser, the drifter (Schneider) once again arrives in a new town, inspiring a group of people to live as Jesus would. A pastor seeks to lead his wayward ex-con brother to Christ as they work together to renovate a dilapidated church but when a desperate man robs the church at gunpoint, one brother's sacrifice sets events into motion that lead the pastor, the gunman, and the community on an improbable journey of faith and redemption. Based on the inspirational novel "In His Steps -- What Would Jesus Do?" by Charles Sheldon. From (Cinedigm).


ON THE INDIE FRONT:
"The Circle
" (2014 -- Switzerland) is a dramatization of gay lovers Ernst and Robi from meeting in Zurich in 1958 against the backdrop of "The Circle" (the pioneering gay organization and internationally renowned underground club) to 2003 when they became the first same-sex couple to enjoy legal recognition in Switzerland. The award-winning drama showcases their true story, featuring interviews with the men (now in their 80s) along with stunning archival images and fascinating research into this incredible era in gay history. Matthias Hungerbuhler and Sven Schelker star as Ernst and Robi. Switzerland's official entry for Foreign-language Oscar. From Wolfe Video.


FOR THE FAMILY:

In the latest collection of six Chuggington adventures, "Chuggington: Fire Patrol Rescue" (2015), Wilson sets out on fire patrol duty with his new friend Asher and learns to use a fire hose in a rescue. Also, there's a friendly contest of Chug Patrol versus Speed Fleet; Hodge find himself in a high-rise jam; and all the Chuggers practice emergency drills at the roundhouse. From Anchor Bay.


FROM TV TO DVD:

In "Case Histories Complete Collection" (2011, 2013) , based on the bestselling novels by Kate Atkinson, Jason Isaacs stars as Jackson Brodie, a former Edinburgh cop turned private detective. Tough but good-hearted, Brodie can't turn a blind eye to injustice and people in need. Although it does little to line his pockets, he finds himself investigating everything from lost cats to missing children and killers on the run. Four-disc set with nine episodes, $59.99 from Acorn Media ... In "Lovejoy, Series 5" (1993), based on the novels by Jonathan Gash, Ian McShane stars as Lovejoy, a rascal of an antiques dealer with a heart of gold, who gets involved in all sorts of mysteries and scandals. Four-disc set with 14 episodes, $49.99 from Acorn Media ...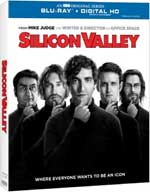 "Silicon Valley: Season 1" (2014) is a two-disc set with eight episodes. From the offbeat mind of Mike Judge ("Office Space," "Beavis and Butt-head"), this HBO half-hour comedy takes viewers inside the world of tech start-ups -- and the socially awkward underdogs who try to navigate its lucrative potential. Starring a talented ensemble of young comic actors and veterans, "Silicon Valley" charts the rising fortunes of Richard, an introverted computer programmer who lives in a "Hacker Hostel" start-up incubator along with his friends Big Head, Gilfoyle and Dinesh. These social misfits live under the watch of Erlich, a dotcom millionaire who lets them stay in his house for free -- as long as he gets a 10 percent stake in their projects. Stuck working part-time at a large tech company called Hooli, Richard's obscure website, Pied Piper, is going nowhere fast. But when a mid-level Hooli executive named Jared is apprised of the value of the site's novel compression algorithm, Richard finds himself caught in the middle of an extreme bidding war between Hooli founder Gavin Belson and independent billionaire venture capitalist Peter Gregory. On DVD, Blu-ray Disc from HBO ...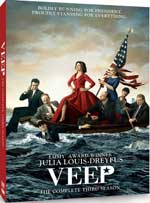 "VEEP: The Complete Third Season" (2014) is a two-disc set with 10 episodes. Following the whirlwind day-to-day existence of Vice President Selina Meyer (Julia Louis-Dreyfus in her Emmy-winning role), "VEEP" skewers everyday office politics against the backdrop of the second highest office in the land. After the revelation at the end of Season 2 that the president will not run for reelection, Season 3 begins with Selina, eying a promotion, courting Iowa caucus voters at a signing for her new book, "Some New Beginnings." Soon, Selina and her staff, back in D.C. for a wedding, learn that Secretary of Defense Maddox is resigning -- setting Selina up for a possible run in the presidential primaries against Maddox and her nemesis, war-vet Danny Chung. Over the course of the season's 10 episodes, Selina and her staff will set up an exploratory campaign office in D.C. and travel to Silicon Valley (to raise money) and London (to meet with heads of state), while Amy (Anna Chlumsky) and Dan (Reid Scott) vie to be Selina's campaign manager. As always, "VEEP" will continue to show that in Washington, even the most banal decisions can have ripple effects, with unexpected and far-reaching consequences.On DVD, Blu-ray Disc from HBO.

Check out other March 31-April 6 DVD releases and reviews at OnVideo.