New in Theaters March 13: Cinderella, Run All Night
By Chris Kavan - 03/12/15 at 06:47 AM CT
After a terrible start to the month, hopefully things will start looking up (and continue through to the end). So how do you reverse the downward spiral? Invoke the power of Disney - especially at a time when there hasn't been a new family film in theaters since SpongeBob dropped five weeks ago. Oh, and Liam Neeson is coming along for yet another ass-kicking outing that proves action has no age limit. I'm not going to claim this is going to be a record-breaking weekend, but at least it should be a big step up from last week.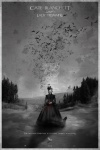 CINDERELLA Disney has long pulled in crowds due to animation - but one can't forget they have a long history of live-action films that also amaze. Mary Poppins, Pirates of the Caribbean, Enchanted and, of course, last year's Maleficent. Disney has a literal goldmine of material they could adapt - but they have to be careful, for all the money it made, something like Snow White and the Huntsman (though I know it was not a Disney project) is the result of not taking the source material seriously. So, how will Cinderalla turn out? Cast-wise, it looks solid. Lily James takes on the iconic role - while the esteemed Cate Blanchett plays the wicked stepmother. Helena Bonham Carter is on board as the fairy godmother, while Richard Madden (best known for his Game of Thrones role as Robb Stark) plays the handsome prince. You also have Stellan Skarsgård, Hayley Atwell, Sophie McShera, Holliday Grainger and Nonso Anozie along for this new take on the classic tale. Disney isn't taking too many chances with this - a PG isn't exactly pushing the boundaries - but it does look a bit darker than the standard Disney fare. It all comes down to if this can bring in either A) families or B) women. Maleficent was so successful because it had a strong female lead and really appealed to both groups. If Cinderella can do the same - expect it to have a big weekend and stick around for quite awhile. Also, there is a new Frozen short running before the film - never deny the power of Frozen - that alone may bring in audiences.


RUN ALL NIGHT Now, on the other end of the spectrum, if you don't like updated fairy tales, you can take a ride with America's favorite mature action hero, Liam Neeson. Neeson has pretty much resurrected his career by playing an older (usually semi-retired special forces, enforcer, assassin, agent - whatever you need) action hero (or, in some cases, anti-hero). In Run All Night he plays a hit man - one whose loyalties are tested between family (as in blood) and family (as in the mob). And I'm sure it will involve a lot of people getting hurt and/or dead during this one, bloody night. These kind of roles also tend to pigeon-hole Neeson as a one-note actor - but at least it's always an entertaining one-note performance. Even on movies I find lacking (say, The Gryy or Non-Stop) at least it has moments I absolutely love. I have a feeling Run All Night is probably going to come out on the lower end of his films, but it will probably still be OK - he always bounces back.


I'm hopeful that this weekend will turn out much better than the first weekend in March. Especially with Cinderella leading the charge, the box office should get itself back on track.