New on DVD and Blu-ray Week of November 25-December 1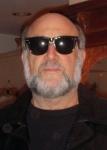 By Harley Lond - 11/25/14 at 12:26 AM CT
THIS WEEK'S THEATRICAL RELEASES:

"The Expendables 3": Say what you will about "over-the-hill" action heroes, but these "past-their-prime" stars can still kick some big screen action butt. In this second sequel, the Expendables leader, Barney (Sylvester Stallone), augments his team with new blood for a personal battle: to take down Conrad Stonebanks (Mel Gibson), the Expendables co-founder and notorious arms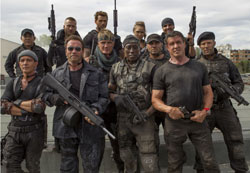 trader who is hell bent on wiping out Barney and every single one of his associates. When Barney decides its time to keep his old buddies safe from the superior firepower of Stonebanks and his eastern European allies, the fearless leader recruits individuals who are younger, faster and more tech-savvy, making the latest mission a clash of classic old-school style versus high-tech expertise. Until it's time to call in the reserves. Senseless but fun. And loud. Stars Jason Statham, Jet Li, Antonio Banderas, Kelsey Grammer, Wesley Snipes, Dolph Lundgren, Randy Couture, Terry Crews, Kellan Lutz, Ronda Rousey, Glen Powell, Victor Ortiz, Robert Davi, Harrison Ford and Arnold Schwarzenegger. Blu-ray extras include "The Expendables 3
" documentary, "New Blood: Stacked and Jacked" featurette, "The Total Action Package" featurette, and a gag reel. From Lionsgate.

Also due this week: "Tyler Perry's A Madea Christmas
": Hitmaker Tyler Perry scores again with this latest adventure starring his lovable alter-ego Madea. Madea gets coaxed into helping a friend pay her daughter a surprise visit in the country for Christmas, but the biggest surprise is what they'll find when they arrive. As the small, rural town prepares for its annual Christmas Jubilee, new secrets are revealed and old relationships are tested while Madea dishes her own brand of Christmas Spirit to all. Stars Perry, Chad Michael Murray, Alicia Witt, Eric Lively, Kathy Najimy, Tika Sumpter and Larry the Cable Guy. From Lionsgate ... and "The November Man
," a thriller set in the ruthless world of international espionage, starring Pierce Brosnan, which, unfortunately, was not available for review. From Fox.


THIS WEEK'S HIGHLIGHTS:

The Criterion Collection ends November with three important releases on Blu-ray and DVD, headed up by one of the great classics of cinema: One of the first truly modern films, Michelangelo Antonioni's "L'avventura
" (1960) on the surface revolves around the enigmatic disappearance of a young woman (Anna) during a yachting trip off the coast of Sicily, and the search taken up by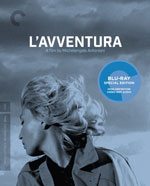 her disaffected lover, Sandro (Gabriele Ferzetti), and best friend, Claudia (Monica Vitti). The first 30 minutes of the film revolves around young, spoiled, wealthy Anna -- she's the protagonist of the film. But her disappearance disrupts and dissolves the film's plot and its meaning; the rest of the film becomes that of characters in search of meaning, seeking something that escapes them. This loss of meaning is at the heart of modernity -- and Antonioni invented a new film grammar to translate this to the cinema. It' a gorgeously shot tale of modern ennui and spiritual isolation. This set the stage for Antonioni's unequaled string of masterpieces: "La Notte," "L'eclisse," "The Red Desert" and "Blow-Up." In a new 4K digital restoration, with uncompressed monaural soundtrack on the Blu-ray. Extras include audio commentary featuring film historian Gene Youngblood; selected-scene commentary by filmmaker Olivier Assayas; "Antonioni: Documents and Testimonials," a 58-minute 1966 documentary by Gianfranco Mingozzi; writings by Antonioni, read by Jack Nicholson, plus Nicholson's personal recollections of the director; and an essay by critic Geoffrey Nowell-Smith, along with the statement Antonioni made about the film and the letter that circulated in support of it after its 1960 Cannes premiere (the film was not well-received by audiences at the fest but went on to become a success).

The other Criterion releases: "Les Blank: Always for Pleasure
" (1968-1995). Les Blank ("Burden of Dreams") was an uncompromisingly independent filmmaker who made documentaries for nearly 50 years, elegantly disappearing with his camera into cultural spots rarely seen on-screen -- mostly on the peripheries of the U.S., but also occasionally abroad. Seemingly off-the-cuff yet poetically constructed, these films are humane, sometimes wry, always engaging tributes to musicians, food, and all sorts of regionally specific delights. This collector's set provides a diverse survey of Blank's vast output, including the warmly funny "The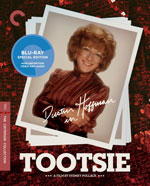 Blues Accordin'" to Lightnin' Hopkins," about the legendary Texas musician; "Always for Pleasure," which captures the vivacious spirit of New Orleans; "Garlic Is as Good as Ten Mothers," a hilarious celebration of the pungent, flavorful "stinking rose" of the title; and 11 other unexpected features, plus eight of Blank's short films. And there's "Tootsie
" (1982), a multilayered comedy from director Sydney Pollack that follows the increasingly elaborate deception of a down-on-his-luck New York actor (Dustin Hoffman) who disguises himself as a woman to get a coveted soap opera gig; while his female persona skyrockets to fame, he finds himself learning to be a better man. Hoffman's ball-busting yet disarmingly sweet Dorothy Michaels is a sensational comic creation, given support by a stellar cast including Dabney Coleman, Charles Durning, Teri Garr, George Gaynes, Bill Murray, and, in her first Oscar-winning role, Jessica Lange. In a new 4K digital restoration, with uncompressed monaural soundtrack on the Blu-ray, with the always superb complement of Criterion extras.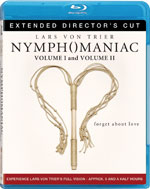 To bring you back into the 21st century, the folks at Magnolia Home Entertainment have released "Nymphomaniac
: Extended Director's Cut Vol. 1 & 2" (2014) Director von Trier's wild and poetic story -- of a woman's journey from birth to the age of 50 as told by the main character, the self-diagnosed nymphomaniac Joe (Charlotte Gainsbourg) -- offers almost and hour and a half of extra footage, making for a five and one-half hour odyssey that leads from innocence to dark complications. Stars Charlotte Gainsbourg, Stellan Skarsgard, Shia LaBeouf, Stacy Martin, Willem Dafoe, Mia Goth, Sophie Kennedy Clark, Christian Slater, Jamie Bell, Uma Thurman, Michael Pas, Connie Nielsen and Ananya Berg. On DVD and Blu-ray.


BUZZIN' THE 'B'S:

In the offbeat romantic comedy "What If
" (2013), starring Daniel Radcliffe, Zoe Kazan, Adam Driver, Mackenzie Davis and Rafe Spall, a medical school drop-out, burned out from a string of failed relationships, forms an instant bond with a woman who lives with her longtime boyfriend. Together, they puzzle out what it means if your best friend is also the love of your life. From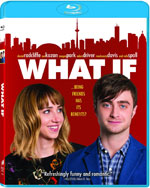 Sony ... A hard-luck limo driver struggling to go straight and pay off a debt to his bookie takes on a job with a crazed passenger whose sought-after ledger implicates some seriously dangerous criminals in "Stretch
" (2014), starring Patrick Wilson, Ed Helms, James Badge Dale, Brooklyn Decker, Jessica Alba, Ray Liotta and David Hasselhoff. From Universal ... In "Phobia
" (2013), starring Michael Jefferson, Emma Dubery, Sarah Schoofs and Peter Gregus, an agoraphobic man trapped in his own home is plagued by a violent home-invader as well as visions of his dead wife and a shadowy female figure. On DVD, Blu-ray Disc from Image Entertainment ... A single mom and her two boys help take care of their grandmother with mystical powers in her remote and lonely house in "Mercy
" (2014), starring Chandler Riggs, Dylan McDermott, Frances O'Connor and Mark Duplass. From Universal ... Three individuals each receive an anonymous, unmarked video camera and a horrific ultimatum to continue filming ... or die in "Mockingbird
" (2014), starring Spencer List, Audrey Marie Anderson and Alyvia Alyn Lind. From Universal ... "Tyler Perry's Hell Hath No Fury Like a Woman Scorned - The Play" (2014), starring Cheryl "Pepsii" Riley, Muhammad Ayers, Monica Blaire, Zebulon Ellis and Ray Lavender, revolves around a successful, single woman who has it all -- a great job, a loving family, and the ability to pay for her baby sister's wedding -- but, according to her best friend, there's only one thing missing ... the love of a good man. Taped in front of a live audience. From Lionsgate.


ON THE INDIE FRONT:
"Beyond the Edge
" (2013), starring Chad Moffitt and Sonam Sherpa, is a dramatization of Tenzing Norgay and Edmund Hillary's monumental and historical ascent of Mt. Everest in 1953 -- an event that stunned the world and defined an era. From IFC Films ... In "War Story
" (2014), starring Catherine Keener, Ben Kingsley and Hafsia Herzi, a war photographer (Keener) who recently endured a brutal detainment in Libya holes up in Sicily to come to terms with her ordeal, not far from the home of her former lover and mentor (Kingsley). Soon she crosses paths with a Tunisian migrant in need of an abortion and safe passage to France, who bears a striking resemblance to a Libyan girl she photographed just before her capture. From IFC Films.


FOREIGN:

"Lines of Wellington" (2012 -- France/Portugal) is famed director Raul Ruiz's last film, incomplete at his death, but completed by his widow Valeria Sarmiento. Starring John Malkovich, Catherine Deneuve, Isabelle Huppert, Mathieu Amalric, and Jemima West, this lavish epic set during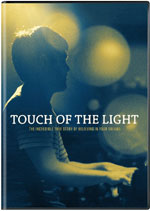 the Napoleonic Wars of 1810 chronicles a multitude of characters -- soldiers and civilians, men, women and children, young and old -- as their everyday lives are torn apart by war. Dragged through hills and valleys, between ruined villages, and across charred forests and devastated crops, none can escape the chaos of the times, no matter their station. The idealistic young lieutenant Pedro de Alencar; Clarissa Warren, the malicious little English girl; the shady dealer Penabranca; the vindictive Sergeant Francisco Xavier; and the lusty prostitute Martirio will all follow different paths to the lines of Torres, where the final battle will decide each of their fates. In a two-disc DVD from Film Movement ... In "Touch of the Light
" (2012 -- Taiwan), a blind pianist leaves his rural home to attend college in Taipei where he befriends a young dancer and encourages her to follow her dream in the award-winning musical drama that fictionalizes the life of Huang Yu-siang (playing himself). From Well Go USA.


FOR THE FAMILY:

Cinedigm has two more holiday-themed releases this week: "A Royal Christmas" (2014), starring Stephen Hagan, Jane Seymour, Katherine Flynn, Lacy Chabert: When Prince Leopold, heir to the throne of Cordinia, decides to marry his young love, Emily Taylor, a humble seamstress from Philadelphia, Leopold's mother, Queen Isadora, tries to sabotage his plans. A Hallmark Channel Christmas movie ... In "Signed, Sealed, Delivered for Christmas" (2014), starring Eric Mabius, Kristin Booth, Crystal Lowe, Geoff Gustafson, Rob Estes and Marion Ross, the Postables -- a quartet of post office detectives charged with redirecting Santa's mail -- work overtime to help a struggling family find hope on Christmas eve. A Hallmark Channel Christmas movie.


SPECIAL INTEREST:

"The Definitive WWI & WWII Collection" (2001-2014) features more than 44 hours of History Channel war programs on 20 discs, including "The World Wars," "100 Years of WWI," "75 Years of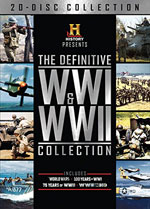 WWII," "WWII in HD,"" History of WWI: The First Modern War," "Dogfights," "D-Day in HD," "The Color of War," "Ultimate WWII Weapons," and more. $99.98 from Lionsgate ... "A Life in Dirty Movies" (2013) is a "love story" about legendary sexploitation director Joe Sarno, "The Ingmar Bergman of 42nd Street," and his loyal wife and collaborator Peggy. The documentary follows the Sarnos for a year as 88-year-old Joe struggles to get a new film project off the ground -- a female-centric softcore film that harkens back to the style of his heyday as a filmmaker in the 1960s. As audiences tag along for the eventful and often hilarious journey between wintery Manhattan and the couple's summer retreat in Sweden, the film's intimate perspective reveals a filmmaker on the verge of being rediscovered in his golden years. From Film Movement.


FROM TV TO DVD:

"Extreme Maneater Collection" (2014) features almost three hours of frightening footage that captures the most extreme cases of Animal Planet's "Maneaters." Beginning in South Florida, authorities attempt to control a new invasive species, the African Rock Python, known to attack and kill humans both as pets and in the wild. The search then widens for the Burmese python,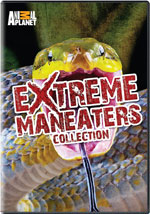 another pet whose population is increasing throughout America. As the population spreads, the snake grows larger as does its prey. Then investigators venture to the deep dark of the sea where a kraken-like monster attacks boats, invades beaches, and rips apart victims with bone-chilling efficiency. $29.93 from Cinedigm ... Hugh Laurie and Stephen Fry star in "Jeeves & Wooster Complete Collection," P.G. Wodehouse's timeless tales about a boneheaded aristocrat and his brilliant valet. The ITV series earned four BAFTA awards throughout its four series run (1990-1993). In the U.S., it aired on A&E. Eight-disc set with 23 episodes, $59.99 from Acorn Media ... In "Masterpiece Mystery!: Inspector Lewis 7" (2014), Kevin Whately and Laurence Fox return for a seventh season of the beloved series. Hathaway has been promoted to Inspector after an extended break from the force, and Lewis is adjusting to retired life until he's asked to team up with his old colleague. With their partnership renewed under altered circumstances, the duo continues to solve crimes in the seemingly perfect academic haven of Oxford, England. Two-disc set with three episodes. DVD: $29.99, Blu-ray Disc: $34.99, from PBS Distribution ... "Upstairs, Downstairs: The Ultimate Collection" includes all five series, more than 25 hours of extras, plus the spinoff series, "Thomas and Sarah." A 26-disc set, $199.99 from Acorn Media.

Check out other November 25-December 1 DVD releases and reviews at OnVideo.