New in Theaters November 14: Dumb and Dumber To, Foxcatcher
By Chris Kavan - 11/13/14 at 06:41 AM CT
Last weekend the double-barrel blast of Big Hero 6 and Interstellar gave the box office a big boost. It was certainly the shot in the arm the month needed following the quiet Halloween weekend. This weekend we have two films opening that couldn't be any more different if they tried. One is a sequel (long in the making) to a beloved comedy and, on the other hand, we have a beloved comedian taking a dramatic turn in a film that has been received a lot of awards-attention buzz. The comedy will come out on top, I'm sure, but I have a feeling Big Hero 6 may not give up its crown so easily.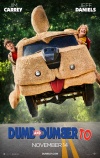 DUMB AND DUMBER TO Back in 1994, Jim Carrey and Jeff Daniels lived up to the title of Dumb & Dumber. I think the original is funny - but I don't hold in as hallowed status as some people have given it. So it is with some trepidation I approach Dumb and Dumber To. The rule of thumb is the longer you wait between sequels, the less interest there is in the resulting films (see 300: Rise of an Empire and Sin City 2 from this year for recent examples). It has been 20 long years since we last saw the exploits of Harry and Lloyd. Carrey is no longer the huge draw he once was (though his recent stint on SNL helped remind people of the funny side of things) but that doesn't mean he can't get his groove back. My main concern is that the trailers I have seen rehash a lot of the same jokes from the first film over again - the original was ludicrous enough - this seems to bump things up yet another notch. Comedies are a notoriously tough sell already - but at least the supporting cast, from the likes of Rob Riggle, Kathleen Turner, Laurie Holden and Bill Murray - should help things along. There are plenty of fans of the original, and if they show up (along with the current generation of moviegoers as well) things should turn out pretty good for this sequel - long-awaited by some.


FOXCATCHER On the other hand, this week also brings us the expanded release of Foxcatcher. The story of eccentric millionaire John du Pont who sponsors brothers Mark and Dave Schultz at his state-of-the-art facility in preparation of the 1988 Seoul Olympic games. But the relationship between the three men takes an unhealthy turn as Mark, living in the shadow of his brother, along with the increased paranoia of du Pont, leads to a tragic conclusion. Steve Carell, best known for his comedic roles, has been received a lot of attention for his portrayal of du Pont - a deeply troubled man. He also transformed himself - as he doesn't look like the jolly Carell of old. Channing Tatum and Mark Ruffalo play Mark and Dave respectively and more than hold their own as actors. Vanessa Redgrave plays du Pont's domineering mother with Sienna Miller and Anthony Michael Hall rounding out the cast. This is a movie that looks great - the story and subject matter are riveting and the actors, while on the surface seem like strange choices, turn out better than anyone could have expected. I figure this will be up for more than a few awards, so this is one to see if you are in to that kind of thing. Otherwise, it just looks like a straight-up interesting film, and one I hope does good business.


While this weekend isn't likely to see anything as big as last weekend, there is enough good to go around that it should be a decent weekend for Hollywood - a little lull before Mockingjay Part 1 drops and completely blows up the box office.