New on DVD and Blu-ray Week of November 11-17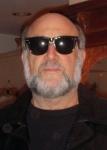 By Harley Lond - 11/11/14 at 02:15 AM CT
THIS WEEK'S THEATRICAL RELEASES:

This week's top theatrical release is "Jersey Boys," Clint Eastwood's big-screen version of the Tony Award-winning musical that tells the story of the four young men from the wrong side of the tracks in New Jersey who came together to form the iconic 1960s rock group The Four Seasons. The film keys in on the true stories of the trials and tribulation of the group but it's the music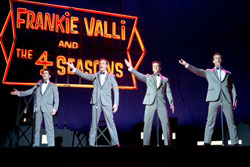 that guides the narrative of Jersey Boys
: "Sherry," "Big Girls Donít Cry," "Walk Like a Man," "Dawn," "Rag Doll," "Bye Bye Baby," "Who Loves You," and many more hits. From Warner. Also due this week: "How to Train Your Dragon 2
," the second chapter of the animated trilogy about dragons and Vikings on the island of Berk, from DreamWorks; "Tammy
," an obnoxious road-trip comedy starring Melissa McCarthy, Susan Sarandon, Allison Janney, Gary Cole, Mark Duplass, Dan Aykroyd, Kathy Bates, Sandra Oh and Toni Collette, from Warmer; and "Let's Be Cops
," a silly comedy about two struggling pals who dress as police officers for a costume party and get tangled in a real life web of mobsters and dirty detectives, starring Jake Johnson, Damon Wayans Jr., Nina Dobrev, James D'Arcy, Andy Garcia; from Fox.


THIS WEEK'S HIGHLIGHTS:

There's several massive sets of classic TV series due out this week. Heading the list is "The Twilight Zone: The 5th Dimension Limited Edition Box Set." For the first time ever, Rod Serling's groundbreaking Original Series (1959-1964) and the classic 1980s Series (1985-1989) have been brought together in one box set. With only 7,500 sets created, this limited edition 41-DVD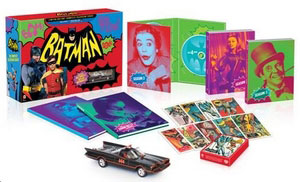 box set is available for $349.98. In addition to the two series (225 episodes combined), and more than 20 hours of bonus features, the set contains one of four possible collectible 1960s "Twilight Zone" comic books. From Image Entertainment ... Next comes two sets of the original "Batman" TV series (1966-68): "Batman The Complete TV Series," an 18-disc DVD set with all 120 original broadcast episodes, remastered, $199.70 and "Batman The Complete TV Series Limited Edition Blu-ray," a 13-disc set, $269.97. Extras include "Hanging with Batman": A true slice of life in the words of Adam West; "Holy Memorabilia Batman!": A journey into the most sought after collectibles through the eyes of three extraordinary collectors; " Batmania Born! - Building the World of Batman," which explores the art and design behind the fiction; "Bats of the Round Table": A candid conversation with Adam West and his celebrity friends, chatting all things Bat (1966); "Na Na Na Batman!: Hollywood favorites stars and producers recount their favorite Batman memories; 32-page complete episode guide. The Blu-ray set adds some collectible premiums: a Hot Wheels replica Batmobile, "The Adam West Scrapbook," 44 vintage trading cards. Includes UltraViolet digital copy. From Warner.

From The Criterion Collection this week comes "The Shooting/Ride in the Whirlwind
": In the mid-sixties, the maverick American director Monte Hellman ("Two-Lane Blacktop") conceived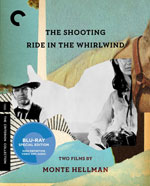 of two Westerns at the same time. Dreamlike and gritty by turns, the two films would prove their maker's adeptness at brilliantly deconstructing genre. As shot back-to-back for famed producer Roger Corman, they feature overlapping casts and crews, including Jack Nicholson in two of his meatiest early roles. The films -ó "The Shooting" (1966) about a motley assortment of loners following a mysterious wanted man through a desolate frontier, and "Ride in the Whirlwind" (1966), about a group of cowhands pursued by vigilantes for crimes they did not commit -- are rigorous, artful, and wholly unconventional journeys into the American West. New 4K digital restorations of both films, supervised by Hellman, with uncompressed monaural soundtracks on the Blu-ray.

Three American icons get special treatments this week: "Bing Crosby: The Silver Screen Collection" is a 13-disc set with 24 of the movie, music, radio and television superstar's iconic films: "College Humor," We're Not Dressing," "Here is My Heart," "Mississippi," "Rhythm on the Range," "Waikiki Wedding," "Double or Nothing," "Sing You Sinners," "East Side of Heaven," "If I Had My Way," "Rhythm on the River," "Birth of the Blues," "Holiday Inn," "Going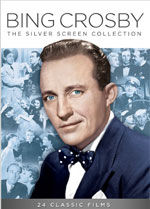 "Ornette: Made in America!" (1986) captures jazz master Ornette Coleman's evolution over three decades, chronicling his boyhood in segregated Texas and his subsequent emergence as an American cultural pioneer and world-class icon. The film explores the rhythms, images and myths of America seen through the eyes of an artist's ever-expanding imagination and experience. Clarke followed Ornette and his young son Denardo starting in the late 1960s and ending with a homecoming tribute in his hometown of Fort Worth in 1983 that featured a gala concert of his seminal jazz symphony "Skies of America" alongside performances with his Prime Time band ... The "star" of "Portrait of Jason
" (1967) is black, gay, hilarious, heartbreaking and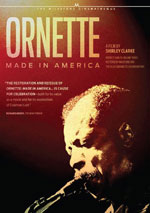 on screen for every one of the film's 107 minutes. On the evening of December 3, 1966, director Clarke and crew filmed Jason for 12 straight hours as he told stories about his life, loves and work. At a time when it was illegal to be gay in the U.S., Jason spun extraordinary tales about his career as a nightclub entertainer; his confrontations with his father; growing up in Trenton; and the many forms of hustling that comprised the basis of his existence. Jason may be the most self-revealing Scheherazade in the history of documentary films. Or is he? How much of what Jason says is true and how much is a fabulous performance? Even Clarke's filmmaking prevaricates -- "Portrait of Jason" was designed and painstakingly put together to look rough and entirely unedited. While all her films explored that porous border between cinema verite and fiction -- "Portrait of Jason," with its many ambiguities and contradictions, may well be Clarke's masterpiece. Milestone searched for three years to find the original elements for this definitive restoration of a landmark film. Provocative, groundbreaking and truly gripping, it was one of the first LGBT films to be taken seriously by the general audiences. Both are on DVD and Blu-ray from Milestone.


BUZZIN' THE 'B'S:

In "Betrayal
" (2013), starring Eric Roberts, Oleg Taktarov and Jack Topalian, a former Armenian mob boss turned businessman in Los Angeles is pulled back into his violent past when his eldest son is accused of killing a powerful Russian gangster. With his family's safety at risk, he's is forced to use his power and influence to save his son from inevitable revenge. From Inception Media Group ... In "Drive Hard
" (2014), starring John Cusack and Thomas Jane, former hotshot race car driver Peter Roberts (Jane) has traded the winner's circle for safety,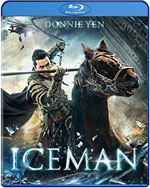 stability, a pile of debts and a 9 to 5 job as a beginners' driving instructor. But his life shifts into overdrive when mysterious out-of-towner Simon Keller (Cusack) shows up for a driving lesson and hijacks Peter to be his getaway driver in a $9 million heist. On DVD, Blu-ray Disc from Image Entertainment ... "Iceman
" (2013 -- Hong Kong), starring Donnie Yen, Eva Huang, Wang Baoqiang, Simon Yam, Mark Wu, Gregory Wong and Yu Kang, takes a great premise and buries it in a muddled storyline and incoherent direction. Yen stars as Ming Dynasty palace guard Ying, one of a quartet of orphans raised together in a small village. While transporting the Golden Wheel of Time -- which is said to have the power of time travel -- he is wrongly accused of murder and hunted by his three vengeful "brothers." During a heated confrontation, an avalanche buries all four, freezing them at the height of their battle. 400 years later, they are defrosted and resume their mortal struggle -- while also adjusting to modern-day life. On DVD, Blu-ray Disc from Well Go USA ... Anna Kendrick stars as Jenny, an irresponsible twentysomething who comes to Chicago to live with her older brother Jeff (Joe Swanberg, who also directs), a young filmmaker living a happy existence with his novelist wife Kelly (Melanie Lynskey) and their two-year-old son in "Happy Christmas
" (2014). Jenny's arrival shakes up their quiet domesticity as she and her friend Carson (Lena Dunham) instigate an evolution in Kelly's life and career while Jenny strikes up a rocky relationship with the family's baby sitter-cum-pot dealer (Mark Webber). From Paramount ... Five-time World Karate Champion Seydina Balde stars in "Covert Operation
" (2013) as a bounty hunter who must fight his way out of imprisonment and torture in eastern Asia. From Lionsgate ... When a group of high school kids breaks into an abandoned amusement park, they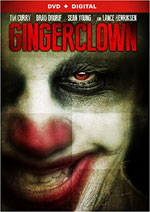 come to find it is overrun by monsters in "Gingerclown
" (2012 -- Hungary), starring Erin Hayes, Ashley Lloyd, Michael Winslow, Tim Curry, Lance Henriksen, Brad Dourif and Sean Young. Filmed in Budapest and Los Angeles. From Lionsgate ... After spending 20 years in federal prison for a myriad of crimes, ailing Mafia boss Joseph "Mr. Joe" Scoleri is released with a strict requirement not to interact with his old contacts in the Mafia in "Once Upon a Time in Queens
" (2013). He quickly realizes that while the world around him may have changed, the habits of a Mafia boss die hard. Stars Paul Sorvino, Michael Rapaport, Renee Props, Andrea Nittoli, Lev Gorn, Paul Ben-Victor, Steven Bauer, Chazz Palminteri. From Lionsgate ... A family involved in a car crash on a rainy night take refuge in a secluded inn, where they free a girl locked in a basement -- not knowing that she's an ancient evil in "The Damned
" (2013), starring Peter Facinelli, Sophia Myles, Nathalia Ramos and Carolina Guerra. On DVD, Blu-ray Disc from IFC Midnight/MPI Media Group ... In "The House at the End of Time
" (2013 -- Venezuela) a mother, sentenced to the maximum penalty of imprisonment for murdering her husband and two children in their home despite her pleas that a malevolent force in the house was responsible for the killings, is sent back to her old home and the scene of the crime under house arrest, where she's forced to confront the horrifying memory of what happened there. From Dark Sky Films ... A mysterious stranger reverses a series of tragic events that orphaned and blighted a young boy's life -- the once bright, cheery boy has become a streetwise kid supporting his ill grandmother through petty crime -- in "Lost Christmas" (2014), starring Larry Mills and Eddie Izzard. From Inception Media Group ... An overweight, socially offensive and not all that bright Brooklyn guy turns into a sex machine thanks to a vampire's bite in the horror comed "Summer of Blood
" (2014), starring Onur Tukel and Anna Margaret Hollyman. From Dark Sky Films ... In the "So bad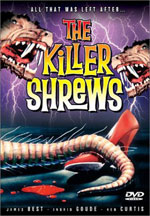 it's good cult fav" "The Killer Shrews
" (1959), a small group of people are terrorized by voracious, mutant creatures on an isolated island in the midst of a hurricane. Secret research to reduce world hunger has gone terribly wrong, resulting in the creation of the giant, voracious, poisonous shrews that are now loose on the island, where they're reproducing and growing larger by the day. They quickly run out of food and attack the research compound, resulting in mayhem, death and destruction. Weak acting, cheesy effects highlight the film, which reportedly is one of Stephen King's favorite horror flicks. Stars James Best, Baruch Lumet, Ingrid Goude, Ken Curtis. Digitally restored from Film Chest ... Scream Factory/Shout! Factory has released "Dolls
Collector's Edition" (1987), directed by schlock horror film maestro Stuart Gordon and starring Stephen Lee, Guy Rolfe, Hilary Mason, Ian Patrick Williams, Carolyn Purdy-Gordon, Cassie Stuart, Bunty Bailey and Carrie Lorraine. A precocious girl, her nasty parents, two punk-rock losers and a weak-kneed salesman inadvertently become the guests of two ghoulish senior citizens in their dark, haunted mansion. The old couple makes and collects dolls that, when not sitting still like good little mannequins, creep around in the night, offing the guests one by one.


ON THE INDIE FRONT:
"Mood Indigo
" (2013), starring Audrey Tautou, Romain Duris, Omar Sy, Gad Elmaleh, Charlotte Le Bon, is the latest quirky outing from director Michel Gondry. Duris plays wealthy bachelor Colin, whose hobbies include developing his "pianocktail" (a cocktail-making piano) and devouring otherworldly dishes prepared by his trusty chef Nicolas. When he learns that his best friend Chick a fellow acolyte of the philosopher JeanSol Partre, has a new American girlfriend, the lonely Colin attends a friend's party in hopes of falling in love himself. He soon meets Chloe (Tautou) and before they know it, they're dancing to Duke Ellington and plunging headfirst into a romance that director Gondry rapturously depicts as only he can. Their whirlwind courtship is tested when an unusual illness plagues Chloe: a flower begins to grow in her lungs. To save her, Colin discovers the only cure is to surround Chloe with a never-ending supply of fresh flowers. Two-disc set with both the Director's Cut and the Extended Cut of the film. On DVD, Blu-ray Disc from Drafthouse Films/Cinedigm.


FOREIGN FILMS:

Inspired by director Catherine Breillat's ("Fat Girl," "Romance") true life experiences, her latest film "Abuse of Weakness
" (2013 -- France) is an exploration of power and sex. Isabelle Huppert stars as Maud, a strong willed filmmaker who suffers a stroke. Bedridden, but determined to pursue her latest film project, she sees Vilko (Kool Shen), a con man who swindles celebrities, on a TV talk show. Interested in him for her new film, the two meet and Maud soon finds herself falling for Vilko's manipulative charm as their parasitic relationship hurdles out of control. From Strand Releasing ... In a desperate attempt to reconnect with her estranged son who -- a passionate WWE fan -- Rose (Marilou Berry) grabs his attention by joining a rigorous training program to learn to wrestle like a legitimate WWE Diva. She convinces her bored fellow cashiers at the local supermarket to join her challenging new adventure and together they become the "Queens of the Ring" (2013 -- France). Co-stars Nathalie Baye, Andre Dussollier, Audrey Fleurot. From Image Entertainment.


FOR THE FAMILY:

"Star Wars: The Clone Wars: The Lost Missions" (2014) features the last 13 episodes of the TV series. Against a backdrop of ever-shifting loyalties, uneasy alliances and ancient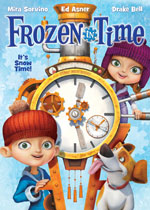 hostilities, the conflict between the Republic and the Separatists ramps up, setting the stage for Darth Sidious' ultimate act of treachery against the Jedi. On DVD, Blu-ray Disc from Warner ... Everybody has feelings - happy, sad, and even mad. Barney and his friends have a tee-rific time exploring different types of emotions in the four episodes of "Barney: This Is How I Feel" (2014); $14.98 from Universal ... "Frozen in Time" (2014) is an animated adventure about a pair of siblings who damage their grandfather's most treasured possession, a strange clock, and throw the whole world into a crazy time continuum, where Christmas day is repeated over and over. The only way they can restore order is to travel to the North Pole and repair the clock in Santa's workshop. With the voices of Ed Asner, Mira Sorvino, Drake Bell. From ARC Entertainment.


SPECIAL INTEREST:
"I Am Ali
" (2014) is an intimate look at the legendary athlete, father, humanitarian and activist as he has never been seen before. With exclusive access to Ali's personal archive of audio journals, the docu features touching interviews and testimonials from his inner circle of family and friends and legends of the boxing community -- including former heavyweight champions Mike Tyson and George Foreman -- and Ali's longtime friend and business manager, Gene Kilroy. The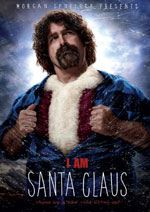 film shares the champion's extraordinary history as a fighter, lover, brother, father and friend as told by insiders and by the man himself for the very first time. On DVD, Blu-ray Disc from Universal ... Few parents give much thought to the jovial man in the Santa suit who promises their kids they'll get everything they want for Christmas. If they did, they might be surprised. The documentary "I Am Santa Claus
" (2014) -- part of the "Morgan Spurlock Presents" film label -- looks at the men who put on the red suit every December and selflessly commit themselves to making anonymous children happy. Everyone thinks of Santa Claus as a magical figure without flaws, but the men who keep his legend alive, real-bearded professional Santas, are rarely anything like the jolly old Saint Nick we've all grown up knowing. In reality, the mall Santa in your cherished children's photo has problems just like the rest of us. Even the most jovial of men fall victim to divorce, job loss, insecurity and even the occasional hangover. The film follows the lives of five professional Santas for an entire year, as they anticipate and prepare for Christmas season and then return to their "real" lives during the off-season. We see who they actually are: flawed, flesh-and-blood men who nevertheless feel a great responsibility to protect the spotless reputation of the "Red Suit." On DVD, Blu-ray Disc from Virgil Films ... "Liberty: Heroes of the American Revolution" (2013) is a two-disc anthology of documentaries about the Founding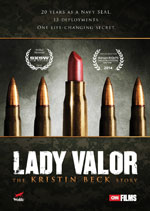 Fathers: "Founding Fathers Miniseries," "10 Things You Don't Know About: The Founding Fathers," "10 Things You Don't Know About Benjamin Franklin," "Paul Revere: The Midnight Rider," $14.98 from Lionsgate ... In "Lady Valor: The Kristin Beck Story
" (2014), former U.S. Navy SEAL Christopher Beck embarks on a new mission as a transgender woman, Kristin Beck. Kristin served for more than 20 years on SEAL Teams 1, 5 and 6. She retired in 2011, but continued high-level clearance work for the U.S. government and the Pentagon. Kristin hid her true identity throughout and after her years of service, but in 2013 came out publicly on LinkedIn and CNN's "Anderson Cooper 360." From Wolfe Video/CNN Films ... "Gabriel Iglesias Presents Stand-Up Revolution: Season Three" (2014) is a two-disc set that includes all new material with animated segments of Gabriel's most popular jokes, extended episodes, and an outstanding selection of bonus features. $19.99 from Paramount.


FROM TV TO DVD:

"Ancient Aliens: The Complete Seasons 1-6" (2009-14) is a 23-disc gift set that takes you on a mind-bending journey into our deep past with all six seasons of the series including 12 episodes from Season 6 that have never been released on DVD. $99.98 from Lionsgate ... "Dear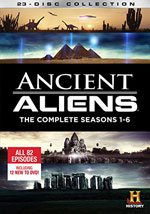 Secret Santa" (2013) stars Tatyana Ali, Jordin Sparks, Lamorne Morris, Ernie Hudson, Della Reese and Bill Cobbs in a holiday romance about a hard-working and ambitious woman who returns to her hometown for the holidays and begins exchanging letters with a secret admirer. From Lionsgate ... "Duck Dynasty: Duck The Halls" (2014) includes two-holiday themed episodes: "O Little Town of West Monroe" and "Duck Roasting on an Open Fire." From Lionsgate ... "Sons of Anarchy: The Collector's Set" includes Seasons 1-6 with a slot for the Final Season. The special edition box set comes in a recreation of the iconic SAMCRO Reaper clubhouse table. On DVD, Blu-ray Disc from Fox ... "True Blood: The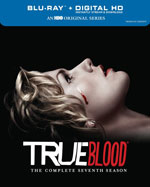 Complete Seventh Season" (2014) includes all 10 episodes of the sexy, scary, wildly entertaining series based on the Sookie Stackhouse novels by Charlaine Harris. In this final season, an initial battle between raging Hep-Vamps and their Bon Temps prey sets the stage for a season-long series of hair-raising denouements for Sookie, Bill, Eric, Jason, Sam, Alcide, Tara and their human/vampire allies and adversaries. In the end, some of "True Blood's" most beloved figures will meet cruel fates, while others will cheat death (true and otherwise) to forge happily-ever-after relationships that will leave fans surprised and, ultimately, satisfied. Five-disc DVD: $59.99, four-disc Blu-ray: $79.98; from HBO.

Check out other November 11-17 DVD releases and reviews at OnVideo.