New on DVD and Blu-ray Week of August 5-August 11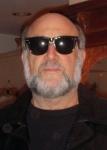 By Harley Lond - 08/04/14 at 11:09 PM CT
THIS WEEK'S THEATRICAL RELEASES:

"Divergent":
All hail Lionsgate. First the company gave us "The Hunger Games," parlaying Suzanne Collins' novels into multi-million dollar boxoffice bonanzas. Now they've handed us "Divergent," the first movie in a four-part saga based on the "Divergent" book series by Veronica Roth. Like "The Hunger Games," "Divergent" stars an up-and-coming young actress who's just starting to make her mark as a dramatic star in Hollywood; in this case it's Shailene Woodley, who got excellent notices for her work in 2011's "The Descendants" and 2013's "The Spectacular Now" and this years's "The Fault in Our Stars" (need we remind you that Jennifer Lawrence knocked people out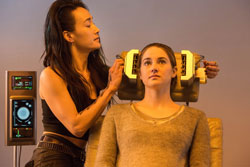 in 2010's "Winter's Bone" well before "The Hunger Games"?). But the similarity stops there. While "Games" Katniss Everdeen is a self-confident warrior going up against the system, in "Divergent
" -- which postulates a dystopian future in which society is divided into five factions that each represent a different virtue -- Tris Prior (Woodley) is basically a naif who, when tested to determine which group she should enter, discovers she doesn't fit into any group -- she's a Divergent. Lacking confidence, she decides to join the militant Dauntless faction (the futuristic police force), where she develops her inner and outer strength, uncovers a mind-bending conspiracy, and finds the courage to foster a mini-rebellion. Unlike "Hunger," "Divergent" kind of ambles along at a slower pace, taking a bit too long to develop its backstory before getting to the meat of the matter: a government takeover by a totalitarian group (course, this futuristic society isn't too sweet to begin with). And, unlike Lawrence fitting perfectly into Katniss' role, we found Woodley a little too tenuous as Tris; she's too hesitant in accepting her role. (Audiences, too, were hesitant; "Divergent" pulled in about $150 million compared to the first "Games'" $400 mil.) Still, it's a fun outing, with enough action, romance and intrigue to make you want to see the next installments (The next three installments -- "Insurgent" and "Allegiant Parts 1 & 2" -- will be released theatrically on March 20, 2015, March 18, 2016 and March 24, 2017, respectively). Joining Woodley are Ashley Judd and Tony Goldwyn as Tris' parents and Kate Winslet as the requisite villain. Meager extras include commentary and a couple of behind-the-scenes featurettes.

"Need for Speed
":
For Aaron Paul's first starring vehicle after five years of "Breaking Bad," the just-turning-35-year-old actor choose a role certainly familiar to the TV series' fans: an angst-ridden, existential hero who will fight against all odds for loyalty and justice (either above or behind the law) and gets stepped on by the powers-that-be. Here he plays a blue-collar mechanic who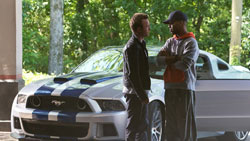 races muscle-cars on the side in an unsanctioned street-racing circuit while struggling to keep his family-owned garage afloat. To make ends meet, he reluctantly partners with a wealthy and arrogant ex-NASCAR driver and past rival (Dominic Cooper) who frames him for the death of his best friend in a disastrous car race. Fresh out of jail, he teams up with his old crew and a female exotic car broker (a delightful Imogen Poots) to enter a high stakes supercar race in San Francisco to take his nemesis down -- but he first has to run a gauntlet of cops and bad guys from coast to coast. It's all pretty predictable, with Paul reprising his Jesse Pinkman moves, grunts and asides and not really stepping out into the spotlight. The true stars of the film are the million-dollar sports and GT cars, as well as the racing and, of course, spectacular crashes. And then there's the beautiful Poots. "Need For Speed" is based on the best-selling video game series. Extras include several interesting behind-the-scenes featurettes on the cars and the crashes. From Disney.

Also due this week is "God's Not Dead
" and "Oculus
."


THIS WEEK'S HIGHLIGHTS:

For those of you not yet in the Blu-ray world, Warner Bros. Home Entertainment will release this week a remastered DVD version as well as a digital download of William Friedkin's overlooked "Sorcerer
" (1977), starring Roy Scheider, Bruno Cremer, Francisco Rabal and Amidou, and featuring an incredible soundtrack by Tangerine Dream. According to Warners, they decided to release the DVD version due to the overwhelmingly positive reception of the April remastered Blu-ray edition. For Blu-ray fans, Shout! Factory will release a Blu-ray version of Brian De Palma's overlooked gem "Phantom of the Paradise
" (1974), starring Paul Williams, William Finley, Jessica Harper and Gerrit Graham. As the title would suggest, the film revolves around a rock impresario (Williams) haunted by the spectre of a disfigured musician (Paul Williams) whose music he ripped off. Extras include new interviews with Brian De Palma, Paul Williams; new audio commentary with producer Jack Fisk; new audio commentary with Jessica Harper, Gerrit Graham; and a DVD of additional bonus content including a new interview with producer Edward R. Pressman, a new featurette on the neon poster art, more ...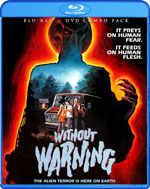 "Without Warning
" (1980) is about as cheesy a sci-fi thriller as you'll get from the cheesy 1980s, with stunted acting, corny effects and muddled direction. But it is a lot of fun ... especially when you check out the great cast slumming here for a paycheck: Jack Palance, Martin Landau, Cameron Mitchell, Neville Brand, Sue Ane Langdon, Ralph Meeker and Larry Storch. Earth is the new hunting ground for an alien life form that tracks and kills humans (in a precursor to 1987's "Predator"). A group of teenagers head out to a lake for a relaxing camping trip in the mountains but things go terribly wrong when they run into the extraterrestrial, who throws deadly discs that suck the blood of their victims, including a young David Caruso. The two survivors -- Tarah Nutter and Christopher S. Nelson -- head back to a local truck stop for help from an eclectic group of nutty residents, including a crazy war veteran (Martin Landau) and a determined hunter (Jack Palance). In a Blu-ray/DVD Combo from Scream Factory/Shout! Factory.


BUZZIN' THE 'B'S:

Ex-child star Joel Osment hasn't had much of a big-screen career since his rise to fame in "The Sixth Sense "(1999) and "A.I." (2001), spending a lot of time on voice overs for animation and video games, and the lackluster sci-fi adventure "I'll Follow You Down
"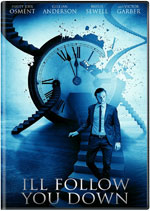 (2013) certainly won't help change that situation. The muddled story line -- about a scientist (Rufus Sewell) who creates a time machine to go back in time to chat with Einstein and mysteriously disappears, leaving behind his wife (Gillian Anderson) and son (Osment), who grows up to also become a time-traveling scientist who decides to go into the past to rescue his dad -- flounders around with a script and direction that has more wormholes than the sixth dimension. Sadly, Osment can't carry the film with his limited range, and the whole endeavor brings down the talented Anderson and Sewell. A disappointment. On DVD and Blu-ray from Well Go USA ... One of the few survivors of the Great Siege of Rochester Castle fights to protect his family's estate from fierce Celtic raiders in "Ironclad: Battle for Blood
" (2014), starring Michelle Fairley, Tom Austen, Tom Rhys Harries and Roxanne McKee. On DVD and Blu-ray from XLrator Media ... A man with the ability to enter peoples' memories takes on the case of a brilliant, troubled 16-year-old girl to determine whether she is a sociopath or a victim of trauma in "Anna
" (2013), starring Mark Strong, Brian Cox and Taissa Farmiga. From Vertical Entertainment.


ON THE INDIE FRONT:

In "Around the Block
" (2013 -- Australia), starring Christina Ricci, Hunter Page-Lochard, Jack Thompson, Damian Walshe-Howling and Ruby Rose, American drama teacher Dino Chalmers (Ricci) moves to Sydney's Redfern district to be with her fiance and is hired by the local school in what may be the school's final term. Dino's passion for Shakespeare drives her vision of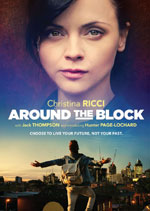 producing a school play as part of the Indigenous cultural program, and finds that 16-year-old Aborigine Liam (Page-Lochard) has a natural gift for performance. But there is a shadow over Liam's life, with his father in jail and his older brother determined to avenge the death of his uncle. With Dino's encouragement as she faces tough choices in her own life, Liam confronts his past and eventually takes control of his future. Set amid the 2004 Redfern riots, the film was shot in the very neighborhood where tensions between Aboriginal and non-Indigenous Australians reached a fever pitch a decade ago. From Random Media/Cinedigm ... A shy college student who invents a fake documentary project to get close to Go, a NYC go-go dancer he is infatuated with in "Getting Go, the Go Doc Project" (2013), starring Tanner Cohen and Matthew Camp. From Wolfe Video ... A struggling New York actor/playwright who will do almost anything to help a friend agrees to represent his best friend in traffic court ... but things get complicated when a simple $25 traffic ticket turns into a sentence for 5,000 hours of community service at the local community center run by the judge's temperamental uncle, Bishop Nixon in "Community Service" (2013), starring JD Lawrence, Clifton Powell and Terri J. Vaughn. From Entertainment One.


FOREIGN:

From Philippe Le Guay, the director of the hit comedy "The Women on the 6th Floor" comes the warm, funny, literate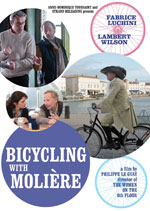 comedy "Bicycling with Moliere
" (2013 -- France) about Gauthier (Lambert Wilson), a handsome and famous soap opera star from Paris and Serge (Fabrice Luchini), a serious stage actor who has renounced his profession to live on an idyllic island off the French coast. When Gauthier visits Serge to convince him to join him in a production of Moliere's "The Misanthrope," a battle of wits ensues over who will play the lead role of Alceste. Between rehearsals, the two bike along the windswept beaches, rival for the affections of a beautiful Italian divorcee and offer advice to an aspiring porn actress. As tensions mount, Gauthier begins to wonder if Serge is really considering leaving his island paradise for the stage or if he's just toying with him. From Strand Releasing.


SPECIAL INTEREST:

After three decades turning his lens on New York City, taxi driver turned street photographer Matt Weber has seen it all. The documentary "More Than the Rainbow
" (2014) not only chronicles the life and times of Weber, but becomes a vibrant conversation about the photographic medium, artistic expression, and New York City. There is no telling how many stories Weber has attempted to capture since he first started taking pictures out of the window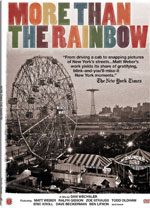 of the cab he used to drive. But his quarter century-plus devotion to candidly depicting the lives of his fellow New Yorkers, many of them from the fringes of society, has yielded a remarkable document of a New York that most of us will never experience. Shot partially in gorgeous 35mm and largely scored to the music of Thelonious Monk, "More Than the Rainbow" interweaves verite, still photography and revealing interviews with Weber and fellow photographers to create an evocative documentary that is a poetic celebration of the world's greatest city and the individuals who walk its streets. From First Run Features ... b>"America's Wild West" (2013) is a three-disc set with eight documentaries on the men and women who helped to tame the West: "Annie Oakley," "Billy the Kid," "Buffalo Bill," "Butch Cassidy and the Sundance Kid," "Custer's Last Stand," "Jesse James," "Kit Carson" and "Wyatt Earp." $39.99 from PBS Distribution ... "Top Gear 21" (2014) is a three-disc set with six episodes, $19.98 from BBC Home Entertainment ... In the documentary "Dream Deceivers" (1991), two young men shoot themselves in a churchyard. Ray Belknap dies; James Vance -- severely disfigured -- survives. Their parents take heavy-metal icons Judas Priest to court, claiming the band "mesmerized" their sons. The unprecedented trial is the framework for this one-of-a-kind, Emmy-nominated documentary. From First Run Features.


FROM TV TO DVD:

"Agatha Christie's Marple Fan Favorites Collection" (2013) -- released in anticipation of the final episodes airing this September on Masterpiece Mystery! -- includes Miss Marple's five most popular mysteries, as voted by Agatha Christie fans: "The Murder at the Vicarage" (Series 1: U.K. broadcast 2004); "A Murder Is Announced" (Series 1: U.K. broadcast 2005); "At Bertram's Hotel" (Series 3: U.K. broadcast 2007); "A Pocket Full of Rye" (Series 4: U.K. broadcast 2008) and "The Mirror Crack'd from Side to Side" (Series 5: U.K. broadcast 2010). Three-disc DVD, $39.99; from Acorn Media ... "Agatha Christie's Poirot Fan Favorites Collection" is a collection of favorite cases chosen by Christie's fans. Three-disc set with six mysteries starring David Suchet: "Murder on the Orient Express "(Series 12, 2010); "Hercule Poirot's Christmas" (Series 6, 1995); "The Mysterious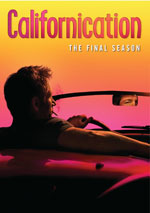 Affair at Styles" (Series 3, 1990); "The ABC Murders "(Series 4, 1992); "The Adventure of the Egyptian Tomb" (Series 5, 1993) and "Four and Twenty Blackbirds" (Series 1, 1989). $39.99. from Acorn Media ... "The Birthday Boys: The Complete First Season" (2013) is a two-disc set with 10 episodes, $29.98 from Anchor Bay ... "The Broker's Man, Series 2" (1998-99) is the North American DVD debut of the series starring Kevin Whately as an ex-cop turned insurance investigator who exposes con men and other fraudsters. Two-disc set with six episodes, $39.99 from Acorn Media ... "Californication: The Final Season" (2013) is a two-disc set with 12 episodes. When the fast-living Hank left the literary haunts of New York for the pleasure-seeking splendors of L.A., he thought he'd have fame, fortune and the love of a good woman. Now his personal life is in shambles, his career is on the brink of self-destruction and he still just can't stop yielding to every temptation. The final season finds Hank in the writer's room, as his never-released film "Santa Monica Cop" now becomes a television series of the same name. Riled by his boss, the show's old-school executive producer (Michael Imperioli), Hank also has trouble playing nice with his fellow writing team members. Soon he's thrown by the reemergence of old friend Julia (Heather Graham), whose arrival causes chaos in Hank's already hectic life, including his on-off relationship with muse Karen (Natasha McElhone). $46.99 from
Showtime Networks/CBS Home Entertainment/Paramount ... "Community: The Complete Fifth Season" (2013-14) is a two-disc set with 13 episodes, $35.99 from Sony ... "Ja'mie: Private School Girl" (2013) is a two-disc set with six episodes of the continuing story of Ja'mie King, a private school princess slumming it at a lowly public school with a delusional self-obsession and a vicious potty mouth. A conniving Year 12 student at Hillford Girls Grammar, a tony private school in Sydney, Australia, Ja'mie, the self-promoting "queen bee," returns from an exchange semester at public school Summer Heights High for her last three months at Hillford, where she's the unchallenged diva among the school's most popular girls. Ja'mie turns her attention to conquering the opposite sex. $29.98 from HBO ... "Last Tango in Halifax: Season Two" (2013) is a two-disc set with six episodes of the PBS favorite series about two childhood sweethearts who work to finally make a life together after nearly 60 years apart. $34.98 from BBC Home Entertainment ... "Mythbusters Collection 11" (2011) is a two-disc set with 10 episodes in which fearless leaders Jamie Hyneman and Adam Savage explore all forms of the unusual -- from bazookas and toilet bombs to duct-tape airplanes and rock sleds -- leaving no mystery unsolved. Additional, the duo attempts to create a Newton's cradle using wrecking balls! $29.93 from Cinedigm ... The "Perry Mason Movie Collection Volume Three" is a three-disc set with six movies: "The Case of the Poisoned Pen," "The Case of the Dangerous Deception," "The Case of the Silenced Singer," "The Case of the Defiant Daughter," "The Case of the Ruthless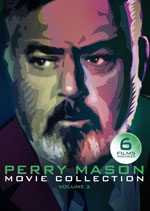 Reporter" and "The Case of the Maligned Mobster." $59.99 from CBS Home Entertainment/Paramount ... Based on the bestselling, long-running novel series by Leslie Charteris, "The Saint, Set 1" (1989) follows the adventures of Simon Templar, played by British actor Simon Dutton, a debonair thief who targets only evildoers. Produced in 1989, this series of TV movies had limited broadcast in the U.S. through syndication to independent commercial stations; this DVD set is the first opportunity for most U.S. viewers to watch this version of the timeless character. Three-disc set with three feature-length movies, $49.99 from Acorn Media ... Based on the critically acclaimed Tony Award-nominated play by Horton Foote, the Lifetime movie "The Trip to Bountiful" (2014), starring Cicely Tyson, Vanessa Williams, Keke Palmer and Blair Underwood, follows Carrie Watts (Tyson), an active widow living in a cramped apartment with her son (Underwood) and daughter-in-law (Williams), who escapes to realize her dearest dream: to return to her beloved hometown, Bountiful. From Lionsgate.

Check out other August 5-August 11 DVD releases and reviews at OnVideo.