By Chris Kavan - 07/17/14 at 06:43 AM CT
The summer box office may be running a bit behind schedule, but that doesn't mean there isn't a lot of gas left in the tank. Dawn of the Planet of the Apes surpassed the original film - and maybe that's a good sign, as this week we're going to see two more sequels - an animated film and a horror. Plus we have a brand new raunchy R-rated comedy that will try to stand out amongst the crowd. But a crowded box office also means there's less room to share - so it's going to be interesting to see if the newcomers will be able to break in to the scene or if they're going to crash and burn.


PLANES: FIRE & RESCUE
I'll be the first to admit, I really had no interest in the original Planes movie. For one, I already had a low opinion of Cars - so a spinoff (one that was supposedly going straight-to-video before an opening popped up at the box office) was low on my radar. But for an animated movie, Planes had a low budget in the $50 million range and it went on to gross over $90 million. Not exactly a home run, but enough to greenlight a sequel. This time Dusty Crophopper (Dane Cook) is going from racing to rescue, as he joins a group known as the Smokejumpers - a fire-fighting crew - and just a a deadly blaze breaks out. Besides Cook, the voice talent includes the likes of Ed Harris, Julie Bowen, Hal Holbrook, Cedric the Entertainer, Brad Garrett, Curtis Armstrong, Stacy Keach and Regina King - about half returning from the original film and half new additions. That is quite the mix - but the best thing this Planes sequel has going for it is that this is a summer light on family and lighter on animation. Other than How to Train Your Dragon 2 (which itself stumbled a bit) there is really no direct competition at the box office. If this appeals to adults and children, this could be a monster at the box office. But, more than likely, it will follow in roughly the same steps of the original planes - a modest opening and will be lucky to top off in the same $90 million range.

SEX TAPE
It has been a pretty good year for R-rated comedies. 22 Jump Street is nearing the $175 million mark (budget $50 million), Neighbors nearly reached $150 million (budget $18 million) and even the somewhat maligned Tammy is sitting at over $60 million on just a $20 million budget. That is good news for Sex Tape - starring Cameron Diaz and Jason Segel as a couple who spice up their marriage by taping their late-night escapades, only to have it go viral as they rush to contain it. The Supporting cast includes Rob Corddry, Ellie Kemper and Rob Lowe. The marketing for this one has been heavy - but for all their effort at pushing the racy, smutty vibe - early reviews peg this as kind of light on the laughs. What that says to me is that Sex Tape will probably have a decent opening but won't have the hold of, say, 22 Jump Street. That being said - it audiences find it holds up better than the critics, it could enjoy a better run than reviews would have you think.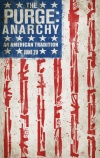 THE PURGE: ANARCHY
When The Purge came out in 2013, it had a novel idea: on one night each year, all crime was made legal - murder, rape, torture, illegal fireworks - everything and anything - because apparently this one loophole cut down on crime (or something) by allowing a release. But The Purge squandered such an interesting premise by taking place in a single household where the defenses were left open. Granted, the film still made $64 million on a $3 million budget - but a lot of people felt rightfully duped. The Purge: Anarchy, however, finally delivers the goods by taking place outside, in the open, where the freaks with violent tendencies go wild - and an unfortunate group of everyday citizens are caught in the crossfire when their car breaks down - along with a father seeking revenge and a mother/daughter who barely escape when their house is targeted. I think this is the movie the original Purge should have been - and if audiences don't feel burned after watching the first one, it could make up for it. However, it's been a decidedly down year for horror - there has been no breakout hit and even modestly-budgeted horror films have failed to gain much traction. If The Purge can find an audience, maybe it will be a bright spot for the genre, as it stands, I have a feeling it's going to another in the long line of mediocre horror films to hit this year.
We will have to see if any of these three new films can sway audiences away from Dawn of the Planet of the Apes. Considering they are all targeting different audiences, there will probably be enough spread around to crown a new champion - but don't count Apes out - with strong word-of-mouth and critical reaction, it should put up a strong challenge.
Comments