Has Hollywood Finally Learned How to Look Beyond the White, Male Demographic?
By Chris Kavan - 06/18/14 at 05:11 PM CT
On any given Friday the latest blockbuster opens and who do you see? It's a bird, it's a plane - it's Superman! Or perhaps the Dark Knight, growling his way to a better world. No - maybe it's Brad Pitt, saving the world from zombies or Bruce Willis, Arnold Schwarzenegger or Sylvester Stallone trying to prove they're still action draws. Channing Tatum shaking his money-maker - Mark Wahlberg acting with a talking teddy bear or an adventure on Middle-Earth. Regardless if it's action, romance, fantasy, drama or comedy - there is on thing you can count on - that one of the main characters is going to be a white male.

Hollywood is dominated - both in front and behind the camera - with predominantly white males, and it shows. Look at the top 100 domestic movies of all time and see if you can spot how many don't predominantly feature a white, male protagonist (or a group of them). Only one film in the top 10 (The Hunger Games: Catching Fire) - and again, The Hunger Games (#15) have a female lead. In fact, if it wasn't fore Jennifer Lawrence and Sandra Bullock, there would be almost no female recognition. And if it wasn't for Will Smith, there would be nearly no representation by the African American community, either.

But though the box office is still dominated by this statistic, maybe, just maybe Hollywood is learning that it doesn't have to be that way. You can look at Frozen - the first Disney movie to be directed by a female - in this case Jennifer Lee (even though Chris Buck is also credited, he exited very early and Lee is the driving force behind the film).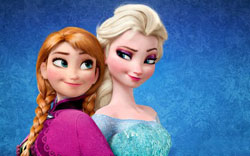 And Frozen just so happens to feature two prominent female roles - played by Idina Menzel and Kristen Bell - and although there is a handsome prince (SPOILER AHEAD for the five people who haven't seen this yet) - he turns out to be the villain. And the other male character is in love with his moose, I think. Oh, and it also became the highest-grossing animated film of all time (internationally) and spawned a massive hit in the form of "Let It Go" not to mention a massive amount of merchandise. But it's animation you say - and Brave, Pixar's attempt to front a strong, female lead, wasn't quite as popular as earlier Pixar films.

Ah, but catering to a female audience has never seen better returns - and maybe Hollywood has figured out how to not only make a strong female lead - but to present it in something other than a romance or some middling, subservient way. The success of Bridesmaids, The Heat and Identity Thief prove that women are as adept at comedy as men. Sandra Bullock was a one-woman show-stopper in Gravity while Angelina Jolie (after a brief hiatus from acting), came back strong recently with Maleficent. Action? The Hunger Games is set to become one of the top-grossing franchises of all time - and Jennifer Lawrence is a big part of that. And Shailene Woodley is set to carry that same torch with the Divergent series, which also got off to an impressive start.

But it's not just women who are finally getting their due - director Steve McQueen gifted us with 12 Years a Slave, one of the most powerful films I have seen in a long time - and, love him or hate him,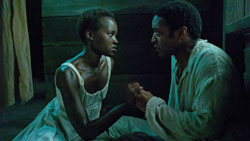 Tyler Perry has pretty much made a cottage industry out of catering the the black, urban demographic. And don't forget actor Kevin Hart, who has seen his comedic star rise, from making one of the most impressive stand-up films of all time with Let Me Explain, and hit after hit from Think Like a Man to Ride Along. Granted, we have witnessed this before (think Eddie Murphy in the 80s.... and not Eddie Murphy today). There are plenty more examples out there (Spike Lee, prolific actor Samuel L. Jackson and many more) of African American influence - and it only keeps expanding.

Latino audiences are set to become on of the most important demographic groups in the coming years. The success of Spanish-language films like Instructions Not Included (which climbed all the way to #3 - after a surprising top five finish despite opening in less than 500 theaters) and We Are the Nobles prove there is a market out there - and support as well, if only Hollywood would take notice. You have a handful of directors like Pedro Almodóvar and Robert Rodriguez (who take entirely different approaches as well) who have made their mark, but I think this is an long-untapped market that is set to explode.

When it comes down to it - if you go to the theaters, chances are you're still going to see a white male up on the screen - especially if it has "blockbuster" written on it. But things are changing and I think the lineup is going to get more and more diverse - if only because that is also how the population is going. And it's going to happen sooner rather than later.