By Chris Kavan - 04/28/14 at 04:07 AM CT
Although the official summer movie season hasn't kicked off just yet, April certainly ended on a high note as the box office continued to top 2013, up 17% compared to last year. And it was the women who helped drive the box office over the weekend, as a female-centric comedy finally knocked Captain America off his perch. Too bad the other new entries couldn't match the popularity of that new film, but you can't have good news all the time. Let's just hope this summer movie season can hold up as well as the monster 2013 season.

1) THE OTHER WOMAN



Sometimes Hollywood forgets that the box office isn't just driven by testosterone-filled males. Then they come to their senses and release a film aimed at the other half of the picture. When they get things right, it often turns out well - such is the case with The Other Woman. With a female cast led by Cameron Diaz (along with Leslie Mann, Kate Upton and Nicki Minaj) the comedy brought in a nice $24.7 million - right alongside the debut of Bridesmaids ($26.2 million) and exceeding expectations. That easily topped the recent April female-centric films The Five-Year Engagement ($10.6 million) and The Big Wedding ($7.6 million). The audience was made up of 75% females, skewed somewhat older (65% over 25) and they gave it a "B+" Cinemsascore (much more generous than critics). If the movie plays well over the next few weeks, it should top out well above $50 million - probably around $70 million or so when everything plays out.
2)
CAPTAIN AMERICA: THE WINTER SOLDIER

With the women taking center stage, the three-time super hero winner had to settle for runner-up over the weekend. Winter Soldier dipped just 37% and brought in another $16.05 million, giving it a new total of $224.9 million and still looks on pace to top the $250 million mark. Granted, the real test comes in May when The Amazing Spider-Man 2 hits - we'll see how one superhero stacks up against the other and that will truly be the determining factor of where Captain America ultimately ends up at.
3) 3)
HEAVEN IS FOR REAL

Dropping one spot, Heaven if for Real took a light 39% hit and brought in $13.8 million, giving the film a new $51.9 million total. In just two weeks, the film has nearly matched the six-week total for God's Not Dead ($52.7 million) and by next weekend will pass that film and also Son of God ($59.5 million) to become the year's highest-grossing faith-based film. On just a $12 million budget, this is a knockout hit and it should top $75 million before it ends its run.
4)
RIO 2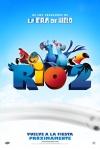 Yet another movie that had a good week-to-week hold, Rio 2 was down just over 38%, bringing in $13.65 million and topping out at $96.1 million. The sequel should top its $103 million budget by next weekend though it will fall short of the original film's $143.6 million total. Still, considering the results, is there any doubt a Rio 3 is already in the works?
5)
BRICK MANSIONS
As the final full film for the late Paul Walker, Brick Mansions had a $9.6 million opening. Considering the film is a remake of a French action film, the opening could have been a lot weaker, though it is hard too gauge just how much of a factor Walker had in drawing in a bigger audience. The movie drew a mostly male (58%) and older (54% over 25) audience, who gave it a "B+" Cinemascore. Given the highly competitive box office, the film will likely top out at under the $25 million mark and short of its $28 million budget.
Outside the top five: The other week's new wide-release opening, the horror film The Quiet Ones, had a horrific $4 million opening (7th place). It barely topped Vampire Academy ($3.9 million) as the worst opening for a film in over 2000 theaters for the year and represented the worst opening for a supernatural horror film playing in over 2000 theaters. With the latest Paranormal Activity film falling flat and Devil's Due barely topping $15 million - it's been a rough time for horror this year.
It took 23 weeks, but Frozen officially topped the $400 million mark, winding up with $400.1 million (in likely one of its last weeks in theaters). On the complete other end of the spectrum, the sci-fi film Transcendence had a huge 62.3% drop, taking in just $4.1 million in its second weekend. Standing at $18.4 million, the film will likely barely be able to top $25 million - and, given its $100 million budge, looks to be one of the biggest losers of the year.
Next weekend as summer movie season officially kicks off, The Amazing Spider-Man 2 will grab the spotlight. It has already taken in $132 million overseas (running about in line with the original film's total) so we'll see how it opens domestically. Besides the web-slinger, the period drama Belle looks to grab the art-house/awards season crowd while Walk of Shame will try to sway comedy crowds.
Comments