By Chris Kavan - 04/24/14 at 06:39 AM CT
April has pretty much been The Captain America show since it opened. But will Winter Soldier be able to close April on a high note by taking the top spot once again or will we finally usher in a new box office champion for the weekend? At least there is some good competition - including an ensemble female comedy that looks to be the successor to the popular "Bridesmaids" we also have another horror film (at an odd time) and an action film that features a popular late actor. I think it's going to be the biggest test yet for Marvel's latest hero - but it's already a certified hit, so even if he falls a peg, don't shed a tear for the real American hero.


THE OTHER WOMAN
Ever since Bridesmaids proved that women could create (and sell) a comedy just as well as the guys, Hollywood has been trying to repeat the success. There have been some worthy followups - The Heat and Pitch Perfect being the best examples - and now we have The Other Woman. With Cameron Diaz, Leslie Mann, Kate Upton and, uh, Nicki Minaj taking the leads. The men are represented by Nikolaj Coster-Waldau (aka that guy on Game of Thrones who lost his hand), Don Johnson and Taylor Kinney. The cast is a bit eclectic for my tastes - I don't even know Upton and Minaj can act, let alone carry a comedy, so that's a pretty big risk to take. And, in a move that could secure it a wider audience, it appealed its original R rating and got knocked back to a PG-13, without making a single cut. But capturing that spirit may be hard - it all boils down to whether The Other Woman can not just secure a female audience - but also appeal to men as well. That's it - if it has wide appeal, I consider Captain America done - but if it can't, it's middle-of-the-road all the way and a likely middle-of-the-road returns as well.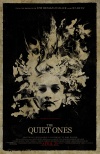 THE QUIET ONES
With Oculus winding down, it's about time for another modestly-budgeted horror film to try its hand at hitting a home run. The Quiet Ones is a British production (from the same people who brought us The Woman in Black). In the film, a professor has an idea to prove that supernatural phenomena is actually based on manifestations of psychological trauma - and does so by conjuring his very own poltergeist by studying a woman who is convinced she is possessed. Of course, this study has to take place at a secluded house and, of course, strange things start to happen. From what I know, the movie relies far too much on the lazy "jump" scares rather than craft a true horror atmosphere. But at least we have a nice cast: Jared Harris, Sam Claflin and Olivia Cooke - to balance out what sounds like a much more routine horror film. Still, Hammer horror is a classic name and is trying to get back into the game - as long as it has decent returns (I'm hoping it does as well, if not better, than Oculus) - they won't have much trouble keeping things together.
BRICK MANSIONS
Finally we come to Brick Mansions, which, in most other cases, would most likely be a limited release going quickly to home video. But this happens to be one of the final films starring the late Paul Walker and, I'm not afraid to say it, this means the film is getting a bigger push. Essentially the movie is a remake of the French film, District B13 (with David Belle reprising his role). Moving to a Detroit setting, an undercover cop navigates a neighborhood surrounded by a containment wall and joins forces with an ex-con to stop a crime boss from unleashing a devastating plan. Besides Walker and Belle, RZA is really the only other big name here - though it looks like it has some pretty intense action scenes to back it up. Regardless, the rise and fall of the film is going to be on how big a draw Walker is in one of his final films - I doubt a lot of people stateside have seen District B13 yet, so that probably won't affect much. Still, if it's compelling enough, it could draw out a decent audience.
I think the weekend is going to come down to the wire, as Captain America works to hand on to its box office crown. Next month is going to be a whole different story, but for now, the star-spangled hero may just have enough gas for one more win.
Comments