Can 4K UltraScreens Save the Day?
By Chris Kavan - 04/05/14 at 04:41 PM CT
Although in my mind, nothing can beat the experience of seeing a movie on the big screen - there is no doubt the traditional theater experience has been on the wane. First you could blame TV, then cable and satellite and today you have streaming (Netflix, Hulu, Amazon, Roku - who doesn't have a streaming service these days?). Plus, with current HD technology - you can get nearly as good experience in your living room as you can by heading out (and you don't have to worry about annoying people or over-priced concessions).

Theaters have tried to adapt - when Avatar made a metric ton of cash, suddenly 3D was the next big thing. As we know, however, aside from a few other movies of note, 3D has largely been a bust - and home 3D has been an even bigger boondoggle. But there is a new entertainment experience on the horizon - one that delivers the ultimate sound and picture with ultimate comfort. But, as with 3D, is this another fad or are we looking at the future of the theater experience? I had a change to check it out recently - and here is my take.

Marcus Theaters is the local chain here in Nebraska, and they recently installed the UltraScreen DLX at my theater of choice, the Lincoln Grand. According the Marcus, this is only the fifth theater of its kind in the nation (and, surprisingly, Nebraska can look forward to two additional screens in the near future) - the others being located in Illinois, Wisconsin, Minnesota and Ohio (with two more also opening in North Dakota).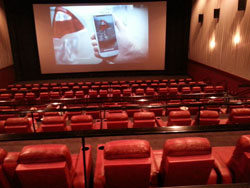 What makes this the "ultimate" experience is the following: 4K resolution, Dolby Atmos surround sound and the Dream Lounger™ Recliner Seats. The screen is advertised as three stories tall (though in the theater itself it was hard to tell). Thanks to a promotion, we got to see Noah for just $5 a seat - a good deal considering standard price for this ultimate experience is $12.50 (the same as a 3D upgrade). But the real question is how is stacks up to a regular theater experience.

Here's my take: does the UltraScreen DLX warrant an extra $3? Depending on the film, I would say yes: probably the most impressive upgrade is the sound. The Dolby Atmos lives up to its reputation - it really does give you an immersive experience. A lot has been said about 4K and I have to say, I didn't notice that much of a change. Apparently the closer you are to the screen, the better it looks - but I don't want to sit up close just to get a slightly better picture - even with a reclining seat. Speaking of the seats - they are pretty awesome. Spacious, comfortable and swanky - but, man, I hate to think what the upkeep is going to be to make sure that A) they continue to look nice and B) they continue to function correctly. Plus, we figured you could only fit about half as many people in the theater itself (if not more), so you better be selling out a lot to cover the cost. I know I would be much more willing to kick in an extra $3 to for this type of experience rather than the almost-always disappointing 3D screens.

Other theater chains have their own take on this - besides the IMAX extra-large format, you have dine-in theaters and even specialty chairs the rock and roll along with the action. We know IMAX is here to stay - that format has prove to be a winner - but will this UltraScreen technology be as successful? I think it's still a bit early to tell - but considering Marcus is also adding beer and wine coolers and pizza to the lineup - it looks like they are in for the long run.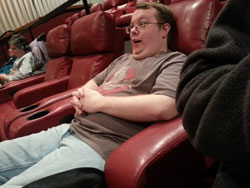 Considering they are also planning to convert more screens to this format, it also looks like they have faith that the future is in providing an experience that is both impressive and equal parts luxurious. If there is an event film - this would be the way to go. Heck, you get to pick your seat and everything - so they practically encourage you to reserve your spot. Like I said, I can see myself going again, but it would have to be a film I am particularly excited about - or that I consider worthy - for me to go the extra distance. Adam Sandler is right out - but something like The Hunger Games or The Hobbit? That's certainly a possibility.

Just like 3D, 4K is already being advertised as the "next big thing" both in theaters and at home. I don't know if that is going to catch on - but when technology and comfort marry as well as they do here, I don't mind dropping some extra cash every now and then. If you happen to have one of these theaters where you are, I'd love to hear your opinion on your experience and whether you think it's worth it.