New on DVD and Blu-ray Week of March 11-17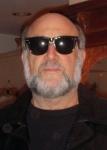 By Harley Lond - 03/10/14 at 08:01 PM CT
THIS WEEK'S THEATRICAL RELEASES:
"Inside Llewyn Davis": The Coen Brothers have a knack for taking a film genre (and time period) and making it their own, from Hollywood satire ("Barton Fink") to Depression-era social drama ("O Brother, Where Art Thou?") to crime thriller ("Blood Simple") to modern Western ("No Country for Old Men") to 1960s melodrama ("A Serious Man") and period Western ("True Grit") -- imbuing their films with offbeat sensibilities (way offbeat with the great "The Big Lebowski"), wit, pathos and existential angst. With "Inside Llewyn Davis" they've taken on a most-sacred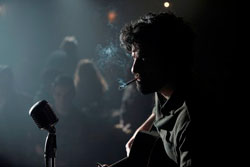 subject, the rise of the 1960s folk-music scene in 1961 New York City, and created a scenario that succinctly captures a moment in time with a melancholy look at a struggling musician who fights his demons to make his way in the world. The film follows a week in the life of young folk singer Llewyn Davis (Oscar Isaac) as he navigates the bleak streets of Lower Manhattan, the living-room couches of friends, and the empty coffee houses of Greenwich Village in an effort to make it as a musician. The settings are right on, the acting superb (with fine turns by Carey Mulligan, John Goodman, Garrett Hedlund, Justin Timberlake and F. Murray Abraham), and the music -- well, so accurately folksy it'll make you reach for those old Dave Van Ronk (whose book, "The Mayor of MacDougal Street," was one of the sources for the film, while the title was a nod to Van Ronk's album "Inside Dave Van Ronk"), Dylan, Ian and Sylvia and Joan Baez albums. The times they were a-changin'. Extras include a making-of documentary. From Sony.

"The Book Thief," based on the international bestselling book by Markus Zusak, got a bum rap by most critics for 1) translating a young-adult novel to the big screen, 2) for bracketing the story with narration by Death, and, 3), for supposedly soft-peddling the horrors of World War II Germany. To be generous, the film adequately translates to the big screen the confused emotions of a spirited young girl who is sent to live with a foster family in a small German town where -- with the help of the local bürgermeister's wife -- she learns to love and appreciate books -- and -- with her new parents -- she hides a Jewish refugee in the basement, where she learns about the sanctity of life and the importance of ideas. On the other hand, the film is a bit sappy and sentimental and shy of any momentous revelations. Still, it's the kind of film you might want to take your 13-year-old to see before they wander down the path to such young-adult junk as "Ender's Game." Great performances from Geoffrey Rush, Emily Watson and Sophie Nelisse as Liesel (the book thief). Meager extras include deleted scenes and a behind-the-scenes featurette. From Fox.

"Homefront": If you don't expect much from this good-guy-against-the-bad-guys action-thriller, then you won't be disappointed. It's old-fashioned American movie-making along the lines of "Bad Day at Black Rock" or "High Noon" in which a lone hero stands up against a bevy of criminals and crazies. Jason Statham plays an ex-DEA agent who breaks up a meth-peddling biker gang and then retires to a quiet Southern town with his 10-year-old daughter. Unfortunately, he discovers that the town is riddled with corruption, drugs and violence, and not only does he have to contend with a psychotic local drug lord (James Franco), he has to fend off the bikers when his witness-protection cover is blown. Statham plays his regular invincible hero while Franco creates a quirky villain (ala "Spring Breakers") and it's all pretty predictable as the face-off situations build up to the crescendo of the ending. Still, a fun outing. Directed by Gary Fleder ("Runaway Jury," "Impostor," "Kiss the Girls") with a screenplay by Sylvester Stallone. Extras include a couple throw-away deleted scenes and an alternate ending, and a brief "teaser" featurette on the film. From Universal.

Also due this week: "Out of the Furnace," from Fox, which was unavailable for review.


BLASTS FROM THE PAST:

"Hollow Triumph" (1948), starring Paul Henreid, Joan Bennett, Thomas Brown Henry, Eduard Franz and John Qualen, is a film noir about a med school dropout-turned-master criminal who puts together a major casino heist that goes wrong. On the lam, he comes across a psychologist who looks like him, and he kills the doctor, assuming his identity -- with ironic consequences. HD restoration from the original 35mm film elements. From Film Chest Media Group ... CAV Distributing has a trio of Ozploitation outings due this week, headed up by the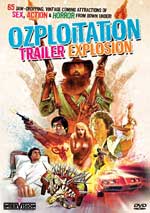 "Ozploitation Trailer Explosion" (2014): In the late 70s and early 80s, films like "My Brilliant Career" and "Breaker Morant" put Australia's New Wave on the map. But at the same time, a depraved generation of young Aussie filmmakers was putting a very different kind of movie on screens. This is the ultimate collection of Ozploitation trailers, packed with ockers, knockers, pubes, tubes, comatose killers, outback chillers, high-octane disasters and kung fu masters. On the Intervision label. "Dead Kids" (1981) is an Ozploitation classic -- and one of the most unique shockers of the 80s. It's the grisly saga of bizarre experiments, butchered teens, New Zealand doubling for suburban Illinois, and a killer in a Tor Johnson mask. Features a hypnotic score by Tangerine Dream. Transferred in HD from the original negative. Stars Michael Murphy, Dan Shor, Fiona Lewis, Dey Young, Marc McClure, Scott Brady, Louise Fletcher. In a Blu-ray/DVD Combo on the Severin Films label. "Thirst" (1979) is another Ozploitation classic -- and a unique vampire movie: David Hemmings and Henry Silva star as executives of an international blood-drinking cartel known as The Brotherhood. But when they abduct a descendant of Elizabeth Bathory to reboot her depraved legacy, she must escape before the corporation can expand their human blood cow dairies and create a vampire master race. Transferred in HD from the original negative. In a Blu-ray/DVD Combo on the Severin Films label.


BUZZIN' THE 'B'S:

"Iron Sky: Director's Cut" (2012), starring Christopher Kirby, Udo Kier, Stephanie Pau, Gotz Otto and Julia Dietze, features more action, more effects and more politically incorrect humor than ever before. In the last moments of World War II, a secret Nazi space program evaded destruction by fleeing to the dark side of the moon. During the following 70 years of utter secrecy, the Nazis constructed a gigantic space fortress with a massive armada of flying saucers. Their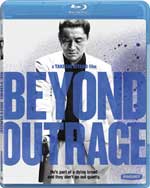 plan: travel back to Earth and re-colonize the planet. Sci-fi comedy in a Blu- ray/DVD Combo from Entertainment One ... In "Beyond Outrage" (2012 -- Japan), starring Takeshi Kitano, Toshiyuki Nishida, Tomokazu Miura and Ryo Kase, Takeshi Kitano returns to his yakuza saga, "Outrage" with this sequel. This time a manipulative police crackdown on organized crime has ignited a tricky power struggle in the yakuza underworld. As the police force prepares a full-scale crackdown, anti-gang detective Kataoka wants to start a war between the Sanno crime family and the neighboring Hanabishi crime family in the hopes that they destroy each other. His trump card is Otomo (Kitano) -- the rumored-dead boss of a defunct family that was destroyed by the Sanno. Otomo wants to retire from a life of crime, but finds himself drawn back in through Kataoka's manipulations as the Sanno and Hanabishi clans teeter on the brink of an all-out war. Not as exciting and creative as the original as the film kind of slumps down into a more-of-the-same mode. On DVD, Blu-ray Disc from Magnolia Home Entertainment ... In "Commitment" (2013 -- South Korea), starring Choi Seung-hyun (aka Korean pop star T.O.P), Han Ye-ri and Kim Yoo-jeong. North Korean Myung-hoon and his young sister Hye-in are sent to a labor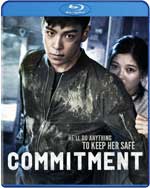 prison camp after their father's botched espionage mission. In order to save his sister's life, Myung-hoon volunteers to become a spy and infiltrates the South as a teenage defector. South Korean Intelligence soon discovers the plot and begins closing in on Myung-hoon, while his own government sends a vicious assassin to eliminate him. On DVD, Blu-ray Disc from Well Go USA ... "End of the World" (2013) is a Syfy Original Movie disaster comedy about a group of goofy science fiction geeks who hold the fate of the world in their hands. Massive earthquakes violently shake cities and mysterious plasma spheres pummel the Earth's surface. Two small-town sci-fi fan boys, who work at a video store, dig deep into their vast knowledge of disaster films to find a plan that could rescue humanity from complete and total obliteration. Stars Neil Grayston, Greg Grunberg, Brad Dourif. From Anchor Bay.

"In Fear" (2013), starring Iain De Caestecker, Alice Englert and Allen Leech, is a psychological horror tale about a young couple's fight to make it through the night is a variation on the home invasion theme -- but in a car. In real-time. Tom and Lucy are trapped in a maze of country roads with only their vehicle for protection, terrorized by an unseen tormentor hell-bent on exploiting their worst fears. On DVD, Blu-ray Disc from Anchor Bay ... In "Puncture Wounds" (2014),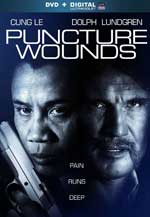 starring Dolph Lundgren, Cung Le, Vinnie Jones and Briana Evigan, John (Le), a soldier returning home from a traumatic tour of duty in Iraq, finds himself struggling with post-traumatic stress disorder; what little peace he has managed to build around him is shattered one fateful day when he rescues a local call girl from a group of violent Aryan Brotherhood pimps. Now John and his family become the prime targets of Hollis (Lundgren), the ruthless criminal leader of the group. From Lionsgate ... In "Armistice (aka Warhouse)" (2013), starring Joseph Morgan, Matt Ryan and William Troughton, a Royal Marine awakens to find himself imprisoned in the warhouse and forced to fight to the death against grotesque, inhuman opponents -- again and again. From XLrator Media ... When Nick Di Santo, a young man who can who foresee how one will perish by simply touching them, learns that his father is not only alive but can possibly reveal the origin of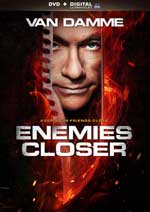 his dark gift, he sets out on a trip that takes him to an abandoned mansion he thought only existed in his childhood imagination in "Dark House" (2014), starring Tobin Bell, Luke Kleintank, Lesley-Anne Down and Anthony Ray Perez. On DVD, Blu-ray Disc from Cinedigm ... Deep within a forest on the U.S.-Canadian border, two sworn enemies must work together to escape a ruthless drug cartel hell-bent on retrieving a drug shipment that went missing there in "Enemies Closer" (2013), directed by Peter Hyams and starring Jean-Claude Van Damme, Tom Everett Scott and Orlando Jones. On DVD, Blu-ray Disc from Lionsgate ... When a young man, whose father was killed in a chemical plant accident, is lured by his friends as a prank to the now deserted building, he snaps, picks up an ax and goes on a rage-filled, killing spree in "Hazmat" (2013), starring Norbert Velez, Todd Bruno, Aniela McGuinness and Giordan Diaz. From Uncork'd Entertainment.

"In the Name of the King 3: The Last Mission" (2014), starring Dominic Purcell, Ralitsa Paskaleva, Bashar Rahal and Nikolai Sotirov, is the latest installment in the video game-inspired fantasy action adventure series. Here Hazen Kaine (Purcell), an American hitman, skeptically enters into what he hopes is his final contract with corrupt European crime lords but instead finds himself in an all-out fight for survival that takes him spiraling back to medieval times, where he must evade a vile medieval army and reclaim a stolen kingdom. On DVD, Blu-ray Disc from Fox ... In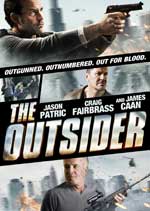 "Junk" (2012)m starring Kevin Hamedani, Ramon Isao, James Hong, Lynn Shelton, Jake Johnson and Brett Davern, two B-movie co-writers who have suffered a bitter falling out reunite when one of their films ("Islama-rama 2") is accepted by a film festival and they have to pitch their script to a mysterious producer. Along the way, they brave brutish bodyguards, cutthroat colleagues, inept agents, romantic entanglements, prima donna actors, and the trials of their own bitter friendship. From Breaking Glass Pictures ... In "The Outsider" (2014), starring Jason Patric, James Caan, Craig Fairbrass and Shannon Elizabeth, British mercenary Lex Walker, recalled from the battlefields of Afghanistan to identify the remains of his daughter, arrives in Los Angeles to find that the body in the morgue belongs to a stranger. With his daughter now missing, he convinces a street-wise detective that she's still alive and in danger and the two follow a trail of high-tech intrigue strewn with an army of thugs and hired killers.On DVD, Blu-ray Disc from Image Entertainment ... In "101st: A-Company (aka Devils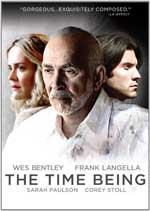 of War)" (2013), starring Apple Lee, Carly Kingston, Jamin Watson, Jeremiah Grace, Jerry L. Buxbaum and Lawrence Anthony, a daring team of special forces soldiers is assembled for a top-secret mission in 1944 Poland to bring down a group of occultist Nazis who are building an army of demon-possessed, super soldiers. From Inception Media Group ... In "The Time Being" (2012), starring Sarah Paulson, Wes Bentley, Frank Langella, Corey Stoll, Ahna O'Reilly, Jeremy Allen White and Gina Gallego, a struggling young artist whose ambitions have pushed his marriage to the brink is delighted when a reclusive millionaire purchases one of his pieces, and he hopes for additional commissions from the new benefactor. Instead, he's offered a series of increasingly bizarre surveillance assignments and, as he begins to unravel the secrets behind the requests, he must determine if the man is out to further his career or ruin his life. From Tribeca Film/Cinedigm.


FOR THE FAMILY:

"Digimon Data Squad Season 5" (2014) is an eight-disc set with all 48 episodes, $79.95. The members of D.A.T.S. (Digital Accident Tactics Squad), an organization created to conceal the existence of the Digital World and Digimon from the rest of mankind, face a massive conflict between Earth and the Digital World triggered by an ambitious human scientist determined to make use of the Digimon for his own personal gain. From New Video Group/Cinedigm ... "Noah's Ark" (2007 -- Argentina) is Juan Pablo Buscarini's animated version of the familiar tale of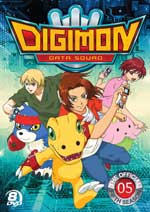 Noah, his family and the animals who traveled in the ark to survive an epic flood meant to destroy the rest of civilization. The movie takes a lighter approach to the traditional material as the story is mainly told from animals' perspective, and both animals and humans can speak. From Shout! Factory ... "The Flintstone Kids: Rockin' In Bedrock" (1986-88) is a two-disc set with 10 cartoons from the 1980s series, $19.97. from Warner ... "Transformers Armada: The Complete Series" (2002) is an eight-disc set with 52 episodes of the series that has Optimus Prime, his team of Autobots and their human friends stepping up the fight against Megatron and his Decepticons for control of the universe and the power-enhancing Mini-Cons, a lost race of Transformers. $44.99 from Shout! Factory ... In "Bubble Guppies: Animals Everywhere!" (2014), Molly, Gil, Bubble Puppy and the class make new animal friends in six field trips where they meet dogs, ducks, squirrels, rhinos, elephants and a class of really "cool" Arctic animals, $16.99 from Nickelodeon/Paramount ... In "Against the Wild" (2014), starring CJ Adams, Erin Pitt and Natasha Henstridge, two siblings and their devoted dog become lost in the wilderness and must learn how to combine their skills, trust their instincts and navigate a terrain as beautiful as it is untamed -- fighting grizzly bears and forest fires -- to find help. Features a soaring musical score performed by a live 65-piece orchestra in Prague. Approved for all ages by the Dove Foundation. From Anchor Bay ... "Teenage Mutant Ninja Turtles: Mutagen Mayhem" (2013) consists of the first six episodes from season two of Nickelodeon's CGI-animated series, $14.99 from Nickelodeon/Paramount ... A 13-year-old nerd's science experiments turns his canine pal Abner into an invisible, talking sheepdog in "Abner the Invisible Dog" (2013), starring Daniel Zykov, Molly Morgen Lamont, David DeLuise, David Chokachi and Jane Kean. From Inception Media Group ... "Angelina Ballerina: Spring Fling" (2014) features five episodes, $14.98 from Lionsgate.


SPECIAL INTEREST:

The Reelz Channel documentary "JFK: The Smoking Gun" (2013) breaks new ground in the case of President John F. Kennedy's murder by presenting evidence amassed by two highly qualified experts during multi-year investigations into Kennedy's assassination. This program presents a cold case forensic analysis of Kennedy's assassination, revealing what really happened that day: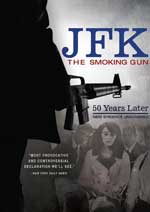 That there was a second shooter who fired accidentally and who was really responsible for JFK s death -- and subsequently one of the greatest cover-ups in American history. From Docurama/Cinedigm ... Produced by Major League Baseball Productions, "100 Years of Wrigley Field" (2013) is a feature-length film that chronicles the history of Wrigley Field through exclusive interviews and footage. From Lionsgate ... Carine Roitfeld ran French Vogue for 10 years, building a reputation as one of fashion's most influential movers. Her inner circle of friends includes Donatella Versace, Tom Ford, Karl Lagerfeld, Diane von Furstenberg, and Alexander Wang. Yet few people outside the fashion world have heard of her ... until now. The documentary "Mademoiselle C" (2013 -- France) tells her amazing story and provides a look inside the glamorous universe of high fashion. From Cohen Media Group ... "Eric Clapton: The 1970s Review" (2013) follows Eric Clapton's bold musical journey through the 1970s, with exclusive interviews, rare footage and more. In 1968,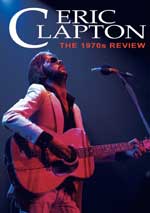 Eric Clapton was at a crossroads. A virtuoso lead guitarist and the crown prince of heavy rock, with Cream he had quickly risen to the very pinnacle of popular music's hierarchy. Yet his exposure to the work of American mavericks The Band led him to lose faith in his own group, and to embark on a bold musical journey across the following decade. From Sexy Intellectual/MVD Entertainment ... "Drawing with Mark: Something Fishy/A Day at the Aquarium and Drawing with Mark: Good to Grow/Life on the Farm" (2014) by artist/illustrator Mark Marderosian teaches children the fundamentals of drawing through simple basic art lessons about shapes, parallel lines, shading, dimension, stick figures and action so a budding artist can feel comfortable moving forward and expanding his/her creativity. Each DVD consists of two 30-minute episodes that combine a field trip to a cool destination with two drawing lessons relating to the field trip, colorful animation, fun facts, trivia, and suggested reading books. $14.98 each from Shelter Island.


FROM TV TO DVD:

"Big History" (2013) is a fascinating miniseries that crosses billions of years of history to reveal how everything, and everyone, is linked in one universal story. The series turns history on its head, breaks down the walls between history and science, and tells the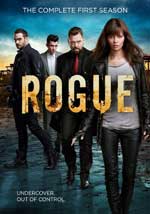 story of the universe from the Big Bang through today. Crisscrossing through time and space, each episode reveals the transformative relationships between science and history that you never knew existed. On DVD, 29.98; Blu-ray Disc, $39.99. From Lionsgate ... "Rogue: The Complete First Season" (2013) is a three-disc set with 10 episodes of the DirecTV series in which Thandie Newton stars as Grace Travis, an undercover agent who's out of control, tormented by the possibility that her own actions contributed to her son's mysterious death. From Entertainment One ... In "Siberia: Season One" (2013), 16 "contestants" are sent to the Tunguska region of Siberia unknowing of the land's mysterious past, to battle for a cash prize in this thrilling supernatural drama shot in the style of a survival reality show. Eleven episodes, $24.98. from Lionsgate.

Check out other March 11-March 17 DVD releases and reviews at OnVideo.