New on DVD and Blu-ray Week of January 28-February 3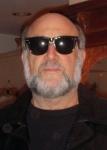 By Harley Lond - 01/27/14 at 06:24 PM CT
THIS WEEK'S THEATRICAL RELEASES:
"Rush": You've got to hand it to director Ron Howard: he went out on a limb to produce and direct this film set during the golden age of 1970s Formula 1 racing -- a sport little-known by most Americans (although it draws massive audiences worldwide, both at Grand Prix events and via broadcast). There are few auto racing movies that make money -- actually, there have been only a handful of racing movies, period -- and, unfortunately, "Rush" isn't among those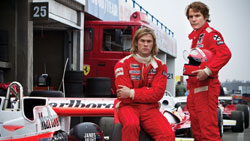 moneymakers. Which is a shame, since it's actually a well-directed, honest and accurate look at men pushing themselves to emotional and physical breaking points in pursuit of their muse -- which here happens to be winning Grand Prix races at all costs. The film portrays the exhilarating true story of two of the greatest rivals in the sport -- handsome and flamboyant English playboy James Hunt (Chris Hemsworth) and his methodical, brilliant opponent, disciplined Austrian perfectionist Niki Lauda (Daniel Bruhl) -- in the 1976 season, both on and off the track. The racing scenes in Rush are spectacularly amazing -- Howard planned the scenes for months, mainly using vintage F1 cars and their drivers in lieu of special effects and stunt drivers (except for the crash scenes). It's a breathtaking production. Extras include a bevy of featurettes on F1 cars and the film's production. From Universal.

"Cloudy with a Chance of Meatballs 2" picks up where the first film left off, but this time inventor Flint Lockwood's infamous machine (which turns water into food, resulting in cheeseburger rain and spaghetti tornadoes) is now being used to create food-animal hybrids -- "foodimals" -- and he has to battle hungry tacodiles, shrimpanzees, apple pie-thons, double bacon cheespiders and other food creatures to save the world again. Like the original, this delightful animated comedy is set in a world all its own where imagination runs amok -- and harkens back to the great surreal cartoons of the 40s and 50s where anything could -- and would -- happen. Fun for audiences of all age groups. There's an amazing array of behind-the-scenes and self-referential extras on both the DVD and Blu-ray versions. From Sony.

"Jackass Presents: Bad Grandpa": "Jackass" ringleader Johnny Knoxville takes on the personna of 86-year-old Irving Zisman in the story of a crotchety old man unexpectedly saddled with the care of his 8-year-old grandson, Billy (Jackson Nicoll). This pair of troublemakers travel across the heartland of America pulling pranks on unsuspecting, real-life people -- male strippers, disgruntled child beauty pageant contestants (and their equally disgruntled mothers), funeral home mourners, biker bar patrons -- in this "Candid Camera" meets "America's Funniest Videos" by way of "Borat" production. A huge moneymaker for the franchise. Blu-ray extras include behind-the-scenes vignettes, deleted scenes, and "Alternate Reactions From Real People." From Paramount.

"The Fifth Estate" is a muddled attempt to track the rise and fall of WikiLeaks -- the muckraking website that leaked hundreds of thousands of pages of secret documents from governments around the world -- its founder, Julian Assange, and its impact on the flow of information to news media and the world at large. The film follows Daniel Domscheit-Berg (Daniel Bruhl), an early supporter and eventual colleague of Assange (Benedict Cumberbatch), and Assange himself, as they rise from obscurity to worldwide notoriety. As the website flourishes, so does Assange's megalomania, eventually alienating Domscheit-Berg and his supporters and friends. The film, unfortunately, lacks any coherence or vision in its depiction of government leaks and the people at the forefront of divulging secrets and bringing government transparency to the people of the world. Director Bill Condon has done much better work elsewhere ("Gods and Monsters," "Kinsey," "Dreamgirls"). Extras are meager, covering the visual effects and the score. From Disney.

"Last Vegas" What do four of our greatest actors do when they have down time between meaty roles? They get together for an inconsequential comedy about four old friends who travel to Las Vegas for a senior citizen version of "The Hangover." The plot: Billy (Michael Douglas, 69), Paddy (Robert De Niro, 70), Archie (Morgan Freeman, 76) and Sam (Kevin Kline, 66) have been best friends since childhood. So when Billy, the group's sworn bachelor, proposes to his thirtysomething girlfriend, the four head to Vegas with a plan to stop acting their age and relive their glory days. There are a few predictable laughs as each man brings to Vegas -- and overcomes -- his respective emotional baggage concerning love, sex, loyalty and freedom, but for the most part this comedy just coasts along from one mediocre set piece to another. Extras include commentary by director Jon Turteltaub and a few ho-hum behind-the-scenes featurettes. From Sony.


COLLECTIBLES:

There's a mixed bag of releases this week to add to your collection, highlighted by three Paramount films from the cusp of the 1960/1970s, when the studio system was being buried and a new generation of American filmmakers was overturning the apple cart; these three films represent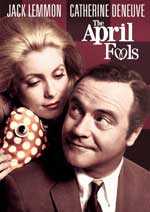 old-style Hollywood filmmaking: In "The April Fools" (1969), starring Jack Lemmon, Catherine Deneuve, Peter Lawford, Jack Weston, Myrna Loy, Charles Boyer, Kenneth Mars, Melinda Dillon, Harvey Korman and Sally Kellerman, Howard Brubaker (Lemmon) is a newly promoted man trapped in a loveless marriage. Catherine's (Deneuve) marriage would be ideal if her husband (who, unknown to Howard, is his boss) weren't a womanizer. When Howard and Catherine meet at a trendy party for New York's corporate elite, they decide to escape and explore the city instead. Soon the pair find themselves falling in love and deciding to run off to Paris. All they have to do now is tell their spouses ... "Who is Harry Kellerman and Why is He Saying Those Terrible Things About Me?" (1971) follows Georgie Soloway (Dustin Hoffman), a hit love-song writer who ironically can't love others, or himself. Although he's rich, successful and seemingly on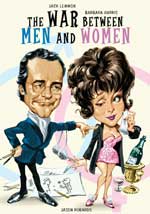 top of the world, he spends his days dreaming of suicide and trying to track down a man named Harry Kellerman, who has been spreading outrageous lies about him. Co-stars Barbara Harris and Jack Warden ... In "The War Between Men and Women" (1972), starring Jack Lemmon, Barbara Harris, Jason Robards and Herb Edelman, Peter (Lemmon), a near-sighted cartoonist, abhors women, children and dogs but falls for Theresa (Barbara Harris), a divorcee who comes bag and baggage with all three. Peter and Theresa couldn't be more wrong for one another, but Cupid has a sense of humor and soon the pair finds themselves dangerously close to living happily ever after ... if they can overcome flirtatious ex-husbands, clashing lifestyles and Peter's potential blindness. Features live-action and animated sequences based on the artwork of James Thurber.

With Valentine's Day fast approaching, Warner has put together the "Nicholas Sparks Limited Edition DVD Collection," a boxed set with the seven films based on Sparks' novels: "Safe Haven," "The Lucky One," "Dear John," "Nights in Rodanthe," "A Walk to Remember," "Message in a Bottle" and "The Notebook." Sparks is one of the world's best-selling authors and romantic
storytellers: all 17 of his novels have been New York Times bestsellers, have been published in more than 50 languages, and have sold more than 90 million copies worldwide (including more than 60 million copies in the U.S.). This is the first time these films have been together in one collection. On DVD only for $69.97. Extras include a special postcard set with images from each film and a letter from Sparks as well as all the extras on the original DVD releases.

And, closing out January from The Criterion Collection comes a Blu-ray/DVD Combo of "The Long Day Closes" (1992), a glorious cinematic expression from the unique sensibility of Terence Davies ("Distant Voices, Still Lives"; "The Deep Blue Sea"). Bursting with enchantment and melancholy, this autobiographical film takes on the perspective of a quiet boy growing up lonely in Liverpool in the 1950s. But rather than employ a straightforward narrative, Davies jumps in and out of time, swoops into fantasies and fears, summons memories and dreams. A singular filmic tapestry, "The Long Day Closes" is an evocative, movie- and music-besotted portrait of the artist as a young man. In a new, high-definition digital restoration, with uncompressed stereo soundtrack on the Blu-ray. Extras include commentary by Davies and director of photography Michael Coulter; an episode from 1992 of the British television series "The South Bank Show" with Davies, featuring on-set footage from "The Long Day Closes" and interviews with cast and crew; new interviews with executive producer Colin MacCabe and production designer Christopher Hobbs; the trailer; and a booklet featuring an essay by critic Michael Koresky.


BUZZIN' THE 'B'S:

While on their honeymoon in Morocco, Scott and Taylor Dolan set off on a day trip through the Sahara and get involved in a deadly car accident in the middle of the desert in "Collision" (2013), starring Frank Grillo, Jaimie Alexander, Charlie Bewley. The couple finds themselves stranded in the middle of the remote desert with no way home and soon lies and betrayals are revealed, as well a shocking discovery: nothing happens by chance. On DVD and Blu-ray from Lionsgate ... In "Concussion" (2013), starring Robin Weigert, Maggie Siff,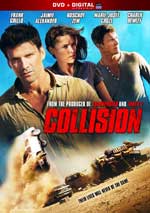 Johnathan Tchaikovsky, Janel Moloney and Ben Shankmen, a middle-class wife and mother with a growing feeling of discontent suffers a concussion that unleashes her latent sexuality that sends her on an erotic journey to take on an alter ego, Eleanor, acquire a pied-a-terre in Manhattan and work as a high-class escort while keeping her sordid new career a carefully guarded secret from her unsuspecting family. From RADiUS-TWC/Anchor Bay ... In "Antisocial" (2013), a New Year celebration between a small group of friends turn into a vicious fight for survival when a mysterious viral outbreak forces them to stay indoors -- and their only link to the outside world is their phones, laptops, and other tech devices. Stars Michelle Mylett, Cody Ray Thompson, Adam Christie, Ana Alic, Romaine Waite and Ry Barrett. From Breaking Glass Pictures/Monster Pictures/Vicious Circle Films ... As if "Sharknado" (in which thousands of sharks terrorize Los Angeles when it's hit by a freak hurricane) wasn't enough to bogle the mind, we now get "Stonados" (2013): When a tornado appears in the waters south of Boston, former storm chaser Joe Randall is intrigued by the unusual weather. But as twisters begin to strike across the Boston shoreline, Joe quickly realizes this is no ordinary storm
front: the storms are hurling large stones all over the Eastern seaboard. Stars Paul Johansson, Sebastian Spence and Miranda Frigon. From ARC Entertainment ... After a mysterious and bloody massacre in her isolated country house leaves her parents and younger brother dead, no one believes 11-year-old Neve that an evil force within the house caused the deaths ... until whatever killed her family follows her to her new home in "Dark Touch" (2013), starring Missy Keating, Marcella Plunkett, Padraic Delaney and Charlotte Flyvholm. From IFC Films ... "Argento's Dracula" (2012) is horror maestro Dario Argento's luridly violent and erotic take on the Dracula legend, starring Thomas Kretschmann, Marta Gastini, Asia Argento, Rutger Hauer and Unax Ugalde. On DVD, 3D Blu-ray/Blu-ray Combo from IFC Films ... "The Beast of Hollow Mountain/The Neanderthal Man Double Feature" is a double dose of 50s high-camp: "The Beast of Hollow Mountain" (1956): Guy Madison, Patricia Medina. An American cowboy living in Mexico discovers his cattle is being eaten by a giant prehistoric dinosaur. "The Neanderthal Man" (1953): Robert Shayne, Richard Crane, Doris Merrick, Joyce Terry, Beverly Garland. A mad scientist uses his new serum on his housekeeper, turning her into an ape-woman. Like most crazed scientists, he then tries the serum on himself, creating ... The Neanderthal Man. In a two-disc Blu-ray/DVD Combo from Scream Factory/Shout! Factory.


ON THE INDIE FRONT:

In "I Used to Be Darker" (2013), starring Deragh Campbell, Hannah Gross, Ned Oldham, Kim Taylor, Nicholas Petr and Geoff Grace, a Northern Irish runaway finds herself in trouble in Ocean City and she seeks refuge with her aunt and uncle in Baltimore. But they have problems of their own: they're trying to handle the end of their marriage gracefully for the sake of their daughter, just home from her first year of college. In the days that follow, the family struggles to let go of the past while searching for new things to hold onto. From Strand Releasing ... In "A Perfect Man" (2013), starring Liev Schreiber and Jeanne Tripplehorn, a womanizer, caught cheating by his wife, inadvertently falls back in love with her over the phone when she pretends to be another woman. From IFC Films.


SPECIAL INTEREST:


"The African Americans: Many Rivers to Cross": (2013) Written and presented by Professor Henry Louis Gates Jr., director of W.E.B. Du Bois Institute for African and African American Research at Harvard University, this six-hour series explores the evolution of African-Americans, as well as the multiplicity of cultural institutions, political strategies, and religious and social perspectives they developed -- forging their own history, culture and society against unimaginable odds. $34.99 from PBS Distribution.


"African-American Leaders: Past & Present": (2013) Five telefilms that tell the stories of five influential African-Americans. The in-depth profiles of Frederick Douglass, Martin Luther King Jr., Malcolm X, Thurgood Marshall and Barack Obama delve into their lives, the experiences that shaped them and the impact they've had on history. Two-disc DVD, $14.98 from Lionsgate



"The Booker" (2013) Steve Scarborough doesn't like what's happened to professional wrestling -- its metamorphosis from theater for the masses with easily recognizable "good" and "bad" characters, moral lessons about right and wrong to a reliance on shock tactics and fake fighting -- so he's set about to change it, one match at a time. This documentary chronicles the triumphs and tragedies of Scarborough's singular journey, as he takes his Platinum Championship Wrestling from idea to reality. Shot over the course of four years, "The Booker" follows Scarborough's monumental efforts to take his burgeoning wrestling school from the back room of a theater space with four students to a full-fledged wrestling show at a 2,500 seat arena. From IndiePix Films.


"Forward 13: Waking Up the American Dream": (2013) The foreclosure crisis made personal. Caught in the wake of the 2008 global financial crisis, director Patrick Lovell, one of 10 million people who lost their homes, finds himself asking why he and so many Americans were blindsided by the economy's implosion. How could his pursuit of the American Dream -- starting a business, providing for his new family, and owning a home -- drive him to financial ruin? Coinciding with the exponential growth of the Occupy Wall Street movement, Lovell embarks on a cross-country journey to discover what happened to the America originally founded to be free from tyranny. Conversations with a broad spectrum of energy and political academics, OWS protestors, professional developers, real estate agents, and attorneys all lead to the same conclusion: the system is broken. From Cinema Libre Studio.


"It's Better to Jump": (2013) The city of Akka, on the coast of Israel, has protected its citizens for centuries with a massive sea wall. However, economic and social changes are pressuring generations of Palestinians to leave. This documentary captures the spirit of Akka's Arab residents and their continuing tradition of leaping into the sea from the wall as an expression of self-determination. From Cinema Libre Studio.


"Somali Pirate Takedown: The Real Story": (2009) The real story behind the Somali Pirate capture of the Maersk Alabama, including never-before-seen footage, interviews with members of the crew, new footage of the pirates, the Navy's maneuvers -- and the kill shots that saved the life of Captain Richard Phillips. From the Discovery Channel. $14.93 from Cinedigm.


FROM TV TO DVD:

"The Agatha Christie Hour: Complete Collection" contains 10 tales of intrigue and romance from renowned mystery writer Agatha Christie: "The Case of the Middle-Aged Wife"; "In a Glass Darkly"; "The Girl in the Train"; "The Fourth Man"; "The Case of the Discontented Soldier"; "Magnolia Blossom"; "The Mystery of the Blue Jar"; "The Red Signal"; "Jane in Search of a Job"; "The Manhood of Edward Robinson." Four-disc set, $59.99 from Acorn Media ... "Agatha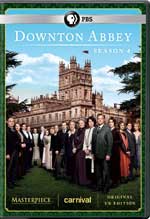 Christie's The Queen Of Crime Collection" includes three feature-length Agatha Christie mysteries: "Sparkling Cyanide" (2003 adaptation starring Pauline Collins and Susan Hampshire), "Why Didn't They Ask Evans?" (1980 adaptation starring Francesca Annis) and "Seven Dials Mystery" (1981 adaptation starring John Gielgud). Three-disc set, $49.99 from Acorn Media) ... "Bonnie & Clyde" (2013), starring Emile Hirsch, Holliday Grainger, Sarah Hyland, Elizabeth Reaser, Holly Hunter and William Hurt, is a miniseries retelling of the legend of Depression-era gangsters Bonnie Parker and Clyde Barrow, broadcast simultaneously on History, Lifetime and A&E. On DVD and Blu-ray from Sony ... "Downton Abbey Season 4" is a three-disc DVD, $49.99; three-disc Blu-ray, $54.99 of the fourth season, which airs on PBS until Feb. 23. From PBS Distribution ... Beginning in 2008 and culminating at Mardi Gras 2009, the five episodes of "Treme: The Complete Fourth Season" (2013) (the last season) revisit the musicians, chefs, Mardi Gras Indians and other familiar New Orleanians who continue to rebuild their lives, their homes and their culture in the aftermath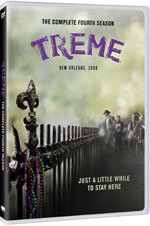 of Katrina. On DVD, $39.98; Blu-ray Disc, $49.99; from HBO ... "Treme: The Complete Series" (2010-13) features all 36 episodes from all four seasons, plus all of the extra features from each individual release that highlight the music, food and culture of the show. Also included is a bonus disc that offers more than a dozen music videos from the series. $134.99 from HBO ... "Vera, Set 3" (2013) is the third series of the acclaimed British mystery series, based on the award-winning novels by Ann Cleeves. Brenda Blethyn stars as cantankerous but brilliant detective DCI Vera Stanhop who solves unthinkable crimes in four new feature-length mysteries. Four disc set with "Castles in the Air," "Poster Child," "Young Gods" and "Prodigal Son", $59.99 from Acorn Media.

Check out other January 28-February 3 DVD releases and reviews at OnVideo.