By Chris Kavan - 01/16/14 at 12:46 PM CT
Lone Survivor started 2014 off with bang - opening with one of the highest January totals on record. This week four movies join an already-crowded box office and there can only be room for a few winners. A reboot of a popular (literary) agent looks promising - another horror film will try to improve over the lackluster response to the latest Paranormal Activity film - a red-hot comedian on the stand-up circuit looks to break out as a lead in a feature and a group of animated squirrels will see if they can make a dent to Frozen in the family market.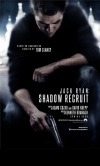 JACK RYAN: SHADOW RECRUIT
We've already seen Jack Ryan played by Harrison Ford and Ben Affleck, now it is Chris Pine's turn to take a stab at the CIA agent. Shadow Recruit looks to reboot the series, as it is kind of a origin story about how Ryan went from ordinary agent to superman (or at least super spy). Kenneth Branagh is directing (and also starring) in this, and the man has proven he can do action with Thor under his belt (though he is more well known for dramas like Hamlet than superheroes). But if he can strike a good balance between an interesting plot and characters while still maintaining that edge-of-your-seat action - this could be a nice start to an ongoing series. Besides Pine, Keira Knightley and Kevin Costner are along for this ride. Out of all the films this weekend, Jack Ryan has the best chance to challenge Lone Survivor for the box office crown.

DEVIL'S DUE
If nothing else, at least the marketing team behind Devil's Due are doing a great job. If you haven't seen the hilarious "Demon Baby"
prank video
, you are missing out on some fun times. By the way - this is the same marketing team that came up with the psychic coffee shop "Carrie" prank (not that it helped that film much) so it's unknown whether these diversion actually help anything box-office wise, but it's sure fun to watch. Anyway, this is the latest in possession films - though this concerns a supposed antichrist-like pregnancy that results in a woman... changing. While the trailers haven't exactly inspired confidence that this will be any better than Devil Inside - horror fans are so fickle I can never tell whether a film is going to be a hit or miss. This could wind up in the top 3 or down around 10th place. There is no film harder to predict than a horror film - I am always up for a rental, but it takes something special to get me into the theater and this just doesn't have enough going for it for me to even consider that option.

RIDE ALONG
Kevin Hart has proven he can be a box office draw... at least when it comes to the world of stand up comedy. Both Laught at My Pain and Let Me Explain rank in the top 10 all time for stand up films. The question for Ride Along is whether Hart can find as much success as a leading man as he can standing in front of a microphone. The plot concerns Hart - who finds himself about to take the next step with his girlfriend, Angela (relative newcomer Tika Sumpter). But in order to prove himself worthy, her brother, James (Ice Cube) wants to take the security guard on a ride along on real police business. The trailer makes this out to be entertaining and the supporting cast (John Leguizamo, Bruce McGill and Laurence Fishburne) should help out but the success of this film is going to fall squarely on the urban African-American audience who is the main target of the marketing. If they turn out in force, this could do well, but if Hart fails to bring in the audience (or the film fails to wow them) then this one will fade fast. But even I can admit it looks like fun.

THE NUT JOB
Frozen has pretty much dominated the family audience - the only direct competition (In Walking with Dinosaurs) failed to budge it from its perch. Now another contender steps up to the plate in the form of some nutty friends. The Nut Job, however, isn't inspiring much with early reviews. Despite having some powerhouse vocal talent in the form of Will Arnett, Katherine Heigl, Liam Neeson, Maya Rudolph, Brendan Fraser and Jeff Dunham (amongst others) - it just doesn't seem like this is a memorable animated effort. Essentially it follows a squirrel who is banished (Arnett) from his park home and forced to survive in the city when he stumbles upon a gold mine that may save his community from starvation (and let him get back to his home) in the form of Maury's Nut Shop. The idea doesn't sound too bad - but apparently the movie is all over the place and yet, at the same time, just doesn't have enough going for it to be anything more than a diversion. I have a feeling much like Flushed Away or Rise of the Guardians - it's going to be a low-grossing effort and Frozen has little to worry about.
The weekend is going to get a lot more crowded and it's really going to come down to what audiences are truly in the mood for. Lone Survivor has a good chance of repeating (and, worst case scenario, will probably drop one spot) and Frozen should be able to continue bringing in good numbers - the newcomers are harder to peg, so it should be an interesting weekend at the box office. See you Sunday with the final results.
Comments