By Chris Kavan - 11/14/13 at 01:12 PM CT
With Thor still in full swing - this weekend's new releases are a bit on the light side. You could call this the calm before the holiday storm - as the next few weekends are going to be dominated by the likes of Hungers Games, The Hobbit, Anchorman 2 and Frozen, amongst others. This week only sees one major wide release film and another limited release (before a nationwide expansion) from my favorite home-state director Alexander Payne. Thor will have no problem dominating the competition once again, but it will be interesting to see how it holds up in week two.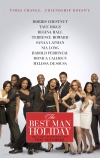 THE BEST MAN HOLIDAY
The original Best Man film came out way back in 1999 - and now, 15 years later, the gang is getting back together for a reunion that's likely to be full of drama, unrequited love and comedy. Original director Malcolm D. Lee is back and he's also pretty much recruited his original cast including the likes of Taye Diggs, Morris Chestnut, Nia Long, Terrence Howard, Harold Perrineau, Regina Hall, Monica Calhoun, Sanaa Lathan and Melissa De Sousa. I have to say that's quite an accomplishment - how many other films can you go back 15 years and get the same cast to come together again? The film is going to target a pretty specific audience: black, urban and hopefully couples - and it could do very well. It looks better than anything Tyler Perry had done (and don't worry - there's a Madea Christmas on the horizon) and I can only hope it finds as much success as his films tend to do. No matter the outcome, I don't think it's going to be able to match the might of Thor - but it could wind up doing better than expected.
NEBRASKA
Granted, the film isn't going into a wider release until next weekend, but with the lack of new films this week, I figured I'd showcase Alexander Payne's latest film now. Nebraska, shot in black in white follows the father/son pairing of Woody (Bruce Dern) and estranged David (Will Forte) from Montana to Nebraska on a mission to claim a Mega Sweepstakes Marketing prize. It's also where Woody grew up - and would more than likely want to forget - but it gives him a chance to heal some old wounds and maybe connecting once again with his son. This is the kind of drama Payne does best - introspective and deep - and with supporting cast from the likes of Stacy Keach, Bob Odenkirk and the scene-stealing June Squibb - this is the type of film that will gain a lot of critical attention but not much general love. Still, this is the kind of thing the Academy tends to like, too, so it could sneak in come awards time. I'll have to catch this - much like Fruitvale Station, I don't know if it will be in theaters, but it will happen.
It's not going to be the most exciting weekend of the year. Thor should have no problem retaining its number one spot but we'll see how Best Man Holiday does and if Nebraska impresses in limited release.
Comments