By Chris Kavan - 09/22/13 at 09:30 PM CT
As with many past Septembers, this weekend can be counted as one of the slower weekends of the year as the top 12 films brought in just $75.5 million. That is just about on par with the same weekend last year. Still, even though there might not have been as many people out and about, that doesn't mean there weren't a few bright spots over the weekend. Both wide and limited release brought good news that make this one of the more memorable September months in the past few years.

1) PRISONERS


Although I had doubts that Prisoners was marketed well enough, I should not doubt the draw of Hugh Jackman and Jake Gyllenhaal (amongst others). The film opened in the top spot with $21.4 million. Warner Brothers has had a good track record with late-season dramas, as Argo ($19.5 million), Contagion ($22.4 million) and The Town ($23.8 million) will attest. With the focus on dark drama, Prisoners brought in an older audience (72% over 25) though it was evenly split between men and women. It also brought in a B+/A- cinemascore (it bumped up a notch on Saturday) and though it faces competition, a total in the $75 million range before it ends its run.
2)
INSIDIOUS: CHAPTER 2

After one of the more impressive September openings on record, Insidious: Chapter 2 took a 64% hit (in line with many other horror films) but still brought in $14.5 million - good enough for second place. That brought the horror sequels new total up to $60.9 million - and it should have no trouble reaching the $75 million mark and $100 million, though tough - is not entirely out of the picture. It won't be enough to top The Conjuring ($136 million and still going) but it will do much better than the original film - with topped out at $54 million - and that in of itself is no mean feat. Though James Wan has said he is done with horror - I, for one, hope he reconsiders that decision as it's quite obvious he knows the genre.
3)
THE FAMILY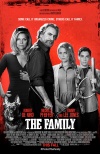 In its second weekend, Luc Besson's mob action/comedy hybrid took a 50% and brought in $7 million and raised its total up to $25.64 million. On a modest $30 million budget, it should have no trouble making that back in the next weekend, though it will probably stall before it reaches the $50 million mark. Considering the time of year and the genre - that has to be seen as an overall win.
4)
INSTRUCTIONS NOT INCLUDED

After dropping right out of the top five last weekend, the Spanish-language film Instructions Not Included added an additional 45 theater and was the only film in the top 12 to gain an audience - jumping 17.2% and that was enough for a $5.7 million fourth place finish. So far, it has earned $34.3 million - fifth all time for a foreign film release - and it will have no problem passing Pan's Labyrinth ($37.6 million) by next week - and that will also make it the highest-grossing Spanish-language film of all time. Given how well it's performed, topping $50 million doesn't seem out of the question at this point and it could rise as high as second on the foreign language charts.
5)
BATTLE OF THE YEAR

If there was ever any doubt that the dance movie genre is done and over, look no further than the weak $5 million opening for Battle of the Year. That is less than half that Step-Up Revolution brought in last year and is even lower than the opening for the poorly received Dirty Dancing: Havana Nights ($5.8 million). It didn't help that the only real recognizable names involved were Josh Holloway and Chris Brown but more important - it's just five years too late to make an impact and though audiences might have given it an A- cinemascore, the 6% Rotten Tomatoes rating is more telling and if this last more than three weeks in theaters, I would be surprised.
Outside the top 10: The Wizard of Oz got its own IMAX 3D re-release that the result was a cool $3.02 million (9th place) - which is one of the better IMAX 3D showings recently, easily topping the likes of Top Gun ($1.97 million) and Raiders of the Lost Ark ($1.67 million). It just goes to show that classic films with wide appeal will always be able to find a generous audience, even in limited formats.
Also of note, the last film of the late actor James Gandolfini opened in limited release. The comedy Enough Said opened in just four theaters but had the best average out of any film - bringing in $60,000 per theater and the film has been earning good reviews and will expand in coming weeks.
Next week Ron Howard's Formula One biopic Rush comes out, along with the animated sequel Cloudy with a Chance of Meatballs 2 and the romantic comedy Baggage Claim.
Comments