By Chris Kavan - 09/12/13 at 06:01 PM CT
Last week Riddick made a decent debut for September, even if the weekend was the slowest yet for 2013. That being said, September is not well known for being a hotbed of lets say... quality films. That doesn't mean films can't buck that trend but more often than not this month is one of the slower every year. Two films will try just that - an action/comedy hybrid and a straight up horror film. It's going to be an uphill battle but we'll see if the two new entries put up any fight.


INSIDIOUS: CHAPTER 2
Two factors work in the favor of Insidious: Chapter 2. First, the original was a well-received horror film (one of those low-budgeted films that made a fat stack of cash) and two director James Wan is coming hot off the heels of the excellent film The Conjuring. Still, you would think this would work better as an October release, but I don't make the marketing decisions for Hollywood. It is all going to hinge on whether fans of the original film turn out and whether the school and/or football crowd can be drawn out of their comfort zones and turn out in force. I thought the first Insidious was good (not great - certainly not as good as The Conjuring in my book) so I will probably relegate this to rental status. Horror fans have shown they can be generous this year - and also that they have no problem completely ignoring other films. This could really go either way - you can't trust reviews as horror films don't follow that kind of pattern.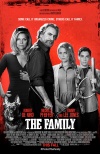 THE FAMILY
You have a nice cast lined up for this one: Robert De Niro, Michelle Pfeiffer, Tommy Lee Jones, Dianna Agron and (as any film about the mafia wouldn't be complete without) Vincent Pastore. You also have a director in Luc Besson who is talented in bringing together action and comedy (as witnessed in The Fifth Element) and also good at a creating compelling characters and story (Leon: The Professional). So why is The Family coming out in the cinematic graveyard that is September? Let's face it, De Niro just isn't the draw he once was and The Family just doesn't look serious enough to warrant a second look. It's like they took all the mob cliches, mixed them and in a pot and decided that would make the best film. That's not to say it won't be an entertaining one - but I can't see it being that big of draw.
So who will win the weekend? A horror sequel, a mob action/comedy? I have a feeling one or the other - as Riddick isn't likely to draw that big a crowd in its second weekend and The Butler has been around too long to take back the top spot. I'll be here on Sunday with the final results.
Comments