By Chris Kavan - 08/19/13 at 03:16 AM CT
After a long string of box office wins, this weekend finally failed to outperform its 2012 predecessor. The top 12 films brought in $120.5 million, which translates to about a 5% decline compared to the same weekend last year. With only two out of the four new wide releases able to crack the top 10 (and one of those new films failing to even crack the top 12), it was a case of too much product, not enough quality. I expect this might be the case for the next few weeks as summer bleeds into early fall and a drop in quality is to be expected.

1) LEE DANIELS' THE BUTLER



It turns out that after a long summer filled with spectacle and CGI explosions, audiences were much more interested settling down to a nice, historic drama rather than anything else. The Butler features an amazing cast and a dramatic story set against generations of presidents and the one White House butler who lived through it all. Much like The Help (another August film) - the film had a nice opening - just over $25 million (The Help opened to $26 million). As a story aimed squarely at the adult audience, it hit the mark, earning a A Cinemascore and, depending on how word-of-mouth plays out, could approach the $100 million mark. Despite the strong opening, it probably won't find the same success as The Help (which closed to over $160 million) but it does mean that come awards time people will be looking at it in a good light. With little competition on the horizon, expect it to have a good run in the coming weeks.
2)
WE'RE THE MILLERS

After a strong opening itself, We're the Millers has an exceptional second weekend, down just 33% (as comparison The Heat dropped 37% in its second weekend) and took in $17.5 million. That raised its total to $69.5 million, nearly doubling its original $37 million budget. The film is now on pace to easily eclipse the $100 million mark and the strong response could push it even higher.
3)
ELYSIUM

Although the sci-fi film could exchange places with Kick-Ass 2 when the final tally is totaled on Monday, as it stands the $13.6 million currently edges out the action sequel for third place. Still, the film trails District 9 by $17 million (Elysium has earned $55.9 million) and it now appears it is going to run out of steam before it can reach $100 million. It took a 54% drop and there is no reason to suspect the coming weeks will be any kinder.
4)
KICK-ASS 2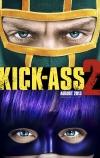 Although the original film has rightfully earned its cult status as violent, fun film - it turns out that wasn't enough to propel the sequel to any kind of success. The $13.58 million it took in was well below the original film's $19 million opening. Sequels rarely perform as well as the original, but compared to fellow sequels Red 2 and The Expendables 2, Kick-Ass 2 featured a bigger drop off in attendance. Should the film follow the same formula as the original, it will wind up with around $30 million. Granted, the film had a modest $28 million budget, but once again it looks like home video is going to be the only saving grace for the sequel as well and it bodes ill that we'll even be able to experience a Kick-Ass 3.
5)
PLANES

The Cars spinoff featuring winged vehicles talking up a storm dropped 41% in its second weekend and took in $13.1 million for a new total of $45 million. With a likewise modest $50 million budget, the film will be profitable, if not spectacularly so. It's good enough to warrant a sequel - so we'll be seeing more flying faces before too long.
Outside the top five: The Ashton Kutcher-led jOBS biopic opened in sixth place with just $6.7 million. That is less than 1/3 of what The Social Network opened with and the scathing reviews didn't help. It was Kutcher's second-worst nationwide release, just ahead of My Boss's Daughter ($4.7 million). With a weak B- Cinemascore, expect this one to leave the top 10 quickly.
At least it managed to crack the top 10. The generic thriller, Paranoia, absolutely bombed in 13th place with a meager $3.5 million. That represents the lowest nationwide release of the summer, beating out The Peeples ($4.6 million) and marking a new low in the long career of Harrison Ford. The C+ Cinemascore means you probably have only one more week (maybe two) to see this one as I'm sure theaters will be quick to dump this (though a DVD release won't be too far off, I'm sure).
Still in limited release, Woody Allen's Blue Jasmine added 110 theaters (for 229 total) and was still up slightly (.6%) though it dropped to 14th place. It added $2.34 million and neared the $9.5 million mark. It's $10,301 per-theater average was still better than any film above it at the box office. It should hit nationwide numbers next weekend and it will be interesting to see how general audiences respond.
Speaking of next week, the final installment of the "Blood and Ice Cream Trilogy" hits when Simon Pegg and NIck Frost try to reach The End of the World. We also have yet another tween lit hit trying to find success with The Mortal Instruments: City of Bones (a daunting prospect considering the terrible returns so far this year in the category). Finally, we have the horror You're Next, which looks to repeat the success of The Conjuring as a late-summer horror stunner.
Comments