By Chris Kavan - 08/15/13 at 11:58 AM CT
Just like last weekend, this weekend features another onslaught of films that will attempt to sway movie-going audiences. An action-packed sequel, a dramatic historic biography, a saavy thriller and an... interestingly-cast biopic - last week didn't deliver that exciting of numbers and I have a feeling we might be experiencing deja vu all over again. Still, audiences can always surprise, so maybe something will break out this weekend. Let's see the contenders.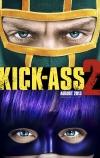 KICK-ASS 2
I admit I had a lot of fun with the original film - because watching Chloë Grace Moretz kick a bunch of grown men around (and stab and shoot them too) never gets old. If anyone has read the graphic novels, they know the sequel is incredibly dark - and from the trailers I know the film isn't going to go down that road. Plus, you have the whole
Jim Carrey debacle
about not being able to support a movie with this much violence. What? He thought he was filming Citizen Kane 2 instead? Still, from reports Carrey pretty much has what amounts to an extended cameo role in the film - which, since it deals with vigilantes, thugs and a bad guy who christens himself "The Motherf*@cker" - I'm guessing there is plenty of pretty extreme violence to go around. However - will the plot actually make sense around said violence? Or will is just be violence for the sake of violence. I still want to see this one - but I'm hoping it plays out more like the original film and not just a running string of gratuitous fights, shootouts and the like.

LEE DANIELS' THE BUTLER
Is it too early to talk about Oscar nominations? This is a film that is tailor-made to court people who vote on the Oscars. A stellar cast, an emotional story - lots of drama and historical aspects - forget the fight over the movie title - this has Oprah! But will The Butler actually be a good drama or will it be overly-sentimental schmaltz? It could go either way, though I have to say at least the trailers still have me interested in seeing the film rather than make me want to ignore it completely. Some of the casting has drawn flack (Jane Fonda as Nancy Reagan is a particularly incendiary choice) and it remains to be seen how the whole civil rights aspect is played out - but overall, as long as it doesn't stray too far into emotional dreck, it should pop up its head come awards season.

jOBS
I don't care about the success or failure of this Steve Jobs biopic - the only thing that matters is that Ashton Kutcher is the star and it still, in my mind, has to be one of the most bizarre casting choices in memory. There has been a pretty steady marketing push lately - commercials everywhere - and I have to say the result doesn't seem to be as terrible as I was expecting. Still, I have little interest in a biopic of Jobs, no matter who plays him. But this could warrant at least a rental at some time. Mainly just to see if Kutcher can pull off a dramatic role even if the subject isn't particularly my cup of tea.

PARANOIA
Despite having an impressive cast including Harrison Ford, Gary Oldman and Liam Hemsworth - something tells me Paranoia is going to fall into that "generic thriller" category that will hamper its chances as box office success. The premise seems promising - two titans of corporate power go up against each other and a young protege is caught in between. Will he be able to bring down the corruption and greed? Something tells there's a good chance one or more main characters will wind up either dead or behind bars - but the film just doesn't have enough to make it stand out in the crowd to be anything more than a late-summer average flick.
It's another crowded house this weekend and it will be interesting to see if any of the new films can distance themselves from the crowd or if we're going to wind up with a bunch of films with middling returns. I'll see you on Sunday with the results.
Comments