Reasons for the Cravings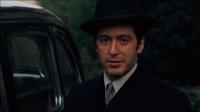 By Daniel Corleone - 03/11/12 at 11:27 PM CT
Iíve been with FilmCrave.com and have discovered the greatness and sometimes overrated films I have seen before or learned about. A myriad of ratings, lists and reviews were viewed and some were agreeable and others atrocious depending on taste.

One gets an urgency to revisit movies you werenít quite entertained with. Meeting new people online and appreciating your reviews and recommendations. All of these are the reasons for my cravings, checking on old or new films reviewed. Some of the flicks I enjoyed viewing again to see its true greatness were Citizen Kane, 2001: A Space Odyssey, Lawrence of Arabia and Apocalypse Now.

Then there are those films that were unfamiliar to me, which I thought were underrated, such as Lorenzoís Oil, In the Name of the Father, Downfall, 3 Idiots, Dial M for Murder, Old School, Blood Work and more. With all these films to explore, it would be impossible to view all the site has to offer in a day.

You tend to think you might miss a good picture, whether you heard before or if it just came out. Itís one of many reasons movie buffs are joining and spreading the news of this sensational website about films.

Whatís the reason for your cravings?