When Oscar Bait is Just Chum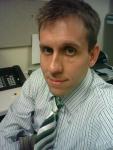 By patjohnson76 - 10/22/11 at 10:09 AM CT
I've been behind in getting to movies lately, but yesterday I took a step in the right direction by seeing a matinee of The Ides of March, the latest political drama with an Oscar cast directed by George Clooney. It's had great reviews with an okay box office, but since politics interest me I was pretty excited to see this movie. So were the other three people in the theater.

I try not to go into a movie with unrealistic expectations but this was too hard to pass up. March has Oscar winners in Clooney, Phillip Seymour Hoffman and Marissa Tomei; Oscar nominees Ryan Gosling and Paul Giamatti; and the always reliable Jeffrey Wright and Evan Rachel Wood. Can't miss, right?

The problem is when you assemble all this talent you have to find something for them to do, and when that something isn't that exciting, the letdown occurs. I wrote about this in my review of the film - that there's nothing here we haven't seen done (and in some instances, better) that in political films of the past. Don't get me wrong, it's a well-acted film and Clooney's direction is okay enough, but I left wanting more.

Were my expectations of the film unfair? Yeah, you could make an argument for that. When the Oscar-ologists look at the upcoming film release calendar they begin to decide which films will and will not be Oscar contenders, and this cast and director were probably too good to pass up. And while the critics have praised the film, I don't see it lasting into Oscar season, unless some other "sure thing" nominees turn out to be less impressive.

I'm eagerly awaiting Clint Eastwood's J. Edgar and Steven Spielberg's War Horse, two other films critics are circling as award magnets in the coming months. Time will tell if they hype measures up, or if we're just left with more chum.