By Harley Lond - 03/06/23 at 10:51 PM CT
FROM THE BIG SCREEN:
"Women Talking" (2023) The women of an isolated religious colony reveal a shocking secret about the colony's men. For years, the men have occasionally drugged the women and then raped them. The truth comes out and the women talk about their situation, reconciling their reality with their faith. An adaptation of Miriam Toews's internationally bestselling novel of the same name and inspired by true events.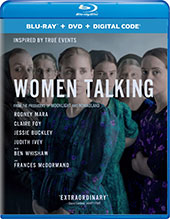 Vitals: Director: Sarah Polley. Stars: Rooney Mara, Claire Foy, Jessie Buckley, Judith Ivey, Sheila McCarthy, Ben Whishaw, Frances McDormand. CC, MPAA rating: PG-13, 104 min., Drama, North American box office gross: $4.878 million, worldwide $6.533 million, Universal. Formats for Women Talking: DVD, Blu-ray/DVD Combo + Digital Code, VOD, Digital. Read more here


THIS WEEK'S BEST BETS:
Spain's first major horror film production,
"The House That Screamed"
(1969 - Spain) is a stylish gothic tale of tortured passions and bloody murder that bridges the bloody gap between "Psycho" and "Suspiria." Thérèse (Cristina Galbó) is the latest arrival at the boarding school, for wayward girls run under the stern, authoritarian eye of Mme Fourneau (Lilli Palmer). As the newcomer becomes accustomed to the strict routines, the whip-hand hierarchies among the girls and their furtive extra-curricular methods of release from within the forbidding walls of institutional life,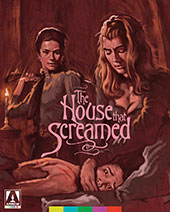 she learns that several of her fellow students have recently vanished mysteriously. Meanwhile, tensions grow within this isolated hothouse environment as Mme Fourneau's callow but curious 15-year-old son Louis (John Moulder-Brown) ignores his mother's strict orders not to get close to the "tainted" ladies under her ward. Directed by Narciso Ibáñez Serrador this landmark title in Spanish genre cinema has been restored to its director's original full-length vision for the first time. On Blu-ray from Arrow Video/MVD Entertainment.
Read more here.
BUZZIN' THE 'B's:
In
"Christmas Bloody Christmas"
(2022), starring Riley Dandy, Sam Delich, Abe Benrubi and Jeff Daniel Phillips, it's Christmas Eve and fiery record store owner Tori Tooms (Dandy) just wants to get drunk and party, until the robotic Santa Claus at a nearby toy store goes haywire and makes her night more than a little complicated. Santa Claus begins a rampant killing spree through the neon drenched snowscape against a backdrop of drugs, sex, metal and violence, ultimately forcing Tori into a blood splattered battle for survival against the ruthless heavy metal Saint Nick himself. On DVD, Blu-ray, from RLJE Films ...
"Ghost Town"
(2023), starring Owen Conway, Eva Hamilton, Becky Jo Harris and Robert Sprayberry, is a supernatural Western set in 1877 Arizona, where a drifter takes a job as a barman. After a series of bizarre and horrifying deaths, he finds himself the target of suspicion. Desperate to escape the noose, he is soon at the center of a supernatural mystery that plagues this town. From Uncork'd Entertainment.
FOREIGN FILMS:
"Let It Be Morning"
(2023 - Israel), starring Juna Suleiman, Salim Daw, Ehab Salami, Khalifa Natour and Izabel Ramadan, is Israel's official submission for Best International Feature Film at the 94th Academy Awards, and an official selection at the 2021 Cannes Film Festival. Sami lives in Jerusalem with his wife and child, and an invitation to his brother's wedding forces him to return to the Arab village where he grew up. After the wedding, with no warning or explanation, the village is put under military lockdown by Israeli soldiers and cut off from the outside world. Chaos rises overnight amongst those stuck within the walls. Director Eran Kolirin (The Band's Visit) brings Sayed Kashua's bestselling novel to life, exposing the absurdist world of Palestinian reality while highlighting human stories of being trapped in an unexpected situation. On DVD, Blu-ray, from Cohen Film Collection.
Check out other new DVD/Blu-ray releases, streaming films, and information and reviews at OnVideo.
Comments