By Harley Lond - 01/23/23 at 11:28 PM CT
FROM THE BIG SCREEN
"Violent Night" (2022) When a team of mercenaries breaks into a wealthy family compound on Christmas Eve, taking everyone inside hostage, the team isn't prepared for a surprise combatant: Santa Claus is on the grounds, and he's about to show why this Nick is no saint. Vitals: Director: Tommy Wirkola. Stars: David Harbour, John Leguizamo, Alex Hassell, Alexis Louder and Beverly D'Angelo.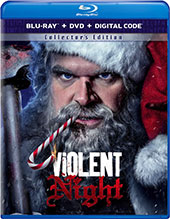 2022, CC, MPAA rating: R, 111 min., Horror Thriller, North American box office gross: $49.999 million, worldwide $75.546 million, Universal. Formats: DVD, Blu-ray/DVD Combo + Digital Code, VOD, Digital. Extras: Deleted and extended scenes; "Quarrelin' Kringle" on why David Harbour is the perfect brawler for this combative rendition of Santa; "Santa's Helpers: The Making of Violent Night"; "Deck the Halls with Brawls" behind-the-action; feature commentary with director Tommy Wirkola, producer Guy Danella, writer Pat Casey and writer Josh Miller. Read more here


THIS WEEK'S BEST BETS:
With a poet's eye for place, light, and the spiritual dimensions of everyday existence, Lemohang Jeremiah Mosese crafts a meditation on the concept of homeland and a transcendent elegy for what is lost in the name of progress in
"This is Not a Burial, It's a Resurrection"
(2019 - Lesotho).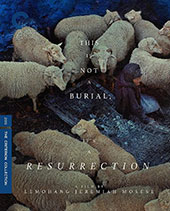 Grieving and alone following the deaths of her husband and children, elderly Mantoa (Mary Twala Mhlongo), in a soul-shaking, end-of-life performance) prepares for her own death and to be buried alongside her ancestors. When plans for a new dam near her village in the landlocked kingdom of Lesotho threaten to literally wash away all she holds dear, Mantoa takes a last stand, mobilizing her neighbors to fight for their land and their way of life. The experience of watching Mosese's visionary, much-lauded film is as timeless and elemental as the land itself. 2K digital master, approved by director Lemohang Jeremiah Mosese, with 5.1 surround DTS-HD Master Audio soundtrack on the Blu-ray. On DVD, Blu-ray from The Criterion Collection.
Read more here.
BUZZIN' THE 'B's:
"The Ghosts of Monday"
(2022), starring Mark Huberman, Julian Sands, Marianna Rosset, Elva Trill and Anthony Skordi, is the chilling story of a group of US filmmakers who travel to Cyprus to film a documentary in the tragically famous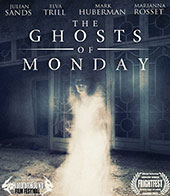 Hotel Gula - a once popular resort where more than 100 people died in mysterious circumstances. What begins as just another day at the office will eventually turn into a terrifying journey into the unknown. On DVD, Blu-ray, from Cleopatra Entertainment.
Read more here
... Where there's a drill, there's a way. Corbin Bernsen stars as homicidal dentist Dr. Alan Feinstone in these two horror favorites,
"The Dentist Collection,"
available for the first time on Blu-ray. In "The Dentist" (1996), Beverly Hills dentist Dr. Feinstone seems to have the perfect, ordered life - until the discovery of his wife's affair with the pool boy sends him off the deep end, unlocking the killer inside. "The Dentist 2" (1998) finds the evil doctor in a maximum-security mental hospital ... but not for long, as he escapes to a small town and turns his attentions to a new love interest and new victims. On Blu-ray from Lionsgate ...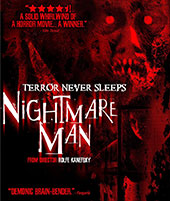 After receiving a demonic African mask in the mail, Ellen Morris (Blythe Metz) is attacked in her dreams by an evil being she calls
"Nightmare Man"
(2006) and is labeled a paranoid schizophrenic by both her doctor and her husband. Unsure if the demon is real or not, Ellen flees for her life and next she is brutally attacked and is taken in by a group of friends staying at a remote cabin in the woods. A throwback to the terrifying slasher films of the 1980's. Starring writer-director Rolfe Kanefsky regular and one of Playboy's 50 sexiest scream queens of all time, Tiffany Shepis ("The Hazing," "Sharknado 2"), Blythe Metz ("The Craving Heart"), and Richard Moll (TV'S "Nightcourt," "Scary Movie 2"). On Blu-ray from Ronin Flix/MVD Entertainment.
ON THE INDIE FRONT:
In
"Poppy"
(2021 - New Zealand), starring Libby Hunsdale, Ari Boyland, Seb Hunter and Kali Kopae, 19-year-old Poppy Simpson is an irrepressible young woman with Down syndrome - and the idea that she should get to do what everyone else does: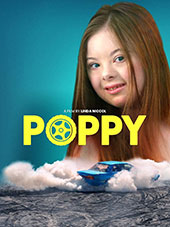 have a job, drive a car, get married, have sex, be in charge of her own destiny. Holding her back is Dave, her older brother and only family since the death of their parents. They work together in their inherited auto shop business, but super-protective Dave doesn't think she's up to getting her driver's license, becoming an auto mechanic, or having an adult relationship. Quietly rebellious, Poppy secretly begins to teach herself to drive, finds a friend at the Automobile Association where she's get her provisional license, and reconnects with a school friend, Luke, who needs his car repaired in time for the local burnout competition - Poppy offers to fix his car on the quiet in exchange for driving lessons. All the while, the family repair business is failing badly, Dave's overwhelmed and drowning his worries in alcohol, and on burnout day, Poppy secretly decides to enter the competition herself. From Indiepix.
FOREIGN FILMS:
"Inu-oh"
(2021 - Japan), a soaring glam-rock opera set in 14th-century Japan from visionary director Masaaki Yuasa is an ode to the power of music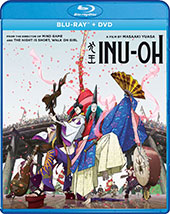 and a forceful statement on artistic freedom. Features original rock songs by the lead voice actors Avu-chan and Mirai Moriyama. Born to an esteemed family, Inu-oh is afflicted with an ancient curse that has left him on the margins of society. When he meets the blind musician Tomona, a young biwa priest haunted by his past, Inu-oh discovers a captivating ability to dance. The pair quickly become inseparable friends as crowds flock to their electric, larger-than-life concerts. But when those in power threaten to break up the band, Inu-oh and Tomona must dance and sing to uncover the truth behind their creative gifts. In Japanese and with an English-dubbed track. In a Blu-ray/DVD Combo from GKIDS/Shout! Factory.
FOR THE FAMILY:
In
"Rock Dog 3: Battle the Beat"
(2022), with the voices of Eddie Izzard, Andrew Francis, Ashleigh Ball and Bethany Brown, Bodi rocks back into the spotlight with this animated sequel. After touring the world, Bodi takes some time off and returns to his village. When he learns that the girl group, K-9, doesn't know who rock legend Angus Scattergood is, he is compelled to join the musical competition show, "Battle the Beat," to inspire a new generation of rock stars. But after joining the show, Bodi quickly realizes he has bitten off more than he can chew when he becomes an overnight TV personality sensation. On DVD, Blu-ray, from Lionsgate.
SPECIAL INTEREST:
"Colosseum"
(2022) is a two-disc set of the eight-part series that uses the Colosseum as the dramatic setting to tell the thrilling story of the rise and fall of the Roman Empire - through the lens of the men and women who fought and died there. Unfolding chronologically - from the arena's astonishing design to its eventual decay - each episode pinpoints a key historical figure, combining dramatic live-action sequences and special effects with interviews from leading historians and scholars for a vivid and revealing look at a pivotal period in world history. From Lionsgate.
Check out other new DVD/Blu-ray releases, streaming films, and information and reviews at OnVideo.
Comments