By Harley Lond - 01/10/23 at 12:18 AM CT
FROM THE BIG SCREEN
"She Said" (2022) Based on the bombshell New York Times investigation, the film follows the remarkable true story of how reporters Megan Twohey and Jodi Kantor went from underdogs to inspirations by shattering the silence surrounding sexual assault in Hollywood. Determined to expose the truth many fear to tell, Megan and Jodi's partnership shakes up the system, empowering courageous women to retake their strength through stories of survival.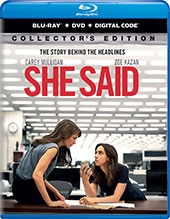 Vitals: Director: Maria Schrader. Stars: Carey Mulligan, Zoe Kazan, Patricia Clarkson, Andre Braugher, Jennifer Ehle, Samantha Morton, Ashley Judd. 2021, CC, MPAA rating: R, 129 min., Drama, North American box office gross: $5.285 million, worldwide $11.450 million, Universal. Formats for She Said: DVD, Blu-ray/DVD Combo + Digital Code, VOD, Digital. Extras: "Breaking the Story" behind-the-scenes featurette with journalists Megan Twohey and Jodi Kantor; theatrical trailer. Read more here


THIS WEEK'S BEST BETS:
Fists flurry and blood flows as legendary cult director Teruo Ishii joins forces with martial arts legend Shin'ichi "Sonny" Chiba in
"The Executioner Collection,"
a bone-crunching double whammy of classic karate exploitation from Toei. In "The Executioner" (1974) Ryuichi Koga (Chiba) is a descendent of the Koga Ninja school, now earning his living through more nefarious means as a gun for hire. When he is enlisted to take down a drug cartel alongside Hayabusa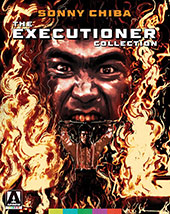 (Makoto Sato), a disgraced former narcotics detective now operating within the criminal underworld, and renegade Aikido master Sakura (Eiji Go), tensions grow among this three-man team of ne'er-do-wells as each come to question each other's motives. Koga returns in the even more gung-ho follow up, "Karate Inferno" (1974), as the ringmaster of a gang of thieves plotting to steal a priceless jewel from a master criminal. Making its High Definition home-video debut, The Executioner is presented in both its original Japanese-language version and with the English dub track from the 1970s North American release. On Blu-ray from Arrow Video/MVD Entertainment.
Read more here
... Melodrama master John M. Stahl brings his exquisite restraint and almost spiritually pure visual style to
"Imitation of Life"
(1934), a devastating, enduringly relevant story of mothers and daughters. "Imitation of Life" explores the friendship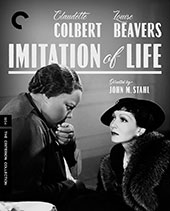 between two struggling single mothers: one (Claudette Colbert) a working-class white woman who ascends to the top of the business world, the other (Louise Beavers) her Black housekeeper, whose life is shattered by the rejection of her rebellious, white-passing daughter (Fredi Washington). It is this latter relationship - attuned to America's bitter racial realities and heartbreakingly enacted by trailblazing Black performers Beavers and Washington - that lends the film its transcendent emotional power. This first adaptation of Fannie Hurst's best-selling novel boldly confronts the complexities and contradictions of racial identity, economic exploitation, and the limits of the American dream. 4K digital restoration, with uncompressed monaural soundtrack on the Blu-ray. On DVD, Blu-ray, from The Criterion Collection.
Read more here
... Riding high on their successful adaptations of Edgar Allan Poe, Roger Corman and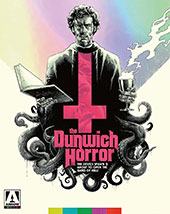 American International Pictures took on that other titan of literary terror, H.P Lovecraft, in
"The Dunwich Horror"
(1970). Dean Stockwell stars as Wilbur Whateley, a mysterious young man who travels from the small town of Dunwich to the library of the Miskatonic University that holds one of the only copies of the Necronomicon, a legendary book of occult lore that Wilbur hopes to borrow. Graduate student Nancy Wagner (Sandra Dee) falls under his malign influence and travels with him back to his home where Wilbur has plans to use her in a ritual to raise "The Old Ones," cosmic beings from another dimension. But who, or what, is in the locked room at the top of the stairs? And what will happen if they get out? Directed by Daniel Haller, genius art director of numerous Corman classics, this was also the first screenwriting credit for Curtis Hanson, who would later direct the multi award-winning "L.A. Confidential." Newly restored by Arrow Films from the original 35mm camera negative. On Blu-ray from Arrow Video/MVD Entertainment.
Read more here.
BUZZIN' THE 'B's:
In
"The 3rd Guest"
(2022), starring Nikki Kris, Matthew Clark, Clint Carmichael, Joseph Lopez, Logan Laurel and Andrea M. Anderson, Evie Kenneth (Kris) is talented, driven, and consumed with work until the unthinkable happens – her daughter dies suddenly. After burying her daughter, Evie turns to a former lover, Hart (Clark) for comfort. He decides to take Evie with him on a ghost-hunting assignment that turns into a nightmare, when real paranormal events occur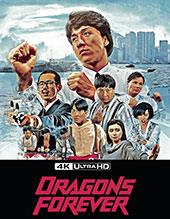 and the two must fight for their lives to survive from these unseen force. From Indican Pictures.
Read more here
... In
"Dragons Forever"
(1988 - Hong Kong), starring Jackie Chan, Sammo Hung, Yuen Biao and Pauline Yeung, hotshot lawyer Jackie Lung (Chan) is hired to defend the owner of a factory which, unbeknownst to him, is the center of a clandestine narcotics syndicate. He enlists resourceful acquaintances Wong Fei-Hung (Sammo Hung) and Dung Dak-Biu (Yuen Biao) to assist in the case, but loyalties begin to falter when romance blossoms between both sides. On Blu-ray from 88 Films/MVD Entertainment ... Mondo Macabro has three grisly tales due this week on Blu-ray:
"A Haunted Turkish Bath House"
(1975 - Japan)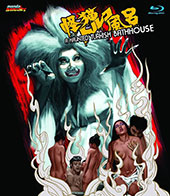 Nikkatsu star Naomi Tani stars as an abused wife sold to a brothel to cover her husband's debts. The deceitful husband is actually behind it all, in cahoots with the brothel madame, who is his lover. Tani discovers the truth and gets tortured to death. However, the dead woman's soul seeks vengeance from a most unusual quarter. The film is a bizarre mixture of Japanese erotica, gangster film and "ghost cat" horror movie, all popular genres in the 1960s and 70s.
"House of Terrors"
(1965 - Japan) A rare Japonese gothic horror film. A recently widowed woman discovers that her former husband, who died in an insane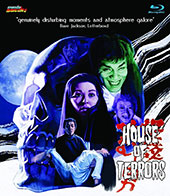 asylum, owned a remote country mansion. She and a group of friends go to the villa and find a weird demonic statue in the hallway. They are joined by a hunchback caretaker who tells them of the numerous murders that have occurred there. Soon the guests begin to hear strange noises including disembodied laughter, and feel that they are being stalked by a disturbing presence that haunts the mansion.
"In the Folds of the Flesh"
(1971 - Italy/Spain) Night-time, a peal of thunder, a castle by the sea, a severed head rolls across a carpeted floor, a blood-stained sword lies next to it. Meanwhile police are in hot pursuit of a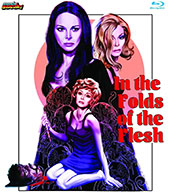 criminal who is evading capture on a speeding motorbike. He takes refuge in the overgrown castle grounds, and he sees a dark-haired woman burying a corpse in a shallow grave. 13 years later, after being recaptured and serving his sentence, the man returns to the castle, intent on blackmail, and maybe a few other things. This only covers the first few minutes of this wild psychedelic nightmare. Frequently described as one of the craziest of all Italian "giallo" thrillers, "In the Folds of the Flesh" is all that and more. Several dismembered heads are featured. Visitors arrive at the castle, only to be murdered in a variety of gruesome ways. Characters turn out not to be who they said they were. Incest, madness, flashbacks, Etruscan skeletons and even a Nazi death camp are all woven into the fabric of the film.
FOREIGN FILMS:
Intimations of conspiracy hover over a group of actors in
"The Gang of Four
(1988 - France), this underrated but decidedly major work from New Wave master and former Cahiers du Cinema editor-in-chief Jacques Rivette. Four young women share a house on the outskirts of Paris and study acting under a demanding teacher (Bulle Ogier). Outside class, each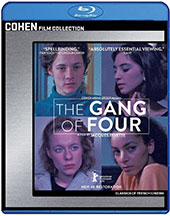 is questioned by a mysterious investigator on the trail of a former roommate who may be involved in a criminal enterprise. Rivette's characteristic preoccupation with the intersections between daily life and performativity creep into every corner of this wholly engrossing mystery, which eventually expands beyond the confines of the film itself. Shot by DP Caroline Champetier ("Holy Motors") in a glorious late-'80s palette of deep reds, golden yellows, and dark teals, this playful revisiting of his debut "Paris Belongs to Us" launched the second phase of Rivette's career. On DVD, Blu-ray, from Cohen Film Collection ... In
"200 Meters"
(2020 - Palestine). Mustafa, a Palestinian construction worker, lives in a West Bank home a mere 200 meters away from his wife and children, on the other side of the Israeli border wall. Though eligible for an Israeli ID, Mustafa sacrifices living with his family in resistance to what he believes are unjust laws enforced by the occupying Israeli government, so he instead uses his work permit to visit daily. The arrangement is functional,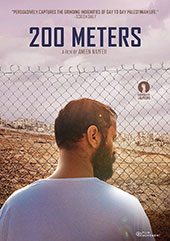 until one day Mustafa gets a call every parent dreads: his son has been seriously injured and brought to an Israeli hospital. Rushing to cross the border checkpoint, Mustafa is denied on a technicality. Stopping at nothing to reach his child, a 200 meter distance becomes a 200 kilometer odyssey, as the increasingly desperate Mustafa attempts to smuggle himself to the other side of the wall. An impressive feature debut by writer-director Ameen Neyfeh that expertly balances tender family drama and frenetic political thriller. From Film Movement ... In
"Piggy"
(2022 - Spain), with the summer sun beating down on her rural Spanish town, Sara hides away in her parent's butcher shop. A teenager whose excess weight makes her the target of incessant bullying, she flees a clique of capricious girls who torment her at the town pool, only to stumble upon them being brutally kidnapped by a stranger, who drives off with them in his van. When the police begin asking questions, Sara keeps quiet. Intrigued by the stranger - an interest that's mutual - she's torn between revealing the truth and protecting the man who saved her. On DVD, Blu-ray, from Magnolia Home Entertainment Magnet Label.
Read more here.
SPECIAL INTEREST:
Who is Alex Jones? Looking past caricature and propaganda, the documentary
"Alex's War"
(2022) is a searching and human character study of one of America's most infamous, charismatic and divisive public figures. Director Alex Lee Moyer draws from Jones's first ever independent long-form biographical interviews, behind-the-scenes footage from his studio and rallies, and full access to the Infowars archives to trace his 25 year rollercoaster of a career. From Play Nice/CAV Distributing ...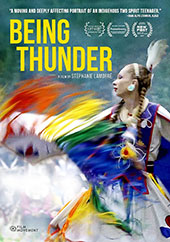 In the documentary
"Being Thunder"
(2021), Sherenté, a Two Spirit Genderqueer teenager from Rhode Island's Narragansett tribe performs in dance competitions at annual regional powwows of New England tribes. There is no formal rule which prohibits Two Spirit Genderqueer people from competing in a category different from their birth gender. Wearing female fancy shawl regalia, Sherenté dances with joy and beauty. Behind the scenes, tribal leaders manipulate Sherenté's scores or disqualify them outright because of their belief in traditional binary gender roles. Blindsided by ongoing dishonesty and deception, Sherenté continues to perform in spite of insensitive behavior by tribal leaders and others in their community. Sherenté's enduring courage and self-respect are met with an outpouring of support from family, powwow attendees, and fellow competitors. From Film Movement.
FROM TV TO DISC:
"Fear the Walking Dead Season 7"
(2021-22) is a four-disc set with 16 episodes of "The Walking Dead" spinoff, set in Los Angeles, California. Follows two families who must band together to survive the undead apocalypse. In Season Seven, Teddy (John Glover) brought about his vision of "The End" when he detonated nuclear warheads across the Texas landscape, but it will be up to the survivors to decide what "The Beginning" will look like. In this world devoid of light and hope, where the outside air is just as deadly as the walkers they face, the ones who lived will find out who they really are and what they're really made of. Some will rise to the occasion. Others will find new purpose. Still others will redefine themselves – even if it comes at a terrible cost to those they once considered family. On DVD, Blu-ray, from Lionsgate.
Check out other new DVD/Blu-ray releases, streaming films, and information and reviews at OnVideo.
Comments