By Harley Lond - 10/25/22 at 12:01 AM CT
FROM THE BIG SCREEN

"Nope" (2022) Following their father's shocking death, Hollywood animal wrangler OJ Daniel Kaluuya) and his sister Emerald (Keke Palmer) begin observing unexplained phenomena on their vast Southern California ranch that leads them down an obsessive rabbit hole as they plot attempts to capture the mystery on camera. Along with a former child star turned family theme park ringmaster (Steven Yeun) who neighbors the siblings, the pair's efforts to chase the spectacle soon bring terrifying consequences and unimaginable horror.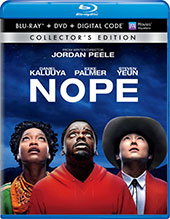 The result is a complex social thriller that unpacks the seeds of violence, risk and opportunism that are inseparable from the romanticized history of the American West ... and from show business itself. Vitals: Director: Jordan Peele. Stars: Daniel Kaluuya, Keke Palmer, Steven Yeun, Michael Wincott, Brandon Perea. 2021, CC, MPAA rating: R, 130 min., Sci Fi, North American box office gross: $122.466 million, worldwide $166.451 million, Universal. Formats: DVD, Blu-ray/DVD Combo + Digital Code, 4K Ultra HD/Blu-ray Combo + Digital Code, VOD, Digital. Extras: Deleted scenes; gag reel; "Call Him Jean Jacket" featurette; "Mystery Man of Muybridge" featurette. Blu-ray adds: "Shadows: The Making of Nope" 56-minute documentary that explores the production, and meaning, of "Nope." Read more here


"The Invitation" (2022) After the death of her mother and having no other known relatives, Evie (Nathalie Emmanuel) takes a DNA test ... and discovers a long-lost cousin she never knew she had. Invited by her newfound family to a lavish wedding in the English countryside, she's at first seduced by the sexy aristocrat host but is soon thrust into a nightmare of survival as she uncovers twisted secrets in her family's history and the unsettling intentions behind their sinful generosity.
Vitals: Director: Jessica M. Thompson. Stars: Nathalie Emmanuel, Thomas Doherty, Stephanie Corneliussen, Alana Boden, Hugh Skinner, Sean Pertwee. 2022, CC, MPAA rating: PG-13, 106 min., Horror, US box office gross: $25.034 million, worldwide $33.634 million, Sony. Formats: DVD, Blu-ray/DVD Combo + Digital Code, VOD, Digital. Extras: Behind the scenes featurettes. Blu-ray adds: Uncut version, deleted & extended scenes including an alternate ending; outtakes & bloopers. Read more here


THIS WEEK'S BEST BETS:
"I'll show you what horror means..." growls the hideous Mr. Hyde (Frederic March) as the helpless, terrified Ivy (Miriam Hopkins) cowers on her bed in
"Dr. Jekyll & Mr. Hyde"
(1931). And now you'll see too, in this meticulously restored 1931 version of Robert Louis Stevenson's spine-chilling masterpiece. Director Rouben Mamoulian's choice of young, handsome Fredric March to play the lead raised studio hackles. But Mamoulian's insistence paid off as March's performance earned him an Oscar as Best Actor. Indeed, the public's fascination with Hyde equaled that of Boris Karloff's Frankenstein and Bela Lugosi's Dracula. In a Blu-ray debut from Warner Archive ...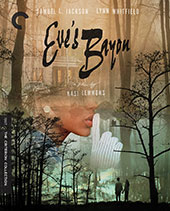 "The summer I killed my father, I was ten years old ..." So begins Kasi Lemmons's spellbinding feature debut
"Eve's Bayou"
(1997), an evocative journey into the maze of memory steeped in fragrant southern-gothic atmosphere. In 1960s Louisiana, a young girl (Jurnee Smollett) sees her well-to-do family unravel in the wake of the infidelities of her charming father (Samuel L. Jackson) - setting in motion a series of deceptions and betrayals that will upend her world and challenge her understanding of reality. Rooted in Creole history, folklore, and mysticism, "Eve's Bayou" is a scintillating showcase for a powerhouse ensemble of Black actresses - including Lynn Whitfield, Debbi Morgan, and the legendary Diahann Carroll as a voodoo priestess - as well as a profoundly cathartic exploration of trauma, forgiveness, and the elusive nature of truth. In a Blu-ray debut,, with new 4K digital restoration of the director's cut, supervised by director Kasi Lemmons and cinematographer Amy Vincent, with 5.1 surround DTS-HD Master Audio soundtrack. From The Criterion Collection.
Read more here.
BUZZIN' THE 'B's:
"The Bat"
(1959) has been restored from original 35mm archival elements. The predator has steel claws and rips his victims to shreds! But who is he? Vincent Price thrills in this horror classic about a down­trodden country estate that becomes the site of a horrific murder. Agnes Moorehead co-stars in one of her many commanding, on-screen performances. Other co-stars include Gavin Gordon and Darla Hood of the Our Gang comedies in her final film role. Prolific writer-director Crane Wilbur ("He Walked by Night," "Crime Wave") helms this feature, alongside an impressive gallery of weirdos who are guaranteed to give you the creeps. Which of them is the mysterious killer known as "The Bat?" You'll find out soon enough, but beware ... the scream you hear may be your own! On DVD, Blu-ray, from The Film Detective/Cinedigm ...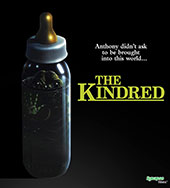 Academy Award-winning screen legends Rod Steiger and Kim Hunter star in
"The Kindred"
(1987), a chilling tale of a genetic experiment gone wrong ... very wrong! Hunter is Dr. Amanda Hollins, a molecular scientist who calls on her son John (David Allen Brooks) to eliminate all evidence of her genetic experiments ... most specifically her "Anthony Journals." Dr. Philip Lloyd (Steiger), an acquaintance of Hollins who is familiar with her experiments, wants to continue her studies no matter the cost. John heads to his isolated childhood home with a group of friends to uncover his mother's research and destroy it all. There's something else in the house, however ... something watching and waiting ... a tentacled creature born from the desire to alter human evolution. It's evil. It's mad. It's ready to kill. One of the best "creature features" of the 1980s, utilizing all practical special effects, the film also stars Amanda Pays and Talia Balsam. All-new 4K high-definition remaster of the unrated version of the film. On Blu-ray from Synapse Films.
Read more here
... In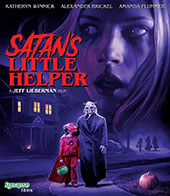 "
"Satan's Little Helper"
(2004), nine-year-old Douglas Whooly (Alexander Brickel) is obsessed with the handheld video game "Satan's Little Helper," and annoyed that the attention of his big sister Jenna (Katheryn Winnick) is being distracted by her new boyfriend Alex (Stephen Graham). These two concerns collide on Halloween, when Douglas witnesses a serial killer in a devil mask (Joshua Annex) posing his victims like outdoor All Hallow's Eve displays. Not comprehending how real the carnage is, Douglas becomes this Satan's little helper - and that's very bad news for Alex, for Douglas and Jenna's mom Merrill (Amanda Plummer), and ultimately for their entire town. A different kind of Halloween horror film, "Satan's Little Helper" combines grisly killings with a mile-wide streak of savage humor. Written and directed by cult favorite Jeff Lieberman, it satirizes the way video games can seize hold of young minds, and is driven by the inability of Douglas (and others) to distinguish the Satan Man's nasty crimes from All Hallow's prankery. Featuring one of Plummer's most eccentric performances, the film has built a cult following on video and now makes its uncut high-definition Blu-ray debut, carrying a bagful of supplementary treats. On Blu-ray from Synapse Films.
Read more here
...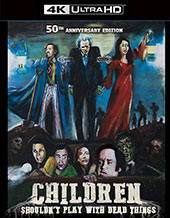 Back before he became a staple of the Christmas season, director Bob Clark ("A Christmas Story," "Black Christmas") was cutting his teeth in the world of independent genre cinema. One of Clark's earliest efforts was 1972's
"Children Shouldn't Play with Dead Things."
Six theater friends decide to have a little fun by having a mock Satanic ritual. To do so, they head to an isolated island, dig up a rotting corpse, and perform the spooky ceremony. The group's director is disappointed when the initial ritual fails and continues to push it. Eventually he succeeds in raising the dead and soon realizes it's not always best to get what you wish for. Stars Alan Ormsby, Anya Ormsby, Jane Daly, Jeffrey Gillen, Paul Cronin and Roy Engleman. On DVD, Blu-ray, 4K Ultra HD, from VCI Entertainment ...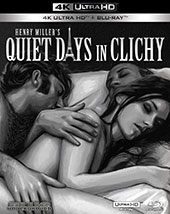 Back in 1970, controversial Danish artist Jens Jørgen Thorsen tackled the impossible - translating author Henry Miller's semi-autobiographical novella "Quiet Days in Clichy" to the big screen. In
"Quiet Days in Clichy"
(1970 - France), starring Paul Valjean, Wayne Rodda, Ulla Koppel, Avi Sagild and Susanne Krage, he captures the youthful spirit and liberated sexuality Miller experienced in his Bohemian days as an expat in Paris, portraying an American writer Joey and his French pal Carl sharing an apartment in the Parisian district of Clichy. While both men are broke and starving, it is no deterrent to their pursuit of desire for sexual adventures. Filmed in the French new-wave style of Godard and amplified by an original soundtrack by Woodstock favorite "Country Joe" McDonald, "Quiet Days in Clichy" is not for those offended by Joey and Carl's uninhibited sexual escapades. A European hit, when "Quiet Days in Clichy" made its way to the United States it was quickly seized by authorities, claiming it to be nothing more than obscene, pornographic filth, citing some of its sexually explicit moments. After protracted litigation against the government by its' US distributor, the film was eventually cleared, but mysteriously became lost. But now, more than 50 years later, Blue Underground has resurrected this important "adults only" classic, presenting it in a brand-new restoration, scanned in 4K 16-bit from its recently discovered uncut & uncensored original 35mm fine-grain negative. On DVD, 4K Ultra HD/Blu-ray Combo, from Blue Underground ...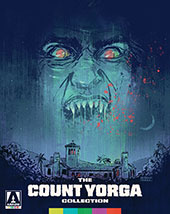 "The Count Yorga Collection (Limited Edition)"
(1970, 1971): By the end of the 1960s the boom in Old World gothic horror had begun to wane in the face of present day terrors like the Vietnam war. In response, American filmmakers brought horror out of the past and into the present, and the classic movie monsters packed their bags and headed for the New World. "Count Yorga, Vampire" was among the first to successfully transpose the classic vampire, cloak and all, to a modern day setting as the Count - played unforgettably by Robert Quarry - arrives in the United States and settles in a Southern California mansion with his mysterious "brides." A drive-in favorite from the moment it was released, a sequel soon followed. "The Return of Count Yorga" ups the ante and sees the sardonic Count on the streets of San Francisco, his sights set on an orphanage as a potential source of sustenance. Director Bob Kelljan ("Scream Blacula Scream") delivers a one-two punch of classic cult cinema mixing chills, thrills, style, and suspense with a knowing wit that revels in the genre trappings. Presented in all new restorations by Arrow Films from new scans of the original camera negative. On Blu-ray.
ON THE INDIE FRONT:
In
"Lovers in a Dangerous Time"
(2021), starring Tyler Cole, Christanna Rowader and Ryan Willer, a man attempts to break off an affair he's been having with an unstable woman while his fiancée has been away sheltering with her family during the COVID-19 pandemic. Now as the restrictions are lifting, his time is running out and this woman is getting more and more volatile. From Indican Pictures.
Read more here
... In
"Waking Up Dead"
(2022), starring Gabriel Sousa, Judy Geeson, Traci Lords, Nelson Arrieta Jr., Caio Ara, Angelic Zambrana and Patricia McKenzie, beautiful and self-destructive, hot-shot actor Danny Maldonado was once about to conquer Hollywood. Now, just a few years later, his career has flatlined, his boyfriend has dumped him and his long-estranged drug addict mother is dying. But when he's called in to audition for the lead role in the most talked-about new series in Hollywood, Danny vows to clean up his act, win his ex back and give the greatest audition of his life. What could go wrong? From Breaking Glass Pictures.
Read more here.
FOREIGN:
Adapted from the book by Georges Simenon,
"Monsieur Hire"
(1989 - France), starring Sandrine Bonnaire and Michel Blanc, is a film of gorgeously muted widescreen color and funereal beauty that coolly unpacks sexual obsession and romantic love with intelligence and understated intensity. A young girl is brutally murdered. The prime suspect is a cold and reclusive man who is obsessed with his beautiful neighbor. He spends his nights watching her through his window, but when she discovers that she is being spied on, she becomes the aggressor in an erotically charged relationship that leads to a deadly game of cat-and-mouse. On DVD, Blu-ray, from Cohen Film Collection.
SPECIAL INTEREST:
"Blue Island"
(2021 - China): The large-scale 2019 pro-democracy protests in Hong Kong and the subsequent crackdown on freedoms provide the urgent anchoring point for this remarkable vision from HK filmmaker Chan Tze Woon, a genre-defying plunge into the political morass that has been ever-widening between the former colony and the controlling Chinese state. Taking a panoramic view of these fractures, and covering acts of resistance from 1967 to today, Chan mixes documentary footage and fictional recreations of the past starring contemporary student protestors (many awaiting prison sentencing for speaking out). Blue Island is an accomplishment of both political bravery and aesthetic daring, a film about the cyclical nature of history and the people who live within the folds of time, constantly on the edge of revolution. From Icarus Films.
Read more here.
FROM TV TO DISC:
"Ray Donovan: The Complete Series"
(2013-20) is a 29-disc set with 82 episodes. Set in the sprawling mecca of the rich and famous, Ray Donovan does the dirty work for LA's top power players. The series stars Liev Schreiber in his first lead television role as the go-to guy who makes the problems of the city's celebrities, superstar athletes, and business moguls disappear. This powerful drama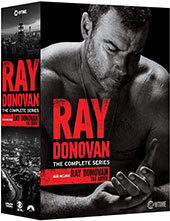 unfolds when his father, played by Oscar-winner Jon Voight, is unexpectedly released from prison, setting off a chain of events that shakes the Donovan family to its core. On DVD from CBS/Paramount ...
"Titans: The Complete Third Season"
(2021) is a three-disc set with all 13 episodes. In the explosive third season, Jason Todd's journey as Robin comes to a gruesome end only for him to return to Gotham as Red Hood with a vengeance to take down his old team. Meanwhile, Barbara Gordon, the former Batgirl and current acting Commissioner of the Gotham City Police Department, is wary of the Titans now being back in Gotham, but her history with Dick Grayson leads her to accept their help in the GCPD's investigation of Red Hood. On Blu-ray from Warner.
Check out other new DVD/Blu-ray releases, streaming films, and information and reviews at OnVideo.
Comments