By Harley Lond - 07/19/22 at 12:10 AM CT
FROM THE BIG SCREEN
"The Bob's Burgers Movie" (2021) An animated, big-screen, musical comedy-mystery-adventure based on the long-running Emmy-winning series. The story begins when a ruptured water main creates an enormous sinkhole right in front of Bob's Burgers, blocking the entrance indefinitely and ruining the Belchers' plans for a successful summer. While Bob and Linda struggle to keep the business afloat, the kids try to solve a mystery that could save their family's restaurant. As the dangers mount,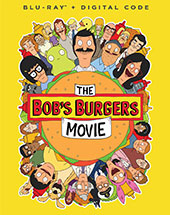 these underdogs help each other find hope and fight to get back behind the counter, where they belong. Vitals for The Bob's Burgers Movie: Director: Loren Bouchard and Bernard Derriman. Stars: Voices of H. Jon Benjamin, John Roberts, Dan Mintz, Eugene Mirman, Kristen Schaal, David Wai, Zach Galifianakis, Kevin Kline, Larry Murphy. 2022, CC, MPAA rating: PG-13, 102 min., Animated Comedy, North American box office gross: $31.540 million, worldwide $33.755 million, Fox. Formats: DVD, Blu-ray + Digital Code, VOD, Digital. Extras: "Making of the Movie" featurette; audio commentary; theatrical short (seen only in limited theaters): "My Butt Has a Fever - Theatrical Version": The Belcher children perform in the school talent show in order to share their very important and powerful message; deleted scenes; "Animation Extras - Animatics"; "Animation Extras - Animating the Scene." Read more here

"Drive My Car"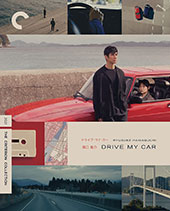 (2021 - Japan) Only Ryusuke Hamaguchi, with his extraordinary sensitivity to the mysterious resonances of human interactions, could sweep up international awards (including the Oscar for Best International Feature) and galvanize audiences everywhere with a pensive three-hour movie - presented in nine languages and adapted from Haruki Murakami stories - about an experimental staging of an Anton Chekhov play. With "Drive My Car," the Japanese director has confirmed his place among contemporary cinema's most vital voices. Two years after his wife's unexpected death, Yusuke Kafuku (Hidetoshi Nishijima) arrives in Hiroshima to direct a production of "Uncle Vanya" for a theater festival and, through relationships with an actor (Masaki Okada) with whom he shares a tangled history and a chauffeur (Toko Miura) with whom he develops a surprising rapport, finds himself facing up to his emotional scars. This quietly mesmerizing tale of love, art, grief, and healing is ultimately a cathartic exploration of what it means to go on living when there seems to be no road ahead. Formats: DVD, Blu-ray, with new 2K digital master, approved by director Ryusuke Hamaguchi, with 5.1 surround DTS-HD Master Audio soundtrack on the Blu-ray. Read more here.


THIS WEEK'S BEST BETS:
The bone-deep disillusionment of postwar film noir becomes a powerful vehicle to explore America's racial injustices in Carl Franklin's richly atmospheric
"Devil in a Blue Dress"
(1995), an adaptation of the hard-boiled novel by Walter Mosley. Denzel Washington has charisma to burn as the jobless ex-GI Easy Rawlins,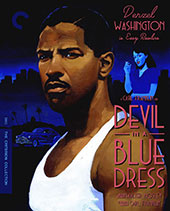 who sees a chance to make some quick cash when he's recruited to find the missing lover (Jennifer Beals) of a wealthy mayoral candidate in late-1940s Los Angeles-only to find himself embroiled in murder, political intrigue, and a scandal that crosses the treacherous color lines of a segregated society. Featuring breakout work by Don Cheadle as Rawlins's cheerfully trigger-happy sidekick, this stylish mystery both channels and subverts classic noir tropes as it exposes the bitter racial realities underlying the American dream. On Blu-ray, 4K Ultra HD with new 4K digital restoration, approved by director Carl Franklin, with 5.1 surround DTS-HD Master Audio soundtrack, from The Criterion Collection ... In the cult classic
"God Told Me To"
(1976), a rooftop sniper guns down 14 pedestrians on the streets of New York City. A mild-mannered dad takes a shotgun and blows away his wife and children. A cop goes on a sudden shooting spree at the St. Patrick's Day Parade. And each of these unlikely killers makes the same dying confession: "God told me to." Now a repressed Catholic NYPD detective (Tony Lo Bianco) must uncover a netherworld of deranged faith, alien insemination and his own unholy connection to a homicidal messiah with a perverse plan for the soul of mankind. On 4K Ultra HD/Blu-ray Combo from Blue Underground.
Read more here
...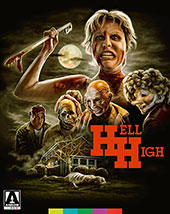 Teenage kicks take a decidedly dark turn in director Douglas Grossman's
"Hell High"
(1989) - a twisted tale of delinquency pushed to its horrifying extreme, where "Class of 1984" meets "I Spit on Your Grave!" When high school football hero Jon-Jon ("Breaking Bad's" Christopher Cousins) quits the team, he winds up falling in with a group of outcasts led by the sadistic Dickens (played to unhinged perfection by the late Christopher Stryker). With a willing new recruit in tow, the gang's youthful hijinks soon spiral into a night of abject horror when they decide to play a cruel prank on the home of their teacher Miss Storm - who, unbeknownst to the youngsters, harbors a dark and tormented past. "Hell High" - which was released in some international territories as "Raging Fury" - is a singular entry in the late '80s horror canon, melding elements of the revenge movie with the trappings of the slasher genre to delirious effect. School's out ... forever! On Blu-ray with a brand new 2K restoration from the original camera negative approved by cinematographer Steven Fierberg. From Arrow Video/MVD Entertainment.
Read more here.
BUZZIN' THE 'B's:
An often referenced and notorious underground classic for the last 25 years, the "American Video Nasty"
"The Necro Files"
(1997) is finally available to a mass audience and for the first time ever in Blu-ray format. A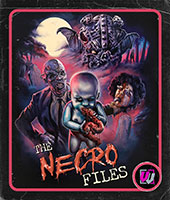 serial killer rises from the grave as a flesh-eating zombie maniac! Two Seattle cops, a satanic cult and a flying demon baby try to stop the lust-crazed ghoul before he can kill again. "The Necro Files" is stacked with intense scenes of gore and sadism, and boasts some of the most WTF moments in the history of shot-on-video cinema. Original archival 1997 SD version from tape masters. Stars Steve Sheppard, Gary Browning, Christian Curmudgeon and Jason McGee.On Blu-ray from Visual Vengeance ... In
"Dual"
(2021), starring Karen Gillan, Beulah Koalem Theo James and Aaron Paul, after she receives a terminal diagnosis, Sarah (Gillan) opts for a cloning procedure to ease her loss on her friends and family. When she makes a sudden and miraculous recovery, her attempts to have her clone decommissioned fail and lead to a court-mandated duel to the death. Now she has one year to train her body and mind for the fight of her life. On DVD, Blu-ray, from RLJE Films ... A brooding occult horror with echoes of Bergman and Pasolini,
"The Righteous"
(2021) insinuates its way beneath the skin by way of an intelligent script, taut direction, and strong performances. Writer and actor Mark O'Brien ("Ready or Not") pulls no punches as he confronts grief, guilt, faith and atonement in his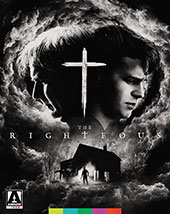 remarkable directorial debut. A former priest, Frederic Mason (Henry Czerny), anguished by the tragic death of his young daughter, finds himself wrestling with his religious convictions when a mysterious young man (Mark O'Brien) appears wounded on his doorstop in need of assistance. After he and his wife Ethel (Mimi Kuzyk) welcome him across the threshold and into their household, Frederic sees an opportunity for redemption in this mysterious and troubled lost soul, who might just be an emissary from God, or maybe the Devil ... Set amongst the bleak and forbidding landscapes of Newfoundland, crisply captured in tenebrous monochrome by cinematographer Scott McClellan, and featuring robust performances from all its cast members, "The Righteous" is a somber supernatural chiller that builds to a memorable crescendo, and signals the emergence of a major new filmmaking talent. On Blu-ray from Arrow Video/MVD Entertainment).
Read more here
... In
"Minamata"
(2021), starring Johnny Depp, Hiroyuki Sanada, Jun Kunimura, Minami, Ryo Kase, Tadanobu Asano, Akiko Iwase and Bill Nighy, Depp plays celebrated war photographer W. Eugene Smith in a real-life David vs Goliath story, pitting Smith against a powerful corporation responsible for poisoning the people of Minamata, Japan in 1971. With the glory days of World War II far behind him, Smith has become a recluse. Between an impassioned Japanese translator called Aileen (Minami) urging him to go and a much needed commission from "Life" Magazine editor Ralph Graves (Nighy), Smith is finally convinced to journey back to Japan to expose the devastating annihilation of a coastal community, victims of corporate greed and complicit local police and government. Armed with only his trusted Nikon camera, Smith must find the images that will bring this story to the World. From Samuel Goldwyn Films ...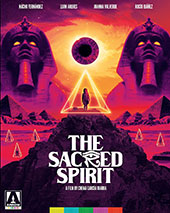 Beware of false gods ... The uncanny, the unsettling, and the unexpected combine to devastating effect in
"The Sacred Spirit (Limited Edition)"
(2021 - Spain), the extraordinary debut feature from Spanish writer-director Chema Garcia Ibarra. A missing girl. A community in shock. Jose Manuel lives a quiet life. He works in his modest tapas bar, takes care of his elderly mother and attends weekly meetings of the Ovni-Levante, a group of devoted UFO enthusiasts who gather after hours at the office of a local estate agent to exchange information about extraterrestrial messages and alien abductions. When their leader dies unexpectedly, only Jose is left to know the cosmic secret that could alter the future of humanity. And only Jose knows what he must do. As if Ken Loach and Aki Kaurismaki remade the "The X-Files," "The Sacred Spirit" is a provocative, humane and unsparing vision that marks the arrival of a unique new voice in genre cinema. On Blu-ray from Arrow Video/MVD Entertainment.
Read more here.
FOREIGN FILMS:
"Nathalie"
(2003 - France), starring Fanny Ardant, Gerard Depardieu and Emmanuelle Beart, is the story of an unusual love triangle. When Catherine's husband is unfaithful, she doesn't want revenge - she's curious. She wants to share the experience, but in secret, so she hires an elite prostitute to seduce her husband and report back to Catherine. Her desire to remain in control of the situation is soon tested by other desires. On DVD, Blu-ray, from Cohen Film Collection.
FOR THE FAMILY:
"Fortune Favors Lady Nikuko"
(2021 - Japan) is
a heartwarming and moving animated comedy-drama with touches of magical realism about an unconventional family and the bonds that they share in their sleepy seaside town. Brash single mother Nikuko is well-known for her bold spirit, much to the embarrassment of Kikuko, her pensive yet imaginative daughter. In contrast to her mother, Kikuko wants nothing more than to fit in as she navigates the everyday social dramas of middle school. Life in the harbor is peaceful until a shocking revelation from the past threatens to uproot the pair's tender relationship. On DVD, Blu-ray/DVD Combo, from GKIDS/Shout! Factory.
SPECIAL INTEREST:
"JFK Revisited: The Complete Collection"
is a four-disc set that includes the film "JFK Revisited: Through The Looking Glass" and the four-part mini-series "JFK: Destiny Betrayed," both by Oliver Stone. Thirty years after his renowned film "JFK," Stone takes viewers on a thought-provoking and eye-opening journey through recently declassified evidence in the assassination of President John Fitzgerald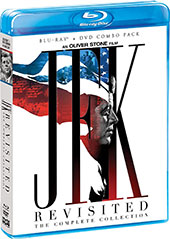 Kennedy.
JFK Revisited: Through the Looking Glass:
An official selection of the Cannes Film Festival, this feature-length film presents a fresh look at the vast archive of material that has recently been placed into public record. Stone reassesses the horrific event that shaped a generation. Using newly declassified and reexamined footage, Stone presents a compelling, thought-provoking documentary narrated by Whoopi Goldberg and Donald Sutherland.
JFK: Destiny Betrayed:
Subjects covered in this mini-series include the early formation of President Kennedy's foreign policy worldview, his travels to Vietnam as a senator, his support of fledgling democracies in Africa, and his anti-colonial convictions which put him in opposition to the Eisenhower administration, the CIA, and the Pentagon. Viewers are also given a behind-the-scenes glimpse into the post-assassination actions and initial suspicions of Kennedy's brother, Robert, as well as his views on the official Warren Commission investigation. The assassination forensic and ballistic evidence not covered in "JFK Revisited" are explored here in greater detail. In a Blu-ray/DVD Combo from Shout! Factory.
FROM TV TO DISC:
"Ancient Aliens: Season 15"
(2020) is a two-disc set with all 12 episodes. From prehistoric stone monoliths and sacred temples to dragon gods and time travelers, this season of HISTORY Channel's "Ancient Aliens" explores ancient technology and timeless relics that span the globe and the galaxy. As the government shifts from denial of the existence of extraterrestrials' presence on Earth to releasing their extensive - formerly secret - reports on unexplained phenomena, there is growing belief that aliens may not be visitors from other planets, but perhaps creatures from our own future. Do these findings reveal alien origins, or the origins of humanity? From Lionsgate ...
"DC's Legends of Tomorrow: The Seventh and Final Season"
(2021) is a three-disc set with all 13 episodes. After saving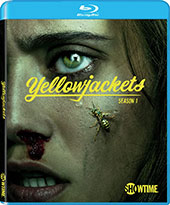 the planet from an alien invasion last season, the Legends deserve a break. Too bad their time travel ship, the Waverider, gets blown up by a second Waverider…meaning the Legends are now trapped in 1925 Odessa, Texas! The only way to get home, and get payback on their mysterious new enemy, is to journey across the country to an early pioneer of time travel, who might just be their only hope of returning home. But with no Waverider, no way of knowing how they're impacting the timeline, and a time-traveling foe hunting them, this will be the toughest mission yet for the Legends. On DVD, Blu-ray, from Warner ...
"Yellowjackets: Season One"
(2021) is a four-disc set with all 10 episodes of the saga of a team of wildly talented high school girls soccer team who become the (un)lucky survivors of a plane crash deep in the remote northern wilderness. The series chronicles their descent from a complicated but thriving team to savage clans, while also tracking the lives they've attempted to piece back together nearly 25 years later. From Showtime/Paramount.
Check out other new DVD/Blu-ray releases, streaming films, and information and reviews at OnVideo.
Comments