By Harley Lond - 06/20/22 at 09:42 PM CT
FROM THE BIG SCREEN
"The Bad Guys" (2022) After a lifetime of legendary heists, notorious criminals Mr. Wolf, Mr. Snake, Mr. Piranha, Mr. Shark and Ms. Tarantula are finally caught. To avoid a prison sentence, the animal outlaws must pull off their most challenging con yet -- becoming model citizens. Under the tutelage of their mentor, Professor Marmalade, the dubious gang sets out to fool the world that they're turning good.
Vitals: Director: Pierre Perifel. Stars: voices of Sam Rockwell, Marc Maron, Craig Robinson, Anthony Ramos, Awkwafina, Zazie Beetz, Lily Singh, Alex Borstein, Richard Ayoade. 2021, CC, MPAA rating: PG, 140 min., Animated Action Comedy, North American box office gross: $92.132 million, worldwide $229.953 million, DreamWorks/Universal. Formats: DVD, Blu-ray/DVD Combo + Dgital Code, 4K Ultra HD/Blu-ray Combo + Digital Code, VOD, Digital. Extras: All-new original short "Maraschino Ruby": The Bad Guys are at it again, but not in the way you think. They've gone good! Find out what happens to the team after they go rogue in this sweet original short; deleted scenes; original opening; post credits; "Devise the Plan: Making The Bad Guys"; "Assemble the Crew"; "It's Showtime: Cast Tabel Read"; "Snake's Frozen Pop Shop"; "From the Drawing Room": How to storyboard and how to draw Mr. Wolf, Mr. Snake, Mr. Shark, Ms. Tarantula, Mr. Piranha; feature commentary. Read more here

"The Unbearable Weight of Massive Talent" (2022) Nicolas Cage plays ... Nick Cage! Creatively unfulfilled and facing financial ruin, the fictionalized version of Cage accepts a million-dollar offer to attend the birthday of a dangerous superfan (Pedro Pascal). Things take an unexpected turn when Cage is recruited by a CIA operative (Tiffany Haddish) and he must use his legendary acting skills, channeling his most iconic and beloved characters to become a real-life action hero.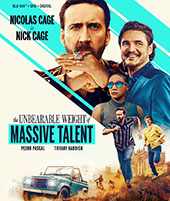 Vitals: Director: Tom Gormican. Stars: Nicolas Cage, Pedro Pascal, Tiffany Haddish, Sharon Horgan, Paco León, Neil Patrick Harris, Lily Mo Sheen, Alessandra Mastronardi. 2021, CC, MPAA rating: R, 107 min., Comedy, North American box office gross: $18.507 million, worldwide $25.886 million, Lionsgate.Formats: DVD, Blu-ray/DVD Combo + Digital Code, 4K Ultra HD/Blu-ray Combo + Digital Code, VOD, Digital. Extras: Deleted scenes; SXSW Film Festival Q&A featuring the cast and filmmakers; audio commentary by writer-director Tom Gormican and writer-executive producer Kevin Etten. Blu-ray adds: "The Mind" behind-the-scenes featurette; "Glimmers of a Bygone Cage" behind-the-scenes featurette to relive Nicolas Cage's journey as an actor and see how a legendary career inspired both filmmakers and cast to create a new era of Cage; "Everybody Needs a Javi" featurette on Cage's ultimate fan; "Nick, Nicky, and Sergio" featurette on the man, the actor, the legend; "Second Act Action" featurette on stunts and special effects; "Cages 5 and Up": Don't kids say the darndest things? What if what they said were lines from some of your favorite Nick Cage movies?" Read more here


THIS WEEK'S BEST BETS
For a record-breaking 14 seasons and 435 episodes,
"The Adventures of Ozzie and Harriet"
aired on ABC-TV, from 1952 through 1966, becoming one of the most cherished cultural touchstones of the 20th century. The positive, wholesome series epitomized an idyllic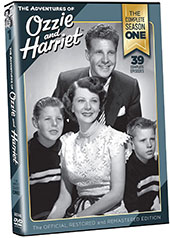 American 1950s lifestyle, its gentle humor brought to the screen by the real-life Nelson family: Ozzie and wife Harriet with their sons, David and Rick, all portraying themselves in a trend-setting blend of fact-meets-fiction comedy decades before Seinfeld and other semi-reality-based shows. The series humorously chronicled the daily lives of the Nelsons as David and Ricky grew up before millions of weekly viewers. While Ozzie Nelson had been a real-life bandleader and Harriet Nelson a singer, the series would help launch the musical career of their younger son, Ricky, who would become a teen idol with such enduring hits as "Travelin' Man" and "Hello Mary Lou." The entire library of "The Adventures of Ozzie and Harriet" has been restored by MPI Media Group from the original 35mm picture and sound elements in association with the UCLA Film & Television Archive, which preserves the elements on behalf of the Nelson family. This week's release is two four-disc sets, Volumes 1 and 2 (1952-53, 1953-54), each with 39 episodes of the iconic series. From MPI Media Group.
Read more here
...
"The Brain from Planet Arous"
(1957) is a great example of cut-rate, sci-fi from the 1950s, this independently produced feature stars B-movie favorite John Agar ("The Mole People," "Revenge of the Creature") and Joyce Meadows ("The Christine Jorgensen Story," "The Girl in Lovers Lane") and was directed by Nathan Juran, a master of the genre who helmed such classics as "The Deadly Mantis" (1957), "Attack of the 50-Foot Woman" (1958) and "The 7th Voyage of Sinbad" (1958). When Gor, an evil brain from planet Arous, inhabits the body of scientist Steve March (Agar), his intention is nothing less than world domination. Lucky for Earth, another intergalactic brain, Val, offers to assist March's wife, Sally (Meadows), in stopping the madness. How does Val intend to help? By inhabiting Sally's dog! Restored in its original 1.85 theatrical format and in 1.33:1 full-frame format. On DVD, Blu-ray, from The Film Detective/Cinedigm ...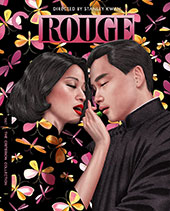 Cantopop superstars Anita Mui and Leslie Cheung display the androgynous magnetism that made them icons as doomed lovers in
"Rouge"
(1987), an emblematic film of Hong Kong's Second New Wave, directed by pioneering queer melodrama master Stanley Kwan. "Rouge" bridges past and present in its tragic romance between a humble courtesan and the wayward scion of a wealthy family, who embrace death by suicide pact amid the opulent teahouses of 1930s Hong Kong. Fifty years later, she returns to the city-state to find him, drawing a young contemporary couple (Alex Man and Emily Chu) into her quest to rekindle a passion that may be as illusory as time itself. With its lush mise-en-scène and transcendently melancholy mood, this sensuous ghost story is an exquisite, enduringly resonant elegy for both lost love and vanishing history. On DVD, Blu-ray, with new 4K digital restoration, approved by director Stanley Kwan, with uncompressed monaural soundtrack on the Blu-ray; alternate 5.1 surround soundtrack, presented in DTS-HD Master Audio on the Blu-ray. From The Criterion Collection.
Read more here
...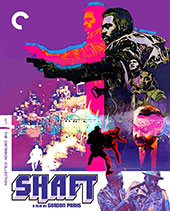 While the Black Power movement was reshaping America, trailblazing director Gordon Parks made the groundbreaking blockbuster
"Shaft"
(1971), which helped launch the blaxploitation era and gave the screen a new kind of badder-than-bad action hero in John Shaft (Richard Roundtree, in a career-defining role), a streetwise New York City private eye who is as tough with criminals as he is tender with his lovers. After Shaft is recruited to rescue the kidnapped daughter of a Harlem mob boss (Moses Gunn) from Italian gangsters, he finds himself in the middle of a rapidly escalating uptown vs. downtown turf war. A vivid time capsule of seventies Manhattan in all its gritty glory that has inspired sequels and multimedia reboots galore, the original "Shaft" is studded with indelible elements — from Roundtree's sleek leather fashions to the iconic funk and soul score by Isaac Hayes. In a 4K UHD + Blu-ray combo edition, and a 2-disc Blu-ray edition with new 4K digital restoration, with uncompressed monaural soundtrack; alternate uncompressed stereo soundtrack remastered with creative input from Isaac Hayes III; in the 4K UHD edition: One 4K UHD disc of the film presented in Dolby Vision HDR and two Blu-rays with the film and special features. From The Criterion Collection.
Read more here.
BUZZIN' THE 'B'S:
"Potato Dreams of America"
(2021), starring Lea DeLaria, Dan Lauria, Jonathan Bennett, Marya Sea Kaminski, Sera Barbieri and Tyler Bocock, is an autobiographical dark comedy that tells the story of a gay boy growing up in the collapsing USSR, his courageous mail-order bride mother and their adventurous escape to America. Full of unexpected twists, the film is an immigrant's take on the American Dream and the power of cinema, proving that life is often stranger than fiction. On Blu-ray from Dark Star Pictures/Vinegar Syndrome ...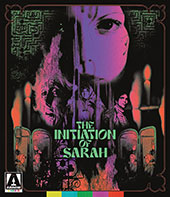 Satanic secrets and telekinetic terror combine in
"The Initiation of Sarah"
(1978), a classic made-for-TV horror movie directed by Hammer Films alumnus Robert Day, from a story co-written by Tom Holland ("Fright Night"). Shy misfit Sarah Goodwin (Kay Lenz), has a secret gift: the ability to control - and destroy - with her mind. When Sarah goes off to college with her more outgoing and popular sister, Patty (Morgan Brittany), their plans to join the most prestigious sorority on campus are scuttled by snobby president, Jennifer Lawrence (Morgan Fairchild). Separated from her sister, Sarah is taken in by a rival, less popular sorority, whose mysterious house mother, Mrs. Hunter (Shelley Winters), is harboring a secret of her own: a scheme to harness Sarah's terrifying power for revenge. Betrayed by Patty, humiliated by Jennifer, it can only be a matter of time before Sorority Hell Week erupts in flames. Blu-Ray debut with an all-new restoration by Arrow Films from the original camera negative. On Blu-ray from Arrow Video/MVD Entertainment.
Read more here
... In
"Strawberry Mansion"
(2021), starring Kentucker Audley, Penny Fuller and Grace Glowicki, it's 2035 and our dreams are no longer our own -- they're infused with product placement and auditors assess unpaid taxes on our most private reveries. Beleaguered taxman James Preble arrives at a run-down house in the countryside for a routine audit and encounters Bella Isadora, a lifelong dreamer who remains resolutely analog, circumventing the surveillance state with VHS tapes and homemade headgear. As Preble works his way through Bella's archive of the unconscious, he begins to fall in love with visions of her younger self. On DVD, Blu-ray, from Music Box Films.
Read more here
... In
"Cyst"
(2021), starring Eva Habermann, George Hardy, Greg Sestero, Terri Merritt Bennett and Jason Douglas, nurse Patricia works under an enthusiastic plastic surgeon who believes he's invented a breakthrough cyst-removal machine and, against Patricia's sound advice, will stop at nothing to patent it so it can be used for his patients. But when their differences turn into a physical altercation, damaging the machine, what started as Patricia's last day on duty becomes a battle for survival after the doctor's "Get Gone" cyst-removing invention inadvertently turns a patient's tumor into a cyst-monster that terrorizes the office.On DVD, Blu-ray, from RLJE Films ...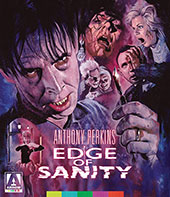 Anthony Perkins builds upon his legendary status as cinema's seminal psycho in
"Edge of Sanity"
(1989), a delirious conflation of Robert Louis Stephenson's classic horror novella "Strange Case of Dr. Jekyll and Mr. Hyde" and Jack the Ripper's real-life reign of terror over Victorian London. When his experiments into a powerful new anesthetic go hideously awry, respected physician Dr. Jekyll (Perkins) takes off into the night, casting aside the shackles of upper-class propriety as he disappears into the shadowy decadent demimonde of Whitechapel in pursuit of sensual pleasures under the guise of "Mr. Hyde." As his wife Elisabeth (Glynis Barber) passes her time in charitable work, rehabilitating the district's fallen women, Hyde is drawn into an escalating cycle of lust and murder that seems to know no bounds. Brand new 2K restoration from the original 35mm camera negative by Arrow Films. On Blu-ray from Arrow Video/MVD Entertainment.
Read more here
... In
"You Are Not My Mother"
(2021 - Ireland), starring Carolyn Bracken, Ingrid Craigie and Hazel Doupe, it's the week before Halloween and Char's (Doupe) mother, Angela (Bracken), has suddenly disappeared, leaving only her car behind. When she returns home without explanation the following evening, it becomes clear to Char and her grandmother, Rita (Craigie), that Angela's behavior has become increasingly frightening, as if she has been replaced by a malevolent force. When Halloween arrives, Char realizes that she is the only one who can save her mother, even if it means potentially losing her forever. On DVD, Blu-ray, from Magnolia Home Entertainment/Magnet Label.
Read more here
... In
"The Cellar"
(2022), starring Elisha Cuthbert, Eoin Macken, Abby Fitz and Dylan Fitzmaurice-Brady, Keira Woods' (Cuthbert) daughter mysteriously vanishes in the cellar of their new house. She soon discovers there is an ancient and powerful entity controlling their home that she will have to face or risk losing her family's souls forever. On DVD, Blu-ray, from RLJE Films ...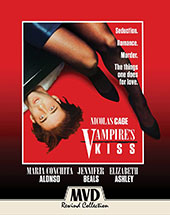 In
"Vampire's Kiss (Special Edition)"
(1989), living in the big city is enough to drive anyone bats, and the pressure of it proves too much for Peter Loew (Nicolas Cage). At the peak of his career, yet in the depths of despair, his life is in turmoil until he meets Rachel (Jennifer Beals), the woman of his dreams. During their first night together, Rachel takes more than his heart - she takes his blood too - and from that moment on, Peter Loew believes he is a vampire. What is it about Rachel that makes him feel this way? Is she really a blood-lusting creature of the night? Or just a product of his fevered imagination? Because if it turns out he is really a vampire - then there's more than just his life at stake. On Blu-ray from MVD Rewind Collection ... In
"After Yang"
(2022), starring Colin Farrell, Jodie Turner-Smith, Justin H. Min, Malea Emma Tjandrawidjaja, and Haley Lu Richardson, when his young daughter's beloved companion -- an android named Yang - malfunctions, Jake (Farrell) searches for a way to repair him. In the process, Jake discovers the life that has been passing in front of him, reconnecting with his wife (Turner-Smith) and daughter across a distance he didn't know was there. On DVD, Blu-ray, from Lionsgate.
Read more here
... In
"Escape the Field"
(2022), starring Jordan Claire Robbins, Theo Rossi, Tahirah Sharif, Julian Feder, Elena Juatco and Shane West, six strangers suddenly awaken in a remote, endless cornfield. Stripped of their possessions, they are left with only six items: a gun with a single bullet, matches, a lantern, a knife, a compass, and a flask of water. As mysterious sirens blare in the distance and traps appear at every turn, the group realizes it's been plunged into a cat-and-mouse game with an unseen evil, and survival depends upon solving a diabolical - and deadly - puzzle. On DVD, Blu-ray, from Lionsgate.
Read more here
...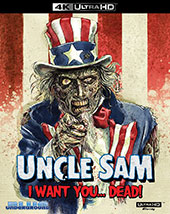 "Uncle Sam"
(1996), starring Robert Forster, Timothy Bottoms, Bo Hopkins, P.J. Soles and Isaac Hayes, makes a 25th anniversary 4K UHD debut this week. Despite a relatively short-lived career as a director, spanning 16 years and eight films, William Lustig has had a major impact on genre cinema. While filming "making-of" features for Anchor Bay, Lustig formed Blue Underground and started to bring exploitation cinema to the home video market with high-quality DVDs loaded with special features. Blue Underground's latest 4K release is Lustig's very own "Uncle Sam." Master Sergeant Sam Harper (David Fralick) is tragically killed in a horrible accident in Kuwait after his helicopter is shot down by friendly fire. Sam's charred remains are shipped back to his hometown of Twin Rivers, just as the town is preparing for its annual Fourth of July celebration. While being stored at his sister's house, Sam's dead body becomes reanimated and goes on a patriotic killing spree over the course of the holiday weekend. "Uncle Sam" is an over-the-top, tongue-in-cheek satire about American's obsession with military dominance and the great lengths the nation will go in order to appeal to the country's youth. Scanned in 4K 16-bit from the original 35mm negative. The film was directed by Lustig from a script written by the iconic Larry Cohen. From Blue Underground/MVD Entertainment ... In
"Fire in the Sky"
(1993), starring D.B. Sweeney, Craig Sheffer, James Garner, Henry Thomas, Robert Patrick and Kathleen Wihoite, in 1975, logger Travis Walton and his co-workers encountered a UFO. His pals were able to flee - but Walton was not so lucky. Whisked aboard the strange craft, he was subjected to a painful, unearthly medical study. This is the amazing tale of that ordeal -- and of the contempt and ridicule endured by Walton and his friends as they tried to convince others of this otherworldly experience. Based on a true story. New 4K scan from the original camera negative. On Blu-ray from Scream Factory ... In
"Breathe In"
(2013), starring Guy Pearce, Amy Ryan, Mackenzie Davis and Felicity Jones, father Keith (Pearce), mother Megan (Ryan) and 17-year-old daughter Lauren (Davis), live a comfortable life -- but there is something missing. Megan is never quite satisfied with the way things are, while Keith has given up his dreams of being a musician for the steady paycheck of a music teacher. When beautiful foreign exchange student Sophie (Jones) comes into their lives,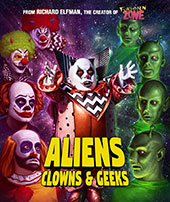 Keith is immediately drawn to her. She's mature beyond her years, and yearns for someone to make her feel safe and loved. Keith and Sophie share flirtatious looks and the occasional touching of hands, which only increases the intensity of their bond. When they finally decide to run away together, they set into motion a series of events that lead to a heartbreaking and immensely moving conclusion. On Blu-ray from Cohen Media Group ... Also due this week is the Blu-ray Special Edition of
"Aliens, Clowns and Geeks"
(2021), which was released to DVD June 7. Out-of-work actor Eddy Pine stumbles upon the key to the universe and is drawn into an intergalactic conflict between killer clowns and sneaky green aliens -- the fate of the planet hangs on the outcome. From the mind of Richard Elfman ("Forbidden Zone," "Modern Vampires") comes another hilarious cult classic comedy featuring an all-star cast that includes Steve Agee, French Stewart, George Wendt, Verne Troyer, Anastasia Elfman, Malcolm Foster Smith, Rebecca Forsythe, Angeline-Rose Troy, Nic Novicki and Martin Klebba with a soundtrack featuring original music by Danny Elfman and Ego Plum. From Elfmaniac Media/MVD Entertainment.
Read more here.
FOREIGN FILMS:
"Ip Man Awakening"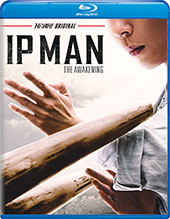 (2022 - China), starring Xie Miao, Hou Tongjiang, Hua Qilong, Chen Guanying and Zhao Yuxuan, while visiting Hong Kong, a young Master Ip intervenes in a kidnapping attempt, unintentionally igniting a turf war with a ruthless human trafficking ring. In retaliation, the gang kidnaps one of Ip Man's close friends, leaving him with no choice but to challenge the group's notoriously brutal boxing champion head-on. On DVD, Blu-ray, from Well Go USA.
FOR THE FAMILY:
"Cinderella"
(2022), starring Camila Cabello, Idina Menzel, Minnie Driver, Nicholas Galitzine, Billy Porter and Pierce Brosnan, is a musically driven new take on the classic fairytale. Cinderella (Cabello) has big dreams and with the help of her Fab Godmother, she perseveres to make them come true. On DVD, Blu-ray, from Sony.
Read more here
... Celebrating its 50th anniversary this year,
"Panda! Go Panda!"
(1972) is a charming early-career classic from animation legends Isao Takahata and Hayao Miyazaki before they went on to co-found the legendary Studio Ghibli. Mimiko is a cheerful, young girl who is left on her own while her grandmother is away. When little Panny Panda and his father Papanda stumble into her home, Mimiko welcomes them in as her new family. Adventures ensue as Mimiko discovers the challenges of taking care of her new cuddly friends. In a Blu-ray/DVD Combo from GKIDS/Shout! Factory.
SPECIAL INTEREST:
"The Beatles and India"
(2021) is a unique historical chronicle of the enduring love affair between The Beatles and India that started more than half a century ago. Rare archival footage, photographs and eye-witness accounts, along with location shoots across India, bring alive the fascinating journey of George, John, Paul and Ringo from their high-octane celebrity lives in the West to a remote Himalayan ashram in search of spiritual bliss - a time that inspired an unprecedented burst of creative songwriting. This is the first serious exploration of how India helped shape the evolution of the iconic band, and how they helped bridge two vastly different cultures. On DVD, Blu-ray, from Abacus Media/MVD Entertainment.
Read more here.
Check out other new DVD/Blu-ray releases, streaming films, and information and reviews at OnVideo.
Comments