By Harley Lond - 04/18/22 at 11:29 PM CT
FROM THE BIG SCREEN
"Jackass Forever" (2022) Older and grayer but not wiser, Johnny Knoxville and the gang are back for another outrageous round of stunts and bad ideas. With new friends and loads of celebrity guest stars, the crew take pranks to ridiculous lengths where absolutely no one is safe and all senses are frayed. From exploding port-a-potties to hockey pucks to the nuts and performing magic for an unamused bull, jackass forever is a hilarious roller coaster ride like you've never experienced before.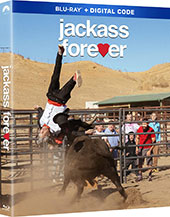 Vitals: Director: Jeff Tremaine. Stars: Johnny Knoxville, Steve-O, Chris Pontius. 2021, CC, MPAA rating: R, 96 min., Comedy, North American box office gross: $57.669 million, worldwide $79.169 million, Paramount. Formats for Jackass Forever": DVD, Blu-ray, VOD, Digital. Extras: Forty minutes of outrageous and hilarious stunt footage not seen in theaters. Read more here

"Cyrano" (2021) A man ahead of his time, Cyrano de Bergerac (Peter Dinklage) dazzles whether with ferocious wordplay at a verbal joust or with brilliant swordplay in a duel. But, convinced that his appearance renders him unworthy of the love of a devoted friend, the luminous Roxanne (Haley Bennett), Cyrano has yet to declare his feelings for her and Roxanne has fallen in love, at first sight, with Christian (Kelvin Harrison Jr.).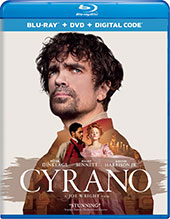 Musical version of Edmond Rostand's play. Vitals: Director: Joe Wright. Stars: Peter Dinklage, Haley Bennett, Kelvin Harrison Jr., Ben Mendelsohn. 2021, CC, MPAA rating: PG-13, 123 min., Musical Drama, North American box office gross: $3.873 million, worldwide $6.340 million, MGM/Universal. Formats: DVD, Blu-ray/DVD Combo + Digital Code, VOD, Digital. Extras: "An Epic Adventure: The Making of Cyrano." Read more here.

The King's Daughter" (2021) Known as The Sun King, Louis XIV (Pierce Brosnan) is the most powerful and influential monarch on the planet. Obsessed with his own mortality and the future of France, Louis turns to his spiritual advisor, Père La Chaise (William Hurt), and the royal physician to help him obtain the key to immortality. Believing a mermaid (Fan Bingbing) contains a force that grants everlasting life, Louis commissions a young sea captain to search the seas and capture the mystical creature. Further complicating his plans is his orphaned daughter, Marie-Josèphe (Kaya Scodelario), who returns to court with an abundance of elegance and an inherent defiance of authority.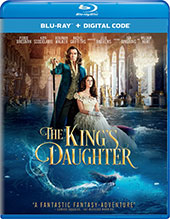 With a rare solar eclipse approaching, Louis will discover where his daughter's true loyalties lie as he races against time to extract the mermaid's life-giving force. Vitals: Director: Sean McNamara. Stars: Pierce Brosnan, Kaya Scodelario, Benjamin Walker, Pablo Schreiber, Ben Lloyd-Hughes, Julie Andrews, Bingbing Fan, William Hurt. 2022, CC, MPAA rating: PG, 90 min., Drama, US box office gross: $1.758 million, worldwide $1.758 million, Universal. Formats: DVD, Blu-ray + Digital Code, VOD, Digital. Extras: Deleted scene, cast reflections on "The King's Daughter." Read more here.


THIS WEEK'S BEST BETS
Renowned filmmaker Vittorio De Sica followed up his international triumph "Bicycle Thieves" with the enchantingly playful neorealist fairy tale
"Miracle in Milan""
(1951 - Italy), in which he combines his celebrated slice-of-life poetry with flights of graceful comedy and storybook fantasy. On the outskirts of Milan, a band of vagabonds work together to form a shantytown. When it is discovered that the land they occupy contains oil, however, it's up to the cherubic orphan Totò (Francesco Golisano) - with some divine help - to save their community from greedy developers. Tipping their hats to the imaginative whimsy of Charles Chaplin and René Clair, De Sica and screenwriter Cesare Zavattini, adapting his own novel, craft a bighearted ode to the nobility of everyday people.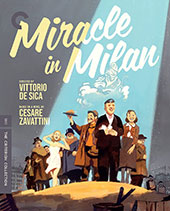 On DVD, Blu-ray, with new 4K digital restoration, with uncompressed monaural soundtrack on the Blu-ray. From The Criterion Collection.
Read more here
... In 1956, Frank Tashlin brought the talent for zany visual gags and absurdist pop-culture satire that he'd honed as a master of animation to the task of capturing, in glorious DeLuxe Color, a brand-new craze: rock and roll. The blissfully bonkers jukebox musical
"The Girl Can't Help It"
(1956) tells the story of a mobster's bombshell girlfriend -- the one and only Jayne Mansfield, in a showstopping first major film role -- and the washed-up talent agent (Tom Ewell) who seeks to revive his career by turning her into a musical sensation. The only question is: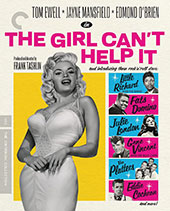 Can she actually sing? A CinemaScope feast of eye-popping midcentury design, "The Girl Can't Help It" bops along to a parade of performances by rock-and-roll trailblazers, including Little Richard, Fats Domino, Julie London, Eddie Cochran, the Platters, and Gene Vincent, who light up the screen with the uniquely American sound that was about to conquer the world. On DVD, Blu-ray, with new high-definition digital transfer, with uncompressed monaural soundtrack on the Blu-ray. From The Criterion Collection.
Read more here.
BUZZIN' THE 'B'S:
In
"The Humans"
(2021), starring Richard Jenkins, Jayne Houdyshell, Amy Schumer, Beanie Feldstein, Steven Yeun and June Squibb, Erik Blake has gathered three generations of his Pennsylvania family to celebrate Thanksgiving at his daughter's apartment in lower Manhattan. As darkness falls outside and eerie things start to go bump in the night, the group's deepest fears are laid bare. The piercingly funny and haunting debut film from writer-director Stephen Karam, adapted from his Tony Award-winning play, explores the hidden dread of a family and the love that binds them together. Originally aired on Showtime. On DVD, Blu-ray + Digital Code, from Lionsgate.
Read more here
...
Schlock producer Jerry Gross made his directorial debut with
"Girl on a Chain Gang"
(1966), starring William Watson, Julie Ange, Ron Charles, an exploitation feature about small town hate: three young people are framed, arrested, and tossed into jail by corrupt Southern police. Gross, who produced everything from Blaxploitation films to features about teen pregnancy, exercised his social conscience in this drama about racist Southern cops. It was made the year after three civil rights workers were murdered in Mississippi, a subject Gross must've believed was worth exploiting into drive-in theater fare. True to his low budget roots, Gross filmed this one nowhere near the South, but in Long Island, New York. On Blu-ray from Film Detective ... Over a long and wide-ranging career, director Enzo G. Castellari helmed some of the most infamous of all the poliziotteschi - the gritty, action-packed crime films that proliferated in Italy throughout the 70s. Buckle up for a heart-stopping thrill ride through the seedy underbelly of Italian society in two of his most celebrated thrillers in
"Rogue Cops and Racketeers: Two Crime Thrillers from Enzo G. Castellari"
(1976, 1977) In 1976's "The Big Racket," Inspector Nico Palmieri (Fabio Testi,) is hot on the heels of a gang of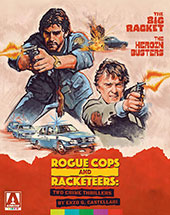 ruthless racketeers. Realizing he's not going to get anywhere within the confines of the law, Nico recruits a crack squad of civilians to dole out their own brand of justice. Then, in 1977's "The Heroin Busters," rule-flouting cop Fabio (Testi) goes deep undercover, chasing a globe-trotting ring of drug-smugglers suspected to be operating out of Rome. But can he and Mike Hamilton (David Hemmings), an Interpol agent with a hair-trigger temper, stay one step ahead of the criminals long enough to bring them down from the inside? Featuring death-defying stunts, explosive shoot-outs and a pair of addictive, toe-tapping soundtracks courtesy of the De Angelis brothers and legendary prog rock group Goblin, these two films represent the
crème de la crème
of the Italian crime thriller, both making their high definition debuts with stunning new restorations in this feature-packed box set. Two disc set with Brand new 2K restorations of both films from the original 35mm camera negatives by Arrow Films. On Blu-ray from Arrow Video/MVD Entertainment.
Read more here
... In
"The Exorcism of God"
(2021 - Mexico), starring Will Beinbrink, María Gabriela de Faría, Joseph Marcell, Hector Kotsifakis andIrán Castillo, Father Peter Williams, an American exorcist, hides a shocking secret: possessed by a demon he was trying to expel, he committed a terrible sacrilege. To atone for this sin, Peter devotes his life to charity work in a small town in Mexico. Eighteen years later, his deeply buried secret comes to light when the demon from his past returns, possessing a girl and unleashing a deadly disease. Now Peter must choose between saving his own soul and saving the people he loves most in one final, epic battle against the evil within. On DVD, Blu-ray + Digital Code, from Lionsgate ... In
"Bleed with Me"
(2020), starring Lee Marshall, Lauren Beatty and Aris Tyros, a vulnerable outsider, Rowan, is thrilled when the seemingly perfect Emily invites her on a winter getaway to an isolated cabin in the woods. Trust soon turns to paranoia when Rowan wakes up with mysterious incisions on her arm. Haunted by dream-like visions, Rowan starts to suspect that her friend is drugging her and stealing her blood. From RLJE Films.
SPECIAL INTEREST:
"The Divided Brain"
(2019) is a mind-altering odyssey about one man's quest to prove a growing imbalance in our brains, and to help us understand how this makes us increasingly unable to grapple with critical economic, environmental, and social issues; ones that shape our very future as a species. Dr. Iain McGilchrist believes that one half of our brain - the left hemisphere - is slowly taking power and that we in the Western world are simultaneously feeding its ambitions. This half of the brain is very proficient at creating technologies, procedures, and systems, but it cannot understand the implications of these on the people and the world around it. From Icarus Films.
Read more here


Check out other new DVD/Blu-ray releases, streaming films, and information and reviews at OnVideo.
Comments