By Harley Lond - 03/21/22 at 11:38 PM CT
FROM THE BIG SCREEN:
Nightmare Alley (2021) When charismatic but down-on-his-luck Stanton Carlisle (Bradley Cooper) endears himself to clairvoyant Zeena (Toni Collette) and her has-been mentalist husband Pete (David Strathairn) at a traveling carnival, he crafts a golden ticket to success, using this newly acquired knowledge to grift the wealthy elite of 1940s New York society. With the virtuous Molly (Rooney Mara) loyally by his side, Stanton plots to con a dangerous tycoon (Richard Jenkins) with the aid of a mysterious psychiatrist (Cate Blanchett) who might be his most formidable opponent yet. Remake of the 1947 film directed by Edmund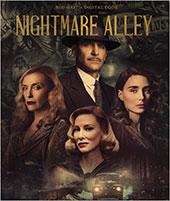 Goulding and starring Tyrone Power, Joan Blondell, Coleen Gray, Helen Walker, Taylor Holmes and Mike Mazurki. Vitals: Director: Guillermo del Toro. Stars: Bradley Cooper, Cate Blanchett, Toni Collette, Willem Dafoe, Richard Jenkins, Rooney Mara, Ron Perlman, Mary Steenburgen, David Strathairn, Peter MacNeill, Clifton Collins Jr., Tim Blake Nelson. 2021, CC, MPAA rating: R, 150 min., Drama, North American box office gross: $11.011 million, worldwide $30.013 million, Fox. Formats for Nightmare Alley: DVD, Blu-ray, VOD, Digital. Extras: "Del Toro's Neo Noir" behind-the-scenes featurette; "Beneath the Tarp" production design featurette; "What Exists in the Fringe" costume design featurette. Read more here


THIS WEEK'S BEST BETS:
All three films in the epic
"The Godfather Trilogy 50th Anniversary Edition"
(1972, 1974, 1990) have been meticulously restored under the direction of Francis Ford Coppola and will be made available on 4K Ultra HD for the first time. Coppola's masterful film adaptation of Mario Puzo's novel chronicles the rise and fall of the Corleone family and the film trilogy is rightfully viewed as one of the greatest in cinematic history. In preparation for the 50th anniversary of the first film's original release on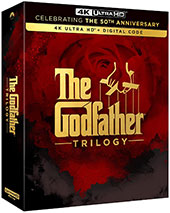 March 24, 1972, Paramount and Coppola's production company American Zoetrope undertook a painstaking restoration of all three films over the course of three years; the films will be released together with HDR-10 on 4K Ultra HD Digital and 4K Ultra HD Blu-ray for the first time ever. The 4K Ultra HD Blu-ray set will include "The Godfather," "The Godfather: Part II," and Coppola's recently re-edited version of the final film, "Mario Puzo's The Godfather, Coda: The Death of Michael Corleone." In addition to the 4K Ultra HD Blu-ray set, a 4K Ultra HD Limited Collector's Edition will also be released in deluxe packaging and includes a hardcover coffee table book featuring stunning photographs, as well as portrait art prints on archival paper. Newly restored and remastered versions of all three films will also be available together on Blu-ray with access to Digital copies. From Paramount.
Read more here
... The incomparable James Cagney stars with Dennis Morgan, Brenda Marshall and Alan Hale in his first Technicolor feature, once again reunited with Warner Bros.' legendary Michael Curtiz at the helm, of
"Captains of the Clouds"
(1942). Cagney portrays pilot Brian MacLean, a hot-shot Canadian pilot who is just as adept at stealing flying jobs from his competition as he is at stealing their girlfriend's hearts. But when he hears a speech by British Prime Minister Winston Churchill about the looming Nazi threat, MacLean enlists in the Royal Canadian Air Force ... only to find his superior is a man from whom he stole both a job and a girl -- and to encounter action and adventure in aerial combat over the North Atlantic. This was the first Hollywood production to be filmed almost entirely on location in Canada and was released right after the U.S. entered WWII. In a Blu-ray debut from Warmer Archive ...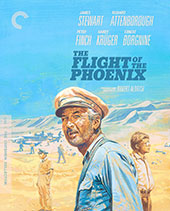 A downed airplane is a motley group of men's only protection from the relentless desert sun, in the psychologically charged disaster epic
"Flight of the Phoenix"
(1965), one of the all-time great survival movies. James Stewart is the veteran pilot whose Benghazi-bound plane - carrying passengers played by an unshaven ensemble of screen icons including Richard Attenborough, Ernest Borgnine, Ian Bannen, Dan Duryea, Peter Finch, and George Kennedy - crash-lands in the remote Sahara. As tensions simmer among the survivors, they find themselves forced to trust a coldly logical engineer (Hardy Krüger) whose plan to get them out may just be crazy enough to work - or could kill them all. Directed with characteristic punch by Hollywood iconoclast Robert Aldrich, "The Flight of the Phoenix" balances adventure with human drama as it conducts a surprising and complex examination of authority, honor, and camaraderie among desperate men. In a Blu-ray debut, with 2K digital restoration, with uncompressed monaural soundtrack. From The Criterion Collection.
Read more here
...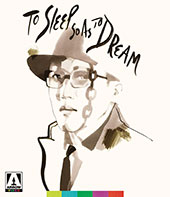 Two private detectives hunt for an actress trapped within the reel of a silent ninja film in
"To Sleep So as to Dream"
(1986 - Japan), the dreamlike debut of Kaizo Hayashi ("Circus Boys," "Zipang"), a magical double-handed cinephilic homage to the movie worlds of the 1910s and 1950s. When private eye Uotsuka (Shiro Sano) and his sidekick Kobayashi are approached by an aged former actress, Madame Cherryblossom, to go in search of her kidnapped daughter Bellflower, their investigations lead them to the studios of the mysterious M. Pathe company. Here Uotsuka has a strange vision in which he comes face to face with the beautiful star of a 1915 chanbara film that appears to have no ending. From then on, things begin to get a little strange... Among the most impressive and critically regarded Japanese films of the 1980s, To Sleep So as to Dream finally makes its home-video debut outside of Japan in a brand new restoration supervised by the director himself. Drifting between illusion and allusion, it is chock full of references to Japan's rich cinematic heritage and features cameos from a host of veteran talent and baroque sets created by Takeo Kimura, the Nikkatsu art designer fondly remembered for his flamboyant work with Seijun Suzuki in the 1960s. On Blu-ray from Arrow Video.
Read more here.
BUZZIN' THE 'B'S:
In the early 1990s, a 32-year-old psychotherapist began to suspect that his small Arizona community was being taken over by a homicidal religious cult known as "The Bryans."
"Bryan Loves You"
(2008), starring Seth Landau,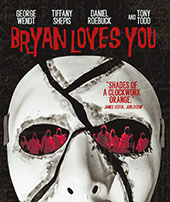 Tony Todd, Tori King, Tiffany Shepis, Candy Stanton, Daniel Roebuck, George Wendt and Brinke Stevens, uses the "found footage" format, and claims that the film is a compilation of camcorder and security footage. It was shot in 17 days with a budget of $25,000. In a Collector's Edition from JAL Smithtown/MVD Entertainment ... When a single mother is pushed to her limit, she turns to the only world she knows, a world she's spent a lifetime running from, to protect her daughter in
"For the Love of Money"
(2021), starring Katt Williams, Keri Hilson, Rotimi Rotimi, D.C. Young Fly and LisaRaye McCoy. Gigi Davis is a strong, determined woman who insists on living her life on her terms. So when she got pregnant and walked away from a billion dollar family business to chart her own path, it surprised no one. She went on to build a shockingly unremarkable life for herself and her daughter Ashely. Until shadowy figures make the mistake of threatening her daughter's life and she shows them that gangsters come in all shapes and sizes.On DVD, Blu-ray, from Lionsgate ...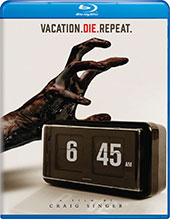 A couple embarks on a weekend getaway only to find the island curiously deserted in
"6:45"
(2021), starring Michael Reed, Augie Duke, Armen Garo and Thomas G. Waiters. After stumbling upon the town's dark secret, they trigger a time loop, forcing them to relive a demented cycle of terror with seemingly no means of escape. On DVD, Blu-ray, from Well Go USA ... Take a deep dive into Ray Balfi's bizarre world of drug dealers, prostitutes, dirty cops and social rejects as he tries to begin a new life-direction and shops his cartoon screenplay to 100 L.A. production companies in
"Dreaming Hollywood"
(2021), starring Turk Matthews, Link Ruiz, Madelyn Allen, Rafael Sigler, Ben Lin and Thomas Evans. While facing rejection after rejection Ray learns that someone has stolen his script and made his movie, "The Dog's Meow" without his permission. Now, Ray's already messed-up life is thrown into catastrophic mayhem as he seeks revenge. Who stole his script? Everyone he meets is suspect as Ray is now motivated with a new lust for life ... and for blood. From Cleopatra Entertainment.
Read more here.
FOREIGN FILMS:
Direct from the golden age of Hong Kong martial arts cinema comes this fast paced fight fest,
"Shaolin Mantis"
(1978 - Hong Kong), from the venerated Shaw Brothers studio.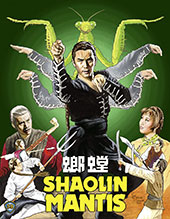 When scholar Wei Fung (David Chiang) is hired by the Emperor to infiltrate a clan of rebellious Ming loyalists, his mission goes adrift when he falls in love the clan leader's granddaughter and his plans are discovered. On Blu-ray from 88 Films ... From director Mar Lo ("Shaolin Thief)", and starring Siu-Tung Ching ("The Shaolin Boxer") comes
"Monkey Kung Fu (aka Stroke of Death)"
(1979 - Hong Kong), a fast-moving wuxia classic from the legendary Shaw Brothers studio. When prisoner Ching is given half of a wooden keepsake by a one eyed-master about to be executed, he breaks out of prison to go in search of the other half to discover its purpose. However, on his quest he is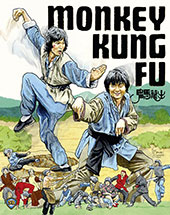 pursued by a gang leader who will also stop at nothing find out its secrets. Embroiling mystical promise, an adventurous journey and a search for the truth into its winding storyline, "Money Kung Fu" is a uniquely satisfying late seventies delve into the magical world of martial arts Hong Kong cinema. On Blu-ray from 88 Films ... Years before Shaw Brothers' kung fu films made them the biggest film studio in Hong Kong, local audiences flocked to their wuxia pian films: mythic tales of swordfighting (and often gravity-defying) heroes fighting for honor. In
"Come Drink with Me"
(1966 -- Hong Kong), his final film for the studio, director King Hu ("A Touch of Zen") broke fresh new ground in martial arts storytelling, and catapulted fresh-faced lead actress Cheng Pei-pei to stardom in the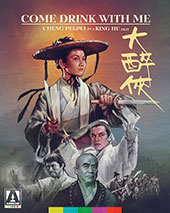 process. When the Governor's son is taken hostage by bandits, a mysterious swordsman named Golden Swallow (Cheng) is hot on their trail to ensure the son's release. What the bandits don't realize, however, is that Golden Swallow is actually a woman, and that the hostage is her brother. Determined to set him free, no matter how many goons she has to fight her way through in doing so, she is aided in her quest by a drunken beggar (Yueh Hua) who may have a closer connection to the bandits' leader than he initially lets on. Decades before Ang Lee brought the wuxia genre to international attention with "Crouching Tiger, Hidden Dragon" (in which Cheng played the villainous Jade Fox), King Hu set the original template in what is still considered one of Shaw Brothers' greatest and most influential action masterpieces. On Blu-ray from Arrow Video.
Read more here.
Check out other new DVD/Blu-ray releases, streaming films, and information and reviews at OnVideo.
Comments