By Harley Lond - 03/08/22 at 08:19 AM CT
FROM THE BIG SCREEN:

The Matrix Resurrections (2021) From visionary filmmaker Lana Wachowski comes "The Matrix Resurrections," the newest film in the groundbreaking franchise that redefined a genre, which reunites original stars Keanu Reeves and Carrie-Anne Moss in the iconic roles they made famous, Neo and Trinity. Return to a world of two realities: one, everyday life; the other, what lies behind it. To find out if his reality is a physical or mental construct, to truly know himself, Mr. Anderson (Neo) will have to choose to follow the white rabbit once more. And if Thomas ... Neo ... has learned anything,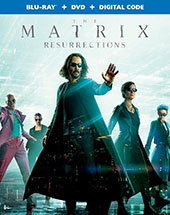 it's that choice, while an illusion, is still the only way out of - or into - the Matrix. Of course, Neo already knows what he has to do. But what he doesn't yet know is the Matrix is stronger, more secure and more dangerous than ever before. Deja vu. Vitals: Director: Lana Wachowski. Stars: Keanu Reeves, Carrie Anne Moss, Neil Patrick Harris, Yahya Abdul-Mateen II, Jessica Henwick, Jonathan Groff, Jada Pinkett Smith, Daniel Bernhardt. 2021, CC, MPAA rating: R, 148 min., Sci Fi Action, North American box office gross: $37.179 million, worldwide $153.379 million, Warner. Formats for The Matrix Resurrections: DVD, Blu-ray/DVD Combo + Digital Codeo, 4K Ultra HD/Blu-ray Combo + Digital Code, VOD, Digital. Extras: "The Matrix Reactions: Welcome to IØ." Blu-ray adds "No One Can Be Told What The Matrix Is," "Resurrecting The Matrix," "Neo x Trinity: Return to the Matrix," "Allies + Adversaries: The Matrix Remixed," "Matrix for Life," The Matrix Reactions: Echo Opening, Deus Ex Machina, Bullet Time Redux, Morpheus vs Neo, Exiles Fight, Neo vs Smith, The San Fran Chase, The San Fran Jump." Read more here


A Journal for Jordan (2021) Based on the true story of First Sergeant Charles Monroe King (Michael B. Jordan), a soldier deployed to Iraq who begins to keep a journal of love and advice for his infant son. Back at home, senior New York Times editor Dana Canedy (Chante Adams) revisits the story of her unlikely, life-altering relationship with King and his enduring devotion to her and their child.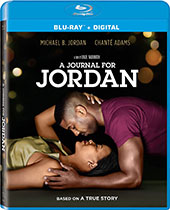 A sweeping account of a once-in-a-lifetime love, the film is a powerful reminder of the importance of family. Vitals: Director: Denzel Washington. Stars: Michael B. Jordan, Chante Adams, Jalon Christian. 2021, CC, MPAA rating: PG-13, 131 min., Drama, North American box office gross: $6.497 million, worldwide $6.584 million, Sony. Formats: DVD, Blu-ray + Digital Code, VOD, Digital. Extras: deleted scenes, gag reel, "Family Portrait: Making the Film," "Heart and Soul: Charles and Dana," "Words of Wisdom: The Journal." Read more here


THIS WEEK'S BEST BETS:
Trailblazing auteur Márta Mészáros gives aching expression to the experiences of women in 1970s Hungary in the sensitive and absorbing drama
"Adoption"
(1975 - Hungary), which became the first film directed by a woman to win the Golden Bear at the Berlin Film Festival. Through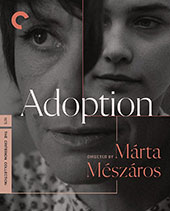 intimate camera work, "Adoption" immerses the viewer in the worlds of two women, each searching for fulfillment: Kata (Katalin Berek), a middle-aged factory worker who wants to have a child with her married lover, and Anna (Gyöngyvér Vígh), a teenage ward of the state determined to emancipate herself in order to marry her boyfriend. The bond that forms between the two speaks quietly but powerfully to the social and political forces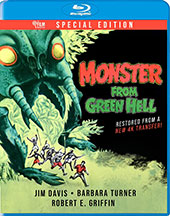 that shape women's lives, as each navigates the realities of love, marriage, and motherhood in her quest for self-determination. On DVD, Blu-ray, with new 4K digital restoration undertaken by the National Film Institute Hungary – Film Archive, supervised by cinematographer Lajos Koltai and approved by director Márta Mészáros, with uncompressed monaural soundtrack on the Blu-ray. From The Criterion Collection ... From the era of giant bugs and atomic testing comes the low-budget howler
"Monster from Green Hell"
(1957), about mutant wasps. When scientists try to understand the effects of radiation on earth creatures, the result brings them to an area of Africa known as "Green Hell," where wasps have mutated into monsters. 4K transfer, including both widescreen (1.85:1) and full frame (1.33:1) versions of the film. On DVD, Blu-ray, from The Film Detective/Cinedigm.
BUZZIN' THE 'B'S:
"Coming 2 America"
(2021), starring Eddie Murphy, Arsenio Hall, James Earl Jones, John Amos, Louie Anderson, Shari Headley, Wesley Snipes and Tracy Morgan, is a follow-up to the 1988 "Coming to America." Newly crowned King Akeem (Murphy) and his trusted confidante Semmi (Hall) traverse the globe from their great African nation of Zamunda to the borough of Queens, New York, when Akeem learns he has a long-lost son in the United States. On DVD, Blu-ray, from Paramount ... In
"Invincible"
(2021), starring Johnny Strong, Marko Zaror, Michael Pare, Vladmir Kulich and Krissada Sukosol, at a secret military site, injured soldier Brock is treated with advanced nanotechnology that turns him into an uncontrollable killing machine. Sent to stop the threat, security agent Cam is badly injured in a battle with Brock. To save his life, Cam must be implanted with the same technology that turned Brock psychotic and invincible. From Lionsgate ...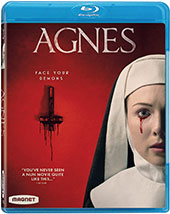 "Agnes"
(2021), starring Molly C. Quinn, Jake Horowitz, Ben Hall and Hayley McFarland, is a horror-thriller about one nun's disturbing behavior as it sparks rumors of demonic possession at a remote convent. When a priest-in-waiting and his disillusioned mentor are sent to investigate the rumors, their methods backfire, leaving behind a wake of terror and trauma. On DVD, Blu-ray, from Magnolia Home Entertainment/Magnet Label ... In
"Silent Night"
(2021), staring Keira Knightley, Matthew Goode, Roman Griffin Davis, Annabelle Wallis and Lily Rose-Depp, Nell and Simon have invited their closest friends to join their family for Christmas dinner at their idyllic home in the English countryside. As the group comes together, it feels like old times - but behind all of the laughter and merriment, something is not quite right. The world outside is facing impending doom, and no amount of gifts, games or Prosecco can make mankind's imminent destruction go away. On DVD, Blu-ray, from RLJE Films ... In
"National Champions"
(2021), starring Alexander Ludwig, Stephan James, Timothy Olyphant, J.K. Simmons, Kristin Chenoweth, Tim Blake Nelson, Jeffrey Donovan, Lil Rel Howery, David Koechner and Uzo Aduba, three days before the college football national championship game, star quarterback LeMarcus James and teammate Emmett Sunday ignite a player's strike declaring they won't compete until all student-athletes are fairly compensated. With billions of dollars at risk and legacies on the line, the stakes could not be higher. Now, with only hours until kickoff, the head coach and various power brokers must race against the clock to protect or destroy the prevailing collegiate athletics system. On DVD, Blu-ray, from Universal.
FOREIGN FILMS: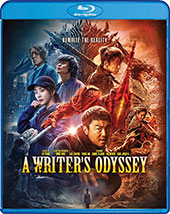 After the disappearance of his daughter, Guan Ning has descended into despair in
"A Writer's Odyssey"
(2021 - China), starring Jiayin Lei, Mi Yang, Zijian Dong, Hewei Yu and Jingfei Guo. With nothing left to lose in his life, he is approached by a powerful corporation who hires him for a dark task -- to kill the young author of a fantasy novel. But the author's work is no ordinary book, for its fantastic world is somehow impacting and merging with the real one. Guan's journey into this realm uncovers hidden Shout! Studios.
Read more here.
FROM TV TO DISC:
"Adventure Time: Distant Lands"
(2021) is a magical journey through the Land of Ooo and beyond with all four specials from the limited series. "BMO" follows the lovable little robot from "Adventure Time": When there's a deadly space emergency in the farthest reaches of the galaxy, there's only one hero to call, and it's probably not BMO. Except that this time it is. "Obsidian" features Marceline & Princess Bubblegum as they journey to the imposing, beautiful Glass Kingdom - and deep into their tumultuous past - to prevent an earthshaking catastrophe. "Together Again" brings best buds Finn and Jake together again to rediscover their brotherly bond and embark on the most important adventure of their lives. "Wizard Cit" follows Peppermint Butler, starting over at the beginning, as just another inexperienced Wizard School student. When mysterious events at the campus cast suspicion on Pep, and his checkered past, can he master the mystic arts in time to prove his innocence? On DVD, Blu-ray, from Warner ...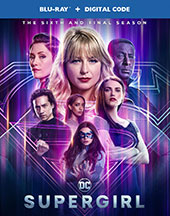 "Supergirl: The Complete Sixth and Final Season "
(2021) contain all 20 episodes. In the sixth and final season, Supergirl is thrust into the greatest challenge of her life - forced to confront her own mortality, and the prospect of losing all hope. As her friends rally to help her in this difficult fight, a new Super-Villain arrives in National City and tests her resolve. On Five-disc DVD, four-disc Blu-ray.
"Supergirl: The Complete Series"
will also be available, containing all 126 episodes from the series, as well as countless hours of bonus features from all six epic seasons; priced to own on DVD for $119.99 SRP and on Blu-ray for $134.99. From Warner ...
"The Walking Dead: World Beyond Season 2"
(2021) is a three-disc set with all 10 episodes from the final season. Season Two concludes the epic story of Iris (Aliyah Royale), Hope (Alexa Mansour), Elton (Nicolas Cantu), and Silas (Hal Cumpston) - four friends who journeyed across the country on a mission that transformed everything they knew about themselves and the world. As they face off against the mysterious Civic Republic Military and fight for control of their own destiny, goals will shift,, from RLJE Films ...
"Yellowstone Season 4"
(2021) contains all 10 hour-long episodes from the fourth season. of the drama that follows the story of a multi-generational family that controls the largest contiguous ranch in the U.S. In Season 4, the fates of Kayce, Beth, and John Dutton are unknown as Rip and the other wranglers wield their own brand of justice to take revenge and defend the Dutton legacy. Jacki Weaver, Piper Perabo and Kathryn Kelly join the cast in guest starring roles in the impressive ensemble that includes Kevin Costner, Luke Grimes, Kelly Reilly, Wes Bentley, Cole Hauser, and Will Patton. On five-disc DVD, four-disc Blu-ray, from Paramount.
Check out other new DVD/Blu-ray releases, streaming films, and information and reviews at OnVideo.
Comments