By Harley Lond - 11/22/21 at 11:15 PM CT
THIS WEEK'S BEST BETS

"Two From Sergei Eisenstein: October and Alexander Nevsky:" Born in Riga, Latvia in 1898, Sergei Eisenstein brought Russian history to life and to the masses through a blend of avant-garde filmmaking and Communist propaganda. A director and film theorist, he was perhaps best known for being the father of the film montage and despite his relatively small output, he's regarded as one of cinema's chief architects whose influence transcended national and political boundaries. "October" (1928): Officially produced to commemorate the 10-year anniversary of the Russian Revolution, "October" quickly became another of Sergei Eisenstein's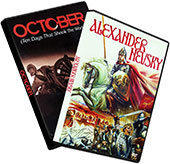 experiments in film form. As in his masterpiece, "Battleship Potemkin," Eisenstein uses explosive montage to create the spirit of revolution -- in this case, the events in St. Petersburg during the months leading up to the Bolshevik revolt. Given complete access to the city – including the Czar's Winter Palace -- Eisenstein utilized non-actors to recount history from a political perspective. There is no main character in "October"; no one person, not Lenin not a minister or Bolshevik is singled out. The hero of the film, as Eisenstein saw it, is the proletariat. Its triumph, its victory, is the Revolution, and Eisenstein's insistence on speaking the language of pure film shoves his mad rush of images straight into the viewer's mind in an unforgettable way. "Alexander Nevsky" (1938): Ten years after "October," upon returning from Hollywood and Mexico, Eisenstein changed his cinematic approach, leaving behind the densely edited style of his celebrated silent films, turning instead to historical sources, contradictory audiovisuals, and theatrical sets for this grandiose yet subversive sound-era work. Eisenstein's landmark tale of Russia thwarting the German invasion of the 13th century was wildly popular and quite intentional, given the prevailing Nazi geopolitical advancement and destruction at the time. In 1242, Russia in being invaded by two sides: from the orient by the Mongols and from Europe by the German Teutonic Knights of the Holy Roman Empire. The last free city in Russia, Novgorod, calls the Prince Aleksandr Nevsky, who had defeated the Swedish in a previous battle, to defend the city. Featuring some of the most beautiful imagery ever put on film, a majestic music score from Prokofiev and a dazzling, climactic battle on a frozen lake. From Corinth Films ...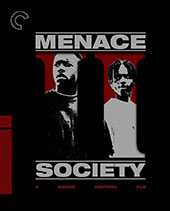 Directors Albert and Allen Hughes and screenwriter Tyger Williams were barely into their twenties when they sent shock waves through American cinema and hip-hop culture with "Menace II Society" (1993), their fatalistic, unflinching vision of life and death on the streets of Watts, Los Angeles, in the 1990s. There, in the shadow of the riots of 1965 and 1992, young Caine (Tyrin Turner) is growing up under the influence of his ruthless, drug-dealing father (Samuel L. Jackson, in a chilling cameo) and his loose-cannon best friend, O-Dog (Larenz Tate), leading him into a spiral of violent crime from which he is not sure he wants to escape, despite the best efforts of his grandparents and the steadfast Ronnie (Jada Pinkett). Fusing grim realism with a propulsively stylish aesthetic honed through the Hughes brothers' work on rap videos, "Menace II Society" is a searing cautionary tale about the devastating human toll of hopelessness. In a two-disc 4K UHD/Blu-ray Combo and Blu-ray, with new 4K digital restoration of the directors' cut of the film, supervised by cinematographer Lisa Rinzler and co-director Albert Hughes, with 7.1 surround DTS-HD Master Audio soundtrack. In the 4K UHD edition: One 4K UHD disc of the film presented in Dolby Vision HDR and one Blu-ray with the film and special features. Original 2.0 surround soundtrack, presented in DTS-HD Master Audio. From The Criterion Collection ... A perky high-schooler takes on the mob in "Sailor Suit and Machine Gun" (1981 - Japan), a one-of-a-kind genre-bender that riffs on the yakuza film, coming-of-age drama and "idol movie," inventively adapted from Jiro Akagawa's popular novel by director Shinji Somai, a massively influential figure in Japanese cinema whose work has been little seen outside his homeland. Hoshi Izumi is a young innocent forced to grow up quickly when her father dies and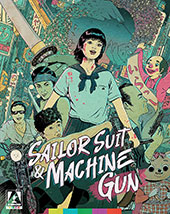 she finds herself next in line as the boss of a moribund yakuza clan. Wrenched from the security of her classroom and thrust into the heart of the criminal underworld, she must come to terms with the fact that her actions hold the key to the life or death of the men under her command as they come under fire from rival gangs. Presented in both its original theatrical and longer complete versions, and the first time one of Somai's films has been released on home video in the West, this landmark work from his early career was responsible for launching teen talent Hiroko Yakushimaru as the iconic face of a generation, with the catchy theme song she performs indelibly etched into the zeitgeist of early-1980s Japan. High Definition Blu-ray (1080p) presentations of the original theatrical version and the 1982 complete version (kanpeki-ban) re-issue of the film, restored by Kadokawa Pictures from a 4K scan of the original negative. On Blu-ray from Arrow Video/MVD Entertainment. Rescheduled from last week ... Warner Archive has two Blu-ray debuts this week: In "Lullaby of Broadway" (1951), Doris Day is at the top of her form in this Warner Bros. musical classic, which gave her a chance to not just vocalize with her usual excellence, but to also show off her impressive dancing talents. The prospect was daunting for the star, as a car accident during her youth left her with severe injuries, and she was told that she would have to put aside her dreams of becoming a dancer. Vocally talented as she was, she rose to fame as a big band singer, which eventually led to her screen stardom. When preparing for this big-budget musical's finale to the famous title tune, the steps of the studio set towered before her like a pyramid. All Day had to do was dance up and down those steps wearing a flowing gold lamé dress. "You've got to be out of your minds," Day exclaimed in a voice head across the soundstage. "I can't even walk up and down those stairs." She danced divinely – and sang in this musical delight about a singer newly arrived in New York ... and destined for Great White Way fame ... William Powell and Myrna Loy reunite as amateur sleuths Nick and Nora Charles in "The Thin Man Goes Home" (1944), the penultimate fifth entry in the beloved, long-running series of mystery comedies that began a decade earlier. Outlaws come and go in Nick and Nora's lives. Now it's time to meet the in-laws. The debonair sleuths leave little Nicky Jr. at boarding school, grab Asta and head to Nick's boyhood home of Sycamore Springs. Of course, wherever they go, murder has a way of showing up on the doorstep. Nick can show off his gumshoe talents for his parents when an artist is killed. And he'll do it without customary liquid inspirations… because Nick is on the wagon.


BUZZIN' THE 'B'S:
Art and life collide in the neo-noir thriller
"American Night"
(2021), starring Jonathan Rhys Meyers, Emile Hirsch, Paz Vega, Jeremy Piven and Anastacia. When a highly coveted Andy Warhol painting suddenly surfaces, it triggers a chain reaction of danger-filled events for a colorful group of characters including: a forger turned art dealer (Rhys Meyers); a mobster and painter (Hirsch) with a penchant for scorpions; a seductive museum conservator (Vega); and a stuntman and wannabe ninja (Piven). Filled with daring double-crosses and surprising twists and turns. On DVD, Blu-ray, from Lionsgate.
Read more here
...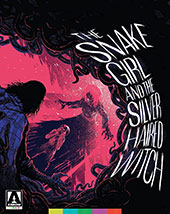 A classic horror manga comes to life in
"The Snake Girl and the Silver-Haired Witch"
(1968 - Japan), starring Yûko Hamada, Kazuo Umezu, Mariko Fukuhara and Yachie Matsui. A fantastically phantasmagorical slice of twisted tokusatsu terror ostensibly made for children that will irreparably traumatize any child that sees it. A young girl named Sayuri is reunited with her estranged family after years in an orphanage - but trouble lurks within the walls of the large family home. Her mother is an amnesiac after a car accident six months earlier, her sullen sister is confined to the attic and a young housemaid dies inexplicably of a heart attack just before Sayuri arrives ... is it all connected to her father's work studying venomous snakes? And is the fanged, serpentine figure that haunts Sayuri's dreams the same one spying on her through holes in the wall? Making its worldwide Blu-ray debut and its home video premiere outside Japan, this rarely-screened, nightmarishly disorienting creepshow not only displays a seldom-seen side of kaiju auteur Noriaki Yuasa, but its skillful blending of director Kazuo Umezu's comics (published in English-language markets as Reptilia) arguably anticipates many of the trends seen in J-horror decades later. On Blu-ray from Arrow Video/MVD Entertainment ...
"Apache Junction"
(2021), starring Trace Adkins, Stuart Townsend, Scout Taylor-Compton and Thomas Jane, is an outpost of lawlessness, a haven for thieves and cold-blooded killers. After big-city reporter Annabelle Angel (Taylor-Compton) arrives to write an article on the town, she becomes a target when notorious gunslinger Jericho Ford (Townsend) comes to her aid. Now Annabelle must entrust her future to a man with a deadly past, as Jericho heads toward a tense showdown in this Western that unloads a double-barreled blast of action. On DVD, Blu-ray, from Lionsgate ...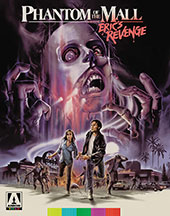 With numerous interpretations of Gaston Leroux's classic novel "The Phantom of the Opera" having been turned out over the years, it was only a matter of time before the slasher genre decided to take a stab at the tale - step forward 1989's
"Phantom of the Mall: Eric's Revenge."
High school sweethearts Eric Matthews and Melody Austin are so in love, but their youthful romance is cut tragically short when Eric apparently dies in a fire that engulfs his family home. One year later and Melody is trying to move on with her life, taking up a job at the newly built Midwood Mall along with her friends. But the mall, which stands on the very site of Eric's former home, has an uninvited guest - a shadowy, scarred figure that haunts its airducts and subterranean passageways, hellbent on exacting vengeance on the mall's crooked developers. Directed by Richard Friedman ("Scared Stiff," "Doom Asylum"), and featuring star turns from Pauly Shore and Morgan Fairchild. Includes three versions of the feature: Original Theatrical Cut, TV Cut and bonus Integral Fan Cut. On Blu-ray, from Arrow Video/MVD Entertainment.
Read more here
... In
"Escape From Death Block 13"
(2021), starring Robert Bronzi, Nicholas Turturro, Lawrence Hilton-Jacobs, Chris Hahn and Debbie Scaletta, after the death of his brother, Mick Kovacs travels to America to seek justice. Framed for attempted murder, he is sent to the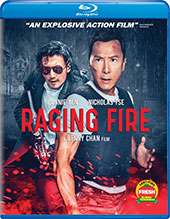 notorious Pleasant Hill Penitentiary where survival is an everyday struggle. Seeking revenge after discovering the truth behind his brother's death, Mick's rage ignites an explosive riot as he makes a daring escape. From Uncork'd Entertainment.
Read more here
... In
"Raging Fire"
(2021 - Hong Kong), starring Donnie Yen, Nicholas Tse, Patrick Tam, Kenny Wong, Deep Ng, Jeana Ho, Lui Leung Wai and Simon Yam, Bong (Yen) is a highly respected hardline cop with a long history of success on dangerous cases. However, his past unexpectedly comes back to haunt him when a sting operation is attacked by a mysterious group of criminals led by Ngo (Tse), his former protégé, a talented former officer who had once respected and admired Bong. However, a terrible mistake years prior landed him in prison, quickly turning the once rising star into a furious man with a grudge, and the will to destroy everyone who had wronged him -- including his former mentor. With a new English dub. On DVD, Blu-ray, from Well Go USA.
Read more here.
FOR THE FAMILY:
"The Sesame Street: Wonderful World of Friends"
(2021) contains over two hours of fun. With songs and segments from the show, kids will celebrate cultural traditions and meet international visitors on Sesame Street: Friends from around the world gather for an international food festival; Telly and Zoe help Leela celebrate the Indian holiday Rakhi; and Rosita shares what being Mexican means to her. Special guests Alessia Cara, Billy Porter, Josh Groban, and John Legend join in this special celebration of friendship. From Sesame Workshop/Shout! Kids ... There's canine holiday hijinks in
"Pups Alone"
(2021), with the voices of Jerry O'Connell, Jennifer Love Hewitt, Rob Schneider, Dolph Lundgren, Tyler Hollinger, Isadora Swann, Nicholas Turturro, Eric Roberts, Danny Trejo, Keith David and Malcolm McDowell. While everyone is away on a company ski trip, a jealous inventor hires two thieves to break into his co-worker's house and steal his top secret new creation. But they are no match for a mischievous pack of neighborhood pups, who set up tricks and traps to protect the home and save Christmas. From Paramount.
Read more here.
SPECIAL INTEREST:
"Deep Blues"
(1992): In 1990, commissioned by award-winning musician, songwriter, producer, innovator and Eurythmics co-founder Dave Stewart, veteran music film director Robert Mugge and renowned music scholar Robert Palmer ventured deep into the heart of the North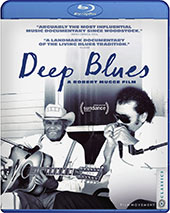 Mississippi Hill Country and Mississippi Delta to seek out the best rural blues acts currently working. Starting on Beale Street in Memphis, they headed south to the juke joints, lounges, front porches and parlors of Holly Springs, Greenville, Clarksdale, Bentonia and Lexington. Along the way, they visited celebrated landmarks and documented talented artists cut off from the mainstream of the recording industry. The resulting film expresses reverence for the rich musical history of the region, spotlighting local performers, soon to be world-renowned, thanks in large part to the film, and demonstrating how the blues continues to thrive in new generations of gifted musicians. Digitally restored in 4K. On DVD, Blu-ray, from Film Movement.
Check out other new DVD/Blu-ray releases, streaming films, and information and reviews at OnVideo.
Comments