By Harley Lond - 08/30/21 at 11:49 PM CT
FROM THE BIG SCREEN:

Spirit Untamed (2021) An animated story of adventure, family and friendship. Free-spirited Lucky Prescott moves to Miradero to join her estranged father, but she's decidedly unimpressed with the sleepy town until she discovers a unique tie to her late mother who was a fearless horse-riding stunt performer. She quickly forms a bond with a wild mustang named Spirit and makes two new pals who love horses as much as she does. When a heartless wrangler plans to capture Spirit and his herd,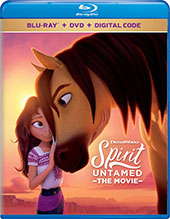 Lucky and her friends set off on a journey to rescue the horse who has given her an unbreakable connection to her mother's legacy. Vitals: Director: Elaine Bogan. Stars: Voices of Isabela Merced, Marsai Martin, Eiza González, Mckenna Grace, Walter Goggins, Andre Braugher, Julianne Moore, Jake Gyllenhaal. 2021, CC, MPAA rating: PG, 88 min., Animated Family, US box office gross: $17.635 million, worldwide $38.571 million, DreamWorks/Universal. Formats: DVD, Blu-ray/DVD Combo + Digital Code, VOD, Digital. Extras: Deleted and extended scenes; "Finding Your Spirit" cast and filmmaker featurette; "Behind the Voices – The Cast"; "Cowgirls Rule"; "Drawing Spirit – Spirit Untamed"; "Create Your Own Indoor 'Campfire'" using crepe paper and LED lights; "How to Ukelele"; "Snack Time – S'mores"; "Abigail's Hand Shadow Secrets"; "How To Zoetrope"; sing-alongs; commentary with director Elaine Bogan, co-director Ennio Torresan, and producer Karen Foster. Read more here.

In the Heights (2021) Usnavi, a Dominican bodega owner in the Washington Heights neighborhood of New York City, longs for a nearby salon worker and fantasizes about a lavish return to the beaches of his homeland. Usnavi's childhood friend, Nina, a local success story, is back from her first year in college harboring a secret. Over the course of three days and through song, the residents of The Heights come together to move forward with a renewed sense of what it means to call a place "home." Based on the musical stage play by Lin-Manuel Miranda.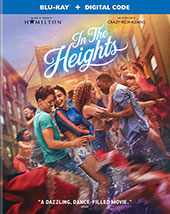 Vitals: Director: Jon M. Chu. Stars: Anthony Ramos, Corey Hawkins, Leslie Grace, Melissa Barrera, Olga Merediz, Daphne Rubin-Vega, Gregory Diaz IV, Stephanie Beatriz, Lin-Manuel Miranda, Dascha Polanco, Jimmy Smits, Ariana Greenblatt, Marc Anthony. 2021, CC, MPAA rating: PG-13, 143 min., Musical, US box office gross: $28.828 million, worldwide $39.528 million, Warners. Formats: DVD + Digital Code, Blu-ray + Digital Code, 4K Ultra HD/Blu-ray Combo + Digital Code, VOD, Digital.
Read more here.

12 Mighty Orphans (2021) The true story of the Mighty Mites, the football team of a Fort Worth orphanage who, during the Great Depression, went from playing without shoes or even a football to playing for the Texas state championships. Over the course of their winning season these underdogs and their resilient spirit became an inspiration to their city, state and an entire nation in need of a rebound, even catching the attention of President Franklin D. Roosevelt. The architect of their success was Rusty Russell, a legendary high school coach who shocked his colleagues by giving up a privileged position so he could teach and coach at an orphanage.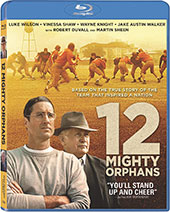 Few knew Rusty's secret: that he himself was an orphan. Recognizing that his scrawny players couldn't beat the other teams with brawn, Rusty developed innovative strategies that would come to define modern football. Vitals: Director: Ty Roberts. Stars: Luke Wilson, Vinessa Shaw, Wayne Knight, Jake Austin Walker, Jacob Lofland, Levi Dylan, Robert Duvall, Martin Sheen. 2021, CC, MPAA rating: PG-13, 118 min., Drama, US box office gross: $3.238 million, worldwide $3.238 million, Sony. Formats: DVD, Blu-ray, VOD, Digital. Extras: Deleted scenes. Read more here.


THIS WEEK'S BEST BETS:
The nightmare of war is seen through the eyes of one of its most tragic casualties -- a child soldier -- in this harrowing vision of innocence lost from Cary Joji Fukunaga. Based on the acclaimed novel by Uzodinma Iweala,
"Beasts of No Nation"
(2015) unfolds in an unnamed, civil-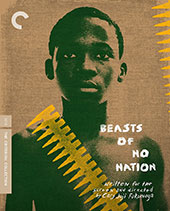 war-torn West African country, where the young Agu (Abraham Attah, in a haunting debut performance) witnesses carnage in his village before falling captive to a band of rebel soldiers led by a ruthless commander (an explosive Idris Elba), who molds the boy into a hardened killer. Fukunaga's relentlessly roving camera work and stunning visuals -- realism so intensely visceral it borders on the surreal -- immerse the viewer in a world of unimaginable horror without ever losing sight of the powerful human story at its center. On DVD, Blu-ray, with 2K digital master, approved by director Cary Joji Fukunaga, with 5.1 surround DTS-HD Master Audio soundtrack on the Blu-ray. From The Criterion Collection ...
"The Gang and Three Men to Kill: Two Newly Restored Films by Jacques Deray"
The Gang
(1977 - France): In 1945, as World War II comes to a close, five small time crooks unite to form a gang lead by the charismatic Alain Delon. After several bold robberies they become notorious as "the front-wheel drive gang." The police attempt to stop their crime spree with little success, but how long will their luck last?
Three Men to Kill
(1980 - France): In this Gritty, violent and suspenseful thriller, Delon plays Gerfaut who comes to the aid of a man laying wounded in the road, not knowing the man has taken two bullets to the belly. Soon he becomes the target for the killers, who see him as a dangerous witness. But Gerfaut has been around the block a couple of times and he won't be so easily eliminated. On DVD, Blu-ray, from Cohen Film Collection ...
"Dune (Limited Edition)"
(1984): Following a notorious aborted attempt by Alejandro Jodorowsky in the 1970s, Frank Herbert's bestselling sci-fi epic "Dune" finally made it to the big screen as the third film by emerging surrealist wunderkind David Lynch, featuring an all-star cast that includes several of Lynch's regular collaborators. The year is 10,191, and four planets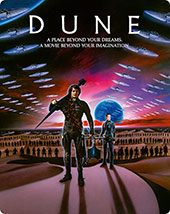 are embroiled in a secret plot to wrest control of the Spice Melange, the most precious substance in the universe and found only on the planet Arrakis. A feud between two powerful dynasties, House Atreides and House Harkonnen, is manipulated from afar by ruling powers that conspire to keep their grip on the spice. As the two families clash on Arrakis, Duke Atreides' son Paul (Kyle MacLachlan, in his screen debut) finds himself at the center of an intergalactic war and an ancient prophecy that could change the galaxy forever. Though its initial reception ensured that Lynch largely eschewed mainstream filmmaking for the rest of his career, "Dune" has since been rightly re-evaluated as one of the most startlingly original and visionary science fiction films of the 1980s. Its astonishing production design and visual effects can now be appreciated anew in this spellbinding 4K restoration, accompanied by hours of comprehensive bonus features. Brand new 4K restoration from the original camera negative. 60-page perfect-bound book featuring new writing on the film by Andrew Nette, Christian McCrea and Charlie Brigden; large fold-out double-sided poster featuring original and newly commissioned artwork by Dániel Taylor; six double-sided, postcard-sized lobby card reproductions; limited edition packaging with reversible sleeve featuring original and newly commissioned artwork by Dániel Taylor; commentaries; featurettes; interviews. On 4K Ultra HD + Blu-ray from Arrow Video/MVD Entertainment.
Read more here
... Screen legend Vincent Price gives a masterful performance in this post-apocalyptic sci-fi chiller,
"The Last Man on Earth"
(1964), the first and most faithful adaptation of Richard Matheson's classic novel "I Am Legend." A plague envelops the earth, decimating the population and leaving one man still alive: scientist Robert Morgan (Price), who exhibits a strange immunity to the deadly disease. The rest of the earth's people slowly turn into bloodsucking vampires and Morgan must use all of his knowledge to survive their onslaught. Directed by Sidney Salkow, this seminal classic influenced the creation of "Night of the Living Dead" plus countless imitations. On Blu-ray from Kino Lorber Studio Classics ... A small rural town and a family of outsiders, both trapped in the demonic grip of ...
"The Brotherhood of Satan"
(1971). Recently widowed Ben, his glamorous girlfriend Nicky and his small daughter K.T. are on a road trip across the Southwest, which comes to a screeching halt when they witness an accident. Heading to the nearby isolated desert town of Hillsboro to report it to the Sheriff (L.Q. Jones), they are met with a hostile reaction from the locals, who are gripped by paranoia and fear due to a series of gruesome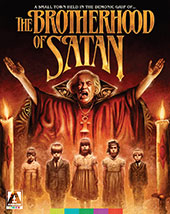 deaths, as well as the mysterious disappearance of 11 of the community's children. As the bodies continue to pile up around them, Ben and his family find themselves joining the sheriff, a local priest and the town's enigmatic physician Doc Duncan (Strother Martin) in the midst of a mystery that points towards a deadly satanic cult. Produced by Alvy Moore and L.Q. Jones, a veteran character actor best known for his work with Sam Peckinpah, "The Brotherhood of Satan" is an atmospheric and chilling tale of terror that provides a crucial missing link between "Rosemary's Baby" (1968) and "The Devil's Rain" (1975) in the cycle of turn-of-the-seventies shockers involving sinister devil-worshipping cults lurking within the dark shadows of modern-day America. On Blu-ray from Arrow Video/MVD Entertainment.
Read more here.
BUZZIN' THE 'B'S:
In
"Mortal Kombat Legends: Battle of the Realms"
(2021), the fate of the universe once again hangs in the balance as warriors come together for one final clash in this all-new, feature-length animated film. This episode picks up shortly after the explosive finale of "Mortal Kombat Legends: Scorpion's Revenge"; here the team of heroes are besieged by the enemy forces of Shao Kahn -- forcing Raiden and his group of warriors into a deal to compete in a final Mortal Kombat that will determine the fate of the realms. Now the heroes must travel to Outworld in order to defend Earthrealm and, simultaneously, Scorpion must find the ancient Kamidogu before it's used to resurrect the One Being – which would mean certain destruction of all things in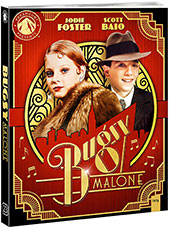 the universe. From Warner ... Acclaimed director Alan Parker redefined the movie musical with his first feature-length film,
"Bugsy Malone"
(1976), which celebrates its 45th anniversary this year. Available for the first time in the U.S. on Blu-ray, the film has been remastered from the original elements for this limited-edition release. The Blu-ray includes a new Filmmaker Focus delving into this early work from the director of "Fame," "The Commitments," "Pink Floyd: The Wall," "Mississippi Burning" and "Evita." Set in 1929 New York City, the film captures a flashy world of would-be hoodlums, showgirls, and dreamers - all portrayed by child actors. As Tallulah, the sassy girlfriend of the owner of Fat Sam's Grand Slam Speakeasy, future superstar Jodie Foster leads a talented cast. Parker's sharp script, combined with the music and lyrics of Paul Williams, makes for an irresistible satire that's truly one-of-a-kind. The limited-edition Paramount Presents Blu-rays come in collectible packaging featuring a foldout image of each film's theatrical poster and an interior spread with key movie moments. Each disc also includes access to a digital copy of the film. From Paramount.
ON THE INDIE FRONT:
The LGBTQ family drama
"A Wake"
(2021), starring Noah Urrea, Kolton Stewart, Sofia Rosinsky and Megan Trout, follows a religious family as they gather to mourn the loss of one of their own, resulting in a clash between the children and parents, and revelations that will shake them all to their cores. From Breaking Glass Pictures.
Read more here
FOREIGN FILMS:
From one of France's most prolific and versatile filmmakers, François Ozon ("Potiche," "Frantz," "Swimming Pool"), comes
"Summer of 85"
(2020 - France), an acclaimed reverie on first love and the impassioned influence it holds over those who experience it. It's based on the landmark 1982 LGBT young adult novel "Dance on My Grave" by British author Aidan Chambers. When Alexis (Félix Lefebvre) capsizes off the coast of Normandy, David (Benjamin Voisin) comes to the rescue and soon opens the younger boy's eyes to a new horizon of friendship, art and sexual bliss. David's worldly demeanor and Jewish heritage deliver a jolt to Alexis's traditional, working class upbringing. Their relationship is soon rocked by a host of challenges, including an unexpected sexual rival (Philippine Velge) and a romantic oath that transcends life itself. On DVD, Blu-ray, from Music Box Films.
SPECIAL INTEREST:
Millions fill stadiums across the world for the sound of Serj Tankian, the Grammy-winning lead singer of System of a Down. With exclusive interviews, adventures, and original footage personally filmed by Serj, the documentary
"Truth to Power"
(2021) allows audiences backstage access to an international rock star whose faith in music not only revolutionized heavy metal, but also world events. Throughout his life, the musician has pursued social justice, harnessing the power of his songs and celebrity for real political change. Serj's voice is equally likely to take on American corporate greed as lambast the corrupt regime of his homeland. His decades-long campaign for formal U.S. recognition of the Armenian Genocide was finally approved by Congress in 2019. Governments hate him. People love him. On DVD, Blu-ray, from Oscilloscope Laboratories.
FROM TV TO DISC:
"Blue Bloods: The Eleventh Season"
(2020-21) is a four-disc set with all 11 episodes of the series that follows the Reagans, an Irish-American Catholic family in New York City with a history of work in law enforcement. Starring Tom Selleck as NYC Police Commissioner Frank Reagan, the cast also includes Donnie Wahlberg, Bridget Moynahan, Will Estes, and Len Cariou. Shot on location in New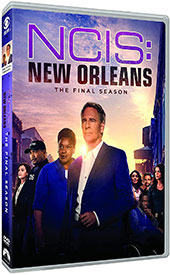 York City. From CBS/Paramount ...
"Fear the Walking Dead Season 6"
(2020-21) is a four-disc set with all 16 episodes. After being torn apart by the Pioneers, Morgan's (Lennie James) group is now dispersed across their far-reaching settlements, with life behind the Pioneers' walls testing each of the group's members in different ways — and forcing them to define who they really are in this new world. As Morgan's bid to free the remaining members of the group grows bolder, Virginia's (Colby Minifie) desperation to find her sister accelerates, as does her need to protect the settlements from the enemy forces outside…and within. On DVD, Blu-ray, from Lionsgare ...
"NCIS: New Orleans: The Final Season"
(2020-21) is a four-disc set with all 16 episodes of the seventh and final season. This season finds Pride (Scott Bakula) and the team fighting for justice in their beloved city as New Orleans grapples with the effects of COVID-19. Pride, seeing how the pandemic has overwhelmed the system, finds creative ways to help his neighbors with the assistance of Rita Devereaux (Chelsea Field), and is asked by the Mayor to be a part of a special task force assigned to help make actual change in their city. Meanwhile Wade (CCH Pounder) is overwhelmed by the high volume in the morgue due to the disease, and Tammy (Vanessa Ferlito) and Carter (Charles Michael Davis) investigate a suspicious death aboard a humanitarian ship offshore, where they learn that some crew members are infected with the deadly virus. From CBS/Paramount.
Check out other new DVD/Blu-ray releases, streaming films, and information and reviews at OnVideo.
Comments