By Harley Lond - 02/09/21 at 06:58 AM CT
FROM THE BIG SCREEN:
"Freaky" (2020) Seventeen-year-old Millie Kessler (Kathryn Newton) is just trying to survive the bloodthirsty halls of Blissfield High and the cruelty of the popular crowd. But when she becomes the newest target of The Butcher (Vince Vaughn), her town's infamous serial killer, her senior year becomes the least of her worries. When The Butcher's mystical ancient dagger causes him and Millie to wake up in each other's bodies, Millie learns that she has just 24 hours to get her body back before the switch becomes permanent and she's trapped in the form of a middle-aged maniac forever.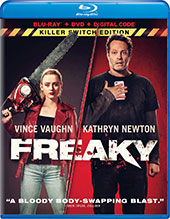 The only problem is she now looks like a towering psychopath who's the target of a city-wide manhunt while The Butcher looks like her and has brought his appetite for carnage to Homecoming. With some help from her friends -- ultra-woke Nyla (Celeste O'Connor), ultra-fabulous Joshua (Misha Osherovich) and her crush Booker (Uriah Shelton) -- Millie races against the clock to reverse the curse while The Butcher discovers that having a female teen body is the perfect cover for a little Homecoming killing spree. Director: Christopher Landon. Freaky
stars: Vince Vaughn, Kathryn Newton, Katie Finneran, Celeste O'Connor, Misha Osherovich, Alan Ruck. 2019, CC, MPAA rating: R, 102 min., Comedy Horror, Box office gross: $8.903 million, Universal. Formats: DVD, Blu-ray/DVD Combo with digital code, VOD, Digital. Extras: Deleted scenes, "Split Personalities: Millie vs. The Butcher' featurette, "Crafting the Kills" featurette, "Christopher Landon's Brand of Horror" featurette, "Final Girl Reframed" featurette, commentary with co-writer/director Christopher Landon.


THIS WEEK'S BEST BETS:
Perhaps no director tapped into the pervasive sense of dread and mistrust that defined the 1970s more effectively than Alan J. Pakula, who, in
"The Parallax View
"
(1974), the second installment of his celebrated Paranoia Trilogy (after "Klute," 1971 and before "All the President's Men, 1976), offers a chilling vision of America in the wake of the assassinations of the Kennedys and Martin Luther King Jr. and about to be shocked by Watergate. Three years after witnessing the murder of a leading senator atop Seattle's Space Needle, reporter Joseph Frady (Warren Beatty) begins digging into the mysterious circumstances surrounding the killing — and stumbles into a labyrinthine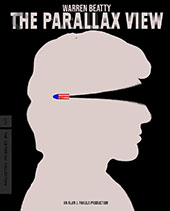 conspiracy far more sinister than he could have imagined. "The Parallax View's" coolly stylized, shadow-etched compositions by acclaimed cinematographer Gordon Willis give visual expression to a mood that begins as an anxious whisper and ends as a scream into the void.
Formats:
DVD, Blu-ray, with new, restored 4K digital transfer, with uncompressed monaural soundtrack on the Blu-ray. From The Criterion Collection ... From Lewis Allen, the acclaimed director of "The Uninvited," "The Unseen," "Desert Fury" and "A Bullet for Joey," comes the classic film noir
"So Evil My Love
"
(1948), starring screen great Ray Milland. An innocent woman falls under a villain's spell in this captivating thriller of obsession and deceit. In the late 19th century, English widow Olivia Harwood (Ann Todd) meets Mark Bellis (Milland), a charming-but-dangerous criminal who's renting a room in her boarding house. Hopelessly in love with a man who is playing her for a fool, Olivia soon descends into a life of crime as Mark persuades her to steal from her friend Susan Courtney (Geraldine Fitzgerald), the wife of a wealthy peer. Discovering a packet of scandalous letters that could ruin the Courtneys socially, Olivia blindly follows the scoundrel's biddings, leading down a path of blackmail and murder. Co-starring Leo G. Carroll and Hugh Griffith. New 2K master. From Kino Lorber ... From Robert Siodmak, the legendary director of "The Spiral Staircase," "The Killers," "Cry of the City," "Criss Cross" and "The Crimson Pirate," comes the classic film noir
"The Suspect
"
(1944), starring acting great Charles Laughton. Philip Marshall (Laughton) is a kind, henpecked accountant who strikes up a friendship with Mary Gray (Ella Raines), a young unemployed stenographer who had approached him for work. He gradually finds himself falling in love with her, but keeps the relationship platonic. With his wife suspecting him of having an affair, Philip asks her for a divorce, but she refuses and threatens him with exposure and scandal. When his wife is found dead of an apparent accident, Inspector Huxley (Stanley Ridges) of Scotland Yard suspects Marshall of murder, but is unable to prove it or establish a motive. New 2K master. From Kino Lorber.
BUZZIN' THE 'B'S:
In
"Wander Darkly
"
(2020), starring Sienna Miller and Diego Luna, a traumatic accident leaves a couple, Adrienne (Miller) and Matteo (Luna), in a surreal state of being that takes them on a disorienting journey through the duality of their shared moments. By reliving fond recollections from the beginning of their romance while also navigating the overwhelming truths of their present, they must discover what truly binds them together. On DVD, Blu-ray, from Lionsgate ... Armed only with masquerade masks and invitations, guests arrive at a seaside estate for a charity ball hosted by a mysterious foundation in
"X
"
(2019), starring Hope Raymond, Eliza Boivin, Brian Smick, Zachary Cowan and Valerie Façhman. With identities hidden from their fellow party goers, they partake in the sinfully seductive surroundings with their charming host Christian (Raymond), known as X. The monthly masked debauchery is all fun and games until the arrival of an unexpected guest from Christian's past, who threatens to bring to light her darkest secret. And when a voyeuristic video reveals a violent crime, Christian must decide if the truth is worth exposing the world she has created. From Cinedigm ...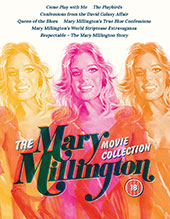 The
"The Mary Millington Movie Collection
(Limited Edition Blu-ray Box Set)"
five-disc set is a must for any fan of the English model and sexploitation star Mary Millington. Filled with scintillating new extras, packaged in a collectable case (displaying brand new artwork throughout) and including a huge 80-page book, written by biographer Simon Sheridan (author of "Keeping the British End Up: Four Decades of Saucy Cinema") and with an introduction by producer David Sullivan. Released to commemorate the 40th anniversary of Mary Millington's death, this special edition Blu-ray box set (limited to 3,000 copies) features Millington's most glamorous film roles, digitally remastered in high definition, including: "Come Play with Me" (1977), "The Playbirds" (1978), "Confessions From the David Galaxy Affair" (1979), "Queen of the Blues" (1979), "Mary Millington's True Blue Confessions" (1980), "Mary Millington's World Striptease Extravaganza" (1981) plus "Respectable: The Mary Millington Story" (2015), an in-depth documentary chronicling her extraordinary life. On Blu-ray from MVD Visual ... In the rom-com
"The Right One"
(2021 -- Canada), starring Nick Thune, Cleopatra Coleman, Iliza Shlesinger and David Koechner, Sara, a novelist struggling with writer's block, needs inspiration — and finds it when she serendipitously meets Godfrey, a down-on-his-luck oddball who constantly changes personas and alter egos in order to cope with his past and avoid reality. Just as Godfrey begins to open up to Sara, he discovers that she's been using him as inspiration for her next novel, and he vanishes from her life. Did Sara just lose the man of her dreams, or will she be able to find him and make things right? On DVD, Blu-ray, from Lionsgate ...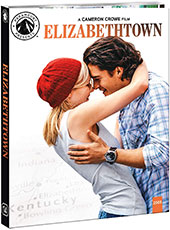 The limited-edition Paramount Presents Blu-ray debut of
"Elizabethtown
"
(2005), starring Orlando Bloom, Kirsten Dunst, Susan Sarandon, Alec Baldwin, Judy Greer and Jessica Biel, includes the film newly remastered from a 4K transfer supervised by director Cameron Crowe. The disc is presented in collectible packaging that includes a foldout image of the film's theatrical poster, and an interior spread with key movie moments. A heartfelt romance set against a fantastic rock 'n' roll soundtrack. Hot-shot designer Drew Baylor's (Bloom) life becomes completely unraveled when he loses his father and his job on one fateful day. En route to Elizabethtown to visit his family, Drew meets Claire (Dunst). She's beautiful, unstoppably positive, and just the gal to guide Drew on his journey back home and to teach him what it means to live and love along the way ... In
"Sputnik
"
(2020 -- Russia), starring Oksana Akinshina, Pyotr Fedorov, Anton Vasiliev, Aleksey Demidov and Anna Nazarova, at the height of the Cold War a Soviet spacecraft crash lands after a mission gone awry, leaving the commander as its only survivor. After a renowned Russian psychologist is brought in to evaluate the commander's mental state, it becomes clear that something dangerous may have come back to Earth -- inside him. On DVD, Blu-ray, from Universal.
FOREIGN FILMS:
The thriller
"You Go to My Head
"
(2017 -- France), starring Delfine Bafort, Svetozar Cvetkovic and Arend Pinoy, begins in a desolate stretch of the Sahara, where a mysterious car accident leaves a young woman lost and alone. Jake, a reclusive architect, finds her unconscious, suffering from post-traumatic amnesia. Intoxicated by the woman's beauty, Jake claims to be her husband. He names her Kitty and takes her to his remote desert home to recuperate. As Kitty struggles to come to grips with who she is, Jake invents an elaborate life they can share -- the life he has always yearned for. But when shreds of her past begin to surface, Jake takes steps to ensure he will not lose the love of his life. From First Run Features ...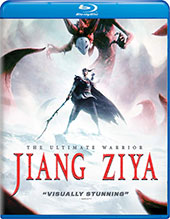 "Jiang Ziya
(aka Legend of Deification)"
(2020 -- China), the follow up to the international blockbuster "Ne Zha" (2019) and the second chapter in the magical Fengshen Cinematic Universe, is a fate-defying, action-packed legendary tale retold through vibrant Chinese animation. To earn his place amongst the gods, celestial army commander Jiang Ziya must vanquish a terrifying fox demon threatening the very existence of the mortal realm. After learning the creature's fate is tied to that of a young girl, Jiang Ziya disobeys Heaven's edict and spares the demon, resulting in his banishment to the mortal realm. Ten years later, he is given one more chance to complete the task, and Jiang Ziya must decide: is joining the ranks of the heavens worth the price of one innocent life? On DVD, Blu-ray, from Well Go USA ... In
"Happy Times
"
(2019 -- Israel), starring Shani Atias, Michael Aloni and Iris Bahr, over the course of a Shabbat dinner at a fancy Hollywood Hills mansion a toxic mix of alcohol, egos, cultural differences, lust and greed derails the evening rather quickly and things spin out of control. Secrets are revealed, relationships are tested and getting out in one piece will be the ultimate challenge. On DVD, Blu-ray, from Artsploitation Films.
FOR THE FAMILY:
"The Little Prince
"
(2015) is a critically acclaimed, re-imagined, animated take on Antoine de Saint-Exupéry's classic story. At its heart is "The Little Girl" (Mackenzie Foy), prepared by her mother (Rachel McAdams) for the very grown-up real-world. After her eccentric, kind-hearted neighbor, "The Aviator" (Jeff Bridges) introduces her to an extraordinary world where anything is possible, she learns of "The Little Prince" (Riley Osborne). And so begins the magical and emotional journey where one learns, amongst other things, it's the human connections that matter most. On DVD, Blu-ray with digital copy, from Paramount.
SPECIAL INTEREST:
"Billie
"
(2020): Billie Holiday had one of the greatest voices of all time. She was a woman of breathtaking talent and global popularity who was unafraid of stirring controversy. She started a notable rebellion singing "Strange Fruit," which exposed the realities of Black life in America and earned her powerful enemies. Raw, emotional and brutally honest, "Billie" is filled with incredible unheard testimonies from musical greats like Charles Mingus, Tony Bennett, Sylvia Syms and Count Basie. "Billie" showcases an American legend, capturing her depth and complexity through the voices of those who knew her best. It is an arresting and powerful tale of one of the greatest singers who ever lived. On Blu-ray from Greenwich Entertainment ...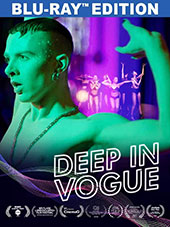 The documentary
"Deep in Vogue
"
(2019 -- UK) celebrates the colorful, queer, emotional and political stories of Northern Vogue and its people. Synonymous with the black, gay ballrooms of 1980s New York, this documentary asks why there's Vogue in Manchester, England. Over the course of a year, filmmakers Dennis Keighron-Foster and Amy Watson charted the build up to the Manchester ICONS Vogue Ball. Exploring themes from the internal politics of Vogue to its external politics like disenfranchisement of black youth, LGBT issues, a shrinking welfare state, a dearth of art spaces and modes of expression, a reductive and commercialized gay scene and a lack of safe spaces for the truly different. The film explores the history of vogue and ballroom, in which Black and Latinx gay men and trans people sought an aspirational artistic outlet in the 1980s, in much the same way that gay, queer, trans and QTIPOC people seek a safe space today. From Filmrise ...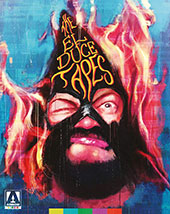 "The El Duce Tapes
"
(2019): In the early 90s, aspiring filmmaker (and "General Hospital" co-star) Ryan Sexton lugged a giant camcorder into some of the seediest clubs and the filthiest apartments in Hollywood. There he filmed hour upon hour of VHS footage of the jaw-droppingly offensive Shock Rock band The Mentors, focusing on their infamous lead singer, "El Duce." 30 years later, the team behind "The Nightmare" and "Room 237" and the editor of "Leap of Faith: William Friedkin on The Exorcist" uncover this dusty stockpile of long forgotten – and unseen – footage. They begin to piece together a picture of the man under the black executioner's hood and what his willfully offensive act and controversial views might tell us about 21st century America. An incendiary, tragicomic documentary (midway between "The Decline of Western Civilization" and "Crumb"), "The El Duce Tapes" will chew you up, spit you out, and leave you floored. On Blu-ray from Arrow Video/MVD Entertainment ...
"Jazz on a Summer's Day
"
(1959) was filmed at the 1958 Newport Jazz Festival in Rhode Island and directed by world-renowned photographer Bert Stern, and features intimate performances by an all-star line-up of musical legends including Louis Armstrong, Thelonious Monk, Gerry Mulligan, Anita O'Day, Chuck Berry, Dinah Washington, and closes with a beautiful rendition of The Lord's Prayer by Mahalia Jackson at midnight to usher in Sunday morning. Presented in a stunning 4K restoration. On DVD, Blu-ray, from Kino Lorber.
Check out other new DVD/Blu-ray releases, streaming films, and information and reviews at OnVideo.
Comments