By Harley Lond - 11/17/20 at 06:47 AM CT
FROM THE BIG SCREEN
"The New Mutants" is another action film based on the Marvel comic series: Five young people who demonstrate special powers are brought to a secret institution to undergo treatments they are told will cure them of the dangers of their powers. Included are Danielle Moonstar aka Mirage, who creates illusions from other people's fears; Rahne Sinclair, who transforms into the werewolf Wolfsbane; Sam Guthrie, who, as Cannonball, can fly at jet speeds protected by a force field; Roberto da Costa aka Sunspot, who absorbs and channels solar power; and Illyana Rasputin aka Magik.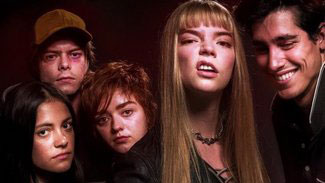 The younger sister of Colossus, Magik becomes encased in armor at will and wields a soulsword that amplifies her multiple superhuman and psychic abilities. Invited by Dr. Cecilia Reyes to share their stories about when their powers first manifested, the five "patients" come to understand that they are in a class of people called mutants, who have historically been marginalized and feared. As they relive their origin stories, their memories seem to turn into terrifying realities. Vitals: Director: Josh Boone. Stars: Anya Taylor-Joy, Maisie Williams, Alice Braga, Charlie Heaton, Blu Hunt, Henry Zaga, Happy Anderson, Mickey Gilmore, Thomas Kee. Extras: "Origins & Influences," "Meet The New Mutants
," deleted scenes, director Josh Boone chats with Marvel Comics artist Bill Sienkiewicz.

"Unhinged
" is a psychological thriller that explores something we've all experienced - road rage - to an unpredictable and terrifying conclusion. Rachel (Pistorius) is running late to work when she has an altercation at a traffic light with a stranger (Crowe) whose life has left him feeling powerless and invisible. Soon, Rachel finds herself, and everyone she loves,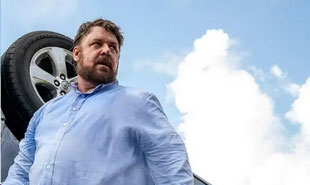 the target of a man who decides to make one last mark upon the world by teaching her a series of deadly lessons. What follows is a dangerous game of cat and mouse that proves you never know just how close you are to someone who is about to become unhinged. Vitals: Director: Derrick Borte. Stars: Russell Crowe, Caren Pistorius, Jimmi Simpson, Gabriel Bateman. Formats: DVD, Blu-ray/DVD Combo, VOD, Digital. Extras: Audio commentary with director Derrick Borte, cinematographer Brendan Galvin, production designer Fredrick Waff, and costume designer Denise Wingate; "This Side of Rage" featurette.


THIS WEEK'S BEST BETS
In
"Ghost Dog: The Way of the Samurai
"
(1999), Jim Jarmusch combines his love for the ice-cool crime dramas of Jean-Pierre Melville and Seijun Suzuki with the philosophical dimensions of samurai mythology for an eccentrically postmodern take on the hit-man thriller. In one of his defining roles, Forest Whitaker brings a commanding serenity to his portrayal
of a Zen contract killer working for a bumbling mob outfit, a modern man who adheres steadfastly to the ideals of the Japanese warrior code even as chaos and violence spiral around him. Featuring moody cinematography by the great Robby Müller, a mesmerizing score by the Wu-Tang Clan's RZA, and a host of colorful character actors (including a memorably stone-faced Henry Silva), "Ghost Dog: The Way of the Samurai" plays like a pop-culture-sampling cinematic mixtape built around a one-of-a-kind tragic hero. On DVD, Blu-ray, with new, restored 4K digital transfer, supervised and approved by director Jim Jarmusch, with 5.1 surround DTS-HD Master Audio soundtrack on the Blu-ray. From The Criterion Collection ... In 1968, visual effects pioneer Douglas Trumbull ("The Andromeda Strain," "Close Encounters of the Third Kind") contributed to the ground-breaking special photographic effects of Stanley Kubrick's "2001: A Space Odyssey." Four years later, he stamped his own indelible mark on the science fiction genre with his mesmerizing directorial debut -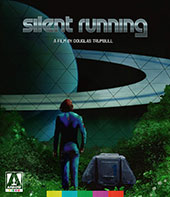 "Silent Running
"
(1972). In the not-so-distant future, Earth is barren of all flora and fauna, with what remains of the planet's former ecosystems preserved aboard a fleet of greenhouses orbiting in space. When the crews are ordered to destroy the remaining specimens, one botanist, Freeman Lowell (Bruce Dern), rebels and flees towards Saturn in a desperate bid to preserve his own little piece of Earth that was, accompanied only by the ship's three service robots. Featuring a captivating central performance by Dern, visual effects that rival anything in 2001 and a powerful ecological message, "Silent Running" is a haunting and prescient sci-fi classic that resonates even more strongly today than it did at the time of its original release. Brand new 2K restoration from the original camera negative, approved by director Douglas Trumbull and produced by Arrow Video exclusively for this release. On Blu-ray from Arrow Video/MVD Entertainment ...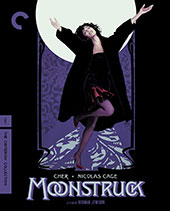 A full moon, a New York City night, and love and music in the air ...
"Moonstruck
"
(1987), one of the most enchanting romantic comedies of all time, assembles a flawless ensemble cast for a tender and boisterously funny look at a multigenerational Italian American family in Brooklyn, wrestling with the complexities of love and marriage at every stage of life. At the center of it all is a radiant Cher as Loretta, an unlucky-in-love bookkeeper whose feelings about her engagement to the staid Johnny (Danny Aiello) are thrown into question after she meets his hot-blooded brother, Ronny (Nicolas Cage), and one night at the opera changes everything. Winner of the Academy Awards for best actress (Cher), supporting actress (Olympia Dukakis), and original screenplay (by playwright John Patrick Shanley), this modern-day fairy tale is swept along on passionate Puccini melodies, and directed by master storyteller Norman Jewison with the heightened emotion to match. On DVD, Blu-ray, with new 4K digital restoration, with 5.1 surround DTS-HD Master Audio soundtrack on the Blu-ray, from The Criterion Collection.
BUZZIN' THE 'B'S:
What if you saved a souvenir from every relationship you've ever been in? Lucy, a 20-something art gallery assistant living in New York City, also happens to be an emotional hoarder. After she gets dumped by her latest boyfriend, Lucy is inspired to create
"The Broken Hearts Gallery
"
(2020), a pop-up space for the items love has left behind. Word of the gallery spreads, encouraging a movement and a fresh start for all the romantics out there, including Lucy herself. Stars Geraldine Viswanathan,, Dacre Montgomery, Utkarsh Ambudkar, Molly Gordon, Phillipa Soo and Berrnadette Peters. On DVD, Blu-ray, from Sony ...
In
"Words on Bathroom Walls
"
(2020), starring Charlie Plummer, Andy Garcia, Taylor Russell, AnnaSophia Robb, Beth Grant, Molly Parker and Walton Goggins, Adam (Plummer) is a witty, introspective teen pursuing his dream of becoming a chef. When Adam is diagnosed with a mental illness, he lives in fear of being exposed -- until he meets Maya (Russell), an outspoken and fiercely intelligent girl who inspires him to open his heart and not be defined by his condition. On DVD, Blu-ray, from Lionsgate ... In
"Death of Me
"
(2020), starring Maggie Q, Alex Essoe and Luke Hemsworth, while vacationing on an island off the coast of Thailand, Christine (Maggie Q) and Neil Oliver (Hemsworth) awake hungover and with no memory of the previous night. They find footage on Neil's camera, and watch, horrified, as Neil appears to murder Christine. With 24 hours until the next ferry and a typhoon threatening the island, Christine and Neil attempt to reconstruct the night's events -- and are snared in a web of mystery, black magic, and murder. On DVD, Blu-ray, from Lionsgate ... In
"Relic
"
(2020), starring Emily Mortimer, Robyn Nevin and Bella Heathcote, when elderly mother Edna inexplicably vanishes, her daughter Kay and granddaughter Sam rush to the family's decaying country home, finding clues of her increasing dementia scattered around the house in her absence. After Edna returns just as mysteriously as she disappeared, Kay's concern that her mother seems unwilling or unable to say where she's been clashes with Sam's unabashed enthusiasm to have her grandma back. As Edna's behavior turns increasingly volatile, both begin to sense that an insidious presence in the house might be taking control of her. On DVD, Blu-ray, from IFC Midnight/Scream Factory ...
In
"Summerland
"
(2020), starring Gemma Arterton, Gugu Mbatha-Raw and Tom Courtenay, Alice is a reclusive writer, resigned to a solitary life on the seaside cliffs of Southern England while World War II rages across the channel. When she opens her front door one day to find she's to adopt a young London evacuee named Frank, she's resistant. It's not long, however, before the two realize they have more in common in their pasts than Alice had assumed. On DVD, Blu-ray, from IFC/MPI ... In
"Then Came You
"
(2020), starring Craig Ferguson, Kathie Lee Gifford, Ford Kiernan, Phyllida Law and Elizabeth Hurley, suddenly widowed, Annabelle Wilson (Gifford) makes a sudden decision to sell her home and travel the world. On her first stop, she meets Lord Howard Awd (Ferguson), the weathered inn-owner of the castle she's residing in for the week. As time progresses, Annabelle and Howard find themselves drawn to one another, becoming closer as they share secrets they've never told anyone else. There's only one issue in what seems to be a match made in heaven: Howard is getting married at the end of the week. From Lionsgate ... In
"Monstrum
"
(2018 -- South Korea), starring Myung-Min Kim, In-kwon Kim and Hyeri Lee, it's the 22nd year of Jung Jong and a plague has taken over Joseon, and fear runs rampant in the streets. When rumors of a vicious beast roaming Mount Inwangsan – called "Monstrum" by the terrified masses – begin to spread, fear turns into panic. In order to quell the rising panic, Jung Jong brings back his most trusted general Yoon Gyum from retirement. Joined by his daughter Myung, his right-hand man Sung Han, and royal court officer Heo Yoon, Gyum sets out to find the mysterious creature. On DVD, Blu-ray, from RLJE Films ...
In
"We Are Little Zombies
"
(2019 -- Japan), starring Keita Ninomiya, Mondo Okumura and Satoshi Mizuno, a bond is formed when four orphans meet at a crematorium where their parents are being turned to ash and the respective funerals are being held. They are like zombies; devoid of all emotion. With no family, no future, no dreams, and no way to move forward, the young teens decide that the first level of this new existence involves salvaging a gaming console, an old electric bass, and a charred wok from their former homes — just enough to start a band -- and then conquer the world. Tragedy, comedy, music, social criticism, and teenage angst are all subsumed in this eccentric cinematic tsunami. On DVD, Blu-ray, from Oscilloscope Laboratories ... By the year
"2067
"
(2020), starring Kodi Smit-McPhee and Ryan Kwanten, Earth has been ravaged by climate change and humanity is forced to live on artificial oxygen. An illness caused by the synthetic O2 is killing the worlds' population and the only hope for a cure comes in the form of a message from the future: "Send Ethan Whyte." Ethan, an underground tunnel worker, is suddenly thrust into a terrifying new world full of unknown danger as he must fight to save the human race. On DVD, Blu-ray, from RLJE Films ...
"Bang! Bang!
"
(2020), starring Jordan Knapp, Nicole Fahel, Lucas Mogerley and Antonia Morais, is an extreme interpretation of the phrase "actions have consequences" that follows five lawless teenagers as they execute an armed robbery. Outfitted with guns and masked by hoodies and full-face hockey masks, the group sets in motion a life or death struggle. The film is a story of conflict fueled by alcohol and adolescent naivety that ultimately crumbles friendships, destroys trust and leads to irrevocable mayhem. When one victim survives what should have been a fatal gunshot, the group is divided by one question: whose humanity remains? From Indican Pictures.
FOREIGN FILMS:
"The Chronicles of Melanie
"
(2016 -- Latvia) is based on the memoirs of Melanija Vanaga, the film is a terrifying account of the mass deportation of residents of Soviet-occupied Latvia that occurred in June of 1941 as Stalin tightened his grip on power. Melanie,
one of over 17,000 people deported to Siberia under suspicion of "collaborating with the enemy," is separated from her husband Aleksandrs shortly after Soviet troops barge into her home at gunpoint and force her, Aleksandrs and their son Andrejs into a lorry to be transported to awaiting cattle cars. The journey to Siberia lasts three weeks, during which a diet of scraps of bread, dirty water and no bathrooms are just the beginning of a long and brutal exile. Out of her detailed notes that later became the literary work of her 16 years spent in Siberia, Melanija Vanaga prepared a book of documentary prose that was published in 1991, soon after Latvia regained independence. Latvia's entry for the 90th Academy Awards. From Corinth Films.
SPECIAL INTEREST:
In
"Nomad: In the Footsteps of Bruce Chatwin
"
(2020), filmmaker Werner Herzog traveled the world to craft a deeply personal chronicle of his decades-long friendship with the late English travel writer and novelist Bruce Chatwin, a kindred spirit whose quest for ecstatic truth carried him to all corners of the globe. "[Bruce] Chatwin was a writer like no other. He would craft mythical tales into voyages of the mind. In this respect, we found out we were kindred spirits: he as a writer, I as a filmmaker," says Herzog of his dear friend, who died in 1989. On DVD, Blu-ray, from Music Box Films.
FROM TV TO DISC:
"Blindspot: The Fifth And Final Season"
(2020) is a three-disc set with all 11 episodes. In the emotional, action-packed fifth and final season, Kurt Weller (Sullivan Stapleton), Jane Doe (Jaimie Alexander), Edgar Reade (Rob Brown), Tasha Zapata (Audrey Esparza), Patterson (Ashley Johnson ) and Rich DotCom (Ennis Esmer) attempt to carry out a mission with the highest stakes yet. The season begins in the aftermath of the explosion that left Jane watching as a drone targeted the team's safe house. Now on the run and without the extensive resources of the FBI, Jane and the survivors race against the clock to clear their names in the wake of Madeline Burke's (Mary Elizabeth Mastrantonio) rise to power. From Warner Archive ...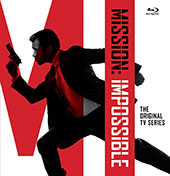 "Mission: Impossible: The Original TV Series "
(1966-73) is a 46-six-disc set with all 171 episodes about the elite covert operations unit that carries out highly sensitive missions subject to official denial in the event of failure, death or capture. "As always, should you or any of your IM force be caught or killed, the Secretary will disavow any knowledge of your actions. Good luck, Jim. This tape will self-destruct in five seconds." Stars Peter Graves, Barbara Bain, Martin Landau, Greg Morris, Peter Lupus, Leonard Nimoy, Lynda Day George, Steven Hill, Lesley Ann Warren. On Blu-ray, from CBS/Paramount ...
"The Nest"
(2020) is a two-disc set with five episodes. Martin Compston and Sophie Rundle star in this suspenseful five-episode Acorn TV Original Scottish miniseries as a wealthy couple who would do anything to have a baby. When Emily (Rundle) accidentally hits Kaya (Mirren Mack), a down-on-her-luck 18-year-old, with her car, the two make an instant connection. After learning about her desperate situation, Kaya offers to carry Emily's last embryo as a surrogate. Although Emily's husband, successful businessman Dan (Compston), warns about the legal and moral implications of such an agreement, the women are adamant. But as buried secrets emerge about Kaya's past, Dan and Emily start to wonder if they're the ones being used. From Acorn Media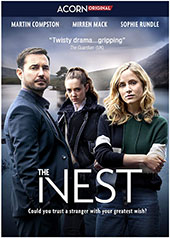 "The New Pope: The Complete Series"
(2019) is a three-disc set. The follow-up to 2017's "The Young Pope," this series dives into the inner workings of the Vatican, while exploring the very human desires, vices and fragilities of those in power and the complexities inherent in faith today. The series picks up where "The Young Pope" left off, with Lenny Belardo (Jude Law), known as Pope Pius XIII, in a coma. Following an unpredictable and mysterious turn of events, Secretary of State Voiello (Silvio Orlando) succeeds in having Sir John Brannox (John Malkovich), a charming and sophisticated moderate English aristocrat, placed on the papal throne, adopting the name John Paul III. The new pope seems ideal, but he conceals secrets and has a certain fragility, and Voiello immediately understands that it will not be easy to replace the charismatic Pius XIII. Hanging between life and death, Lenny Belardo has become a Saint, with thousands now idolizing him, fueling the contrast between fundamentalisms. Meanwhile, the Church is under attack from external threats and scandals striking the symbols of Christianity and risking irreversibly devastating the hierarchies. From Warner Archive ...
"Westworld Season Three: The New World"
(2020) is a three-disc set with all eight episodes. Following the aftermath of last season's Westworld massacre, "hosts" Dolores, Maeve, Bernard and Charlotte Hale begin a new chapter – outside of the park – exploring the "real world" and who they will become in the wake of their liberation. Over the course of eight hour-long episodes, Season Three finds Dolores prepared to wage war on humanity and Bernard trying desperately to stop her, while Maeve reunites with familiar faces in a new realm – and all discover that the world outside is as full of deception and predetermination as the one they've always known. On DVD, Blu-ray, 4K Ultra HD/Blu-ray Combo, from HBO/Warner.
Comments